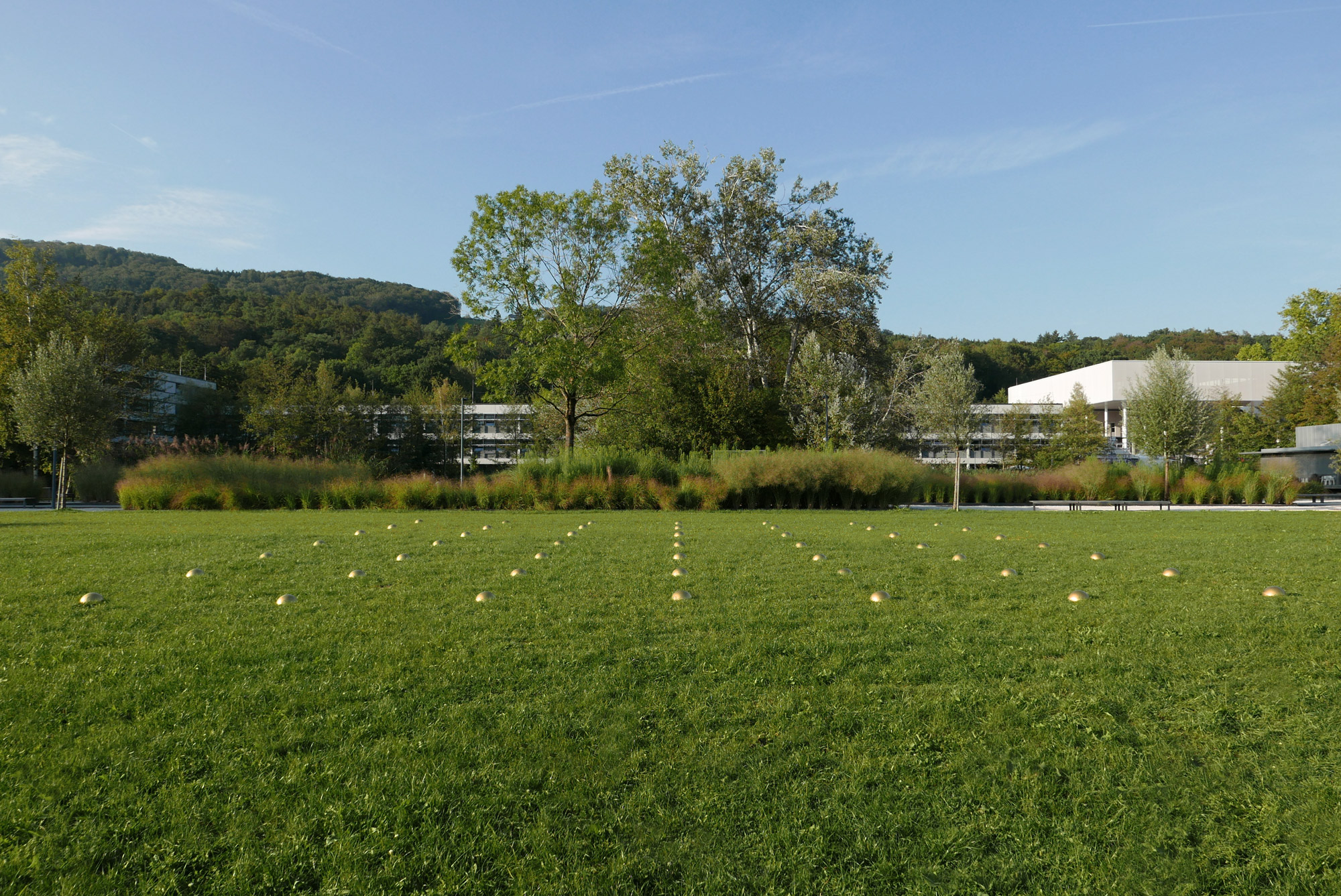 Installation view of µ at Ars Electronica Festival 2022 exhibited in Kepler's Gardens at Johannes Kepler University Linz, Austria
In connection with an upcoming publication, visionary Korean curator Daehyung Lee has authored a text about ÆTER:
Discovering the Hidden Self through ÆTER's Soundscape
by Daehyung Lee
   
"ÆTER," a mesmerizing sound art piece by Christian Skjødt Hasselstrøm, offers a transcendental journey into the depths of our sensory perceptions and the philosophical foundations of our relationship with the world. The artist invites the spectator into an ethereal soundscape, experimenting with a fusion of the natural world and the electronic signals of our contemporary technological era.
 
The use of analogue electronic circuitry and copper antennas in ÆTER opens an experimental space in which expanded territories of sound art can be investigated. The analogue components imbue the soundscape with variables of unpredictability, reflecting the limitations of technology and implying the significance of preserving the natural world – a world that has become increasingly ravaged by the irresponsible use of technology. ÆTER serves as a reminder that the world is not a mere collection of fixed, isolated and quantifiable phenomena, but a complex landscape of interrelated relationships that are constantly evolving.
 
The copper antennas, highly responsive to their surroundings, act as both receivers and transmitters of energy, connecting the observer to the world in a dynamic and reciprocal relationship. As the spectator moves through the space, the soundscape evolves, providing each viewer and listener with a very personal experience. The boundaries between the self and the environment it inhabits become blurred, as a somewhat distant observer of an artwork becomes transformed into an active participant in the creation of the soundscape.
 
The soundscape of ÆTER is a delicate interweaving of organic and electronic sounds that are in a constant state of flux, reminding us of the dynamics of a natural world that constantly generates itself and the cyclical patterns of existence of living things. In this sense, it reflects the ancient yin-yang theory, where opposites are intertwined, complementing and balancing each other in a harmonious dance. One may project this binary system of interdependence on ÆTER: The copper antennas, symbolizing the yang, represent the active and electrifying aspects of the world, while the analogue circuitry, symbolizing the yin, embodies the receptive and passive aspects of the world. Together, they create a soundscape that is both strange and familiar, evoking a sense of the unknown and unseen.
 
ÆTER prompts us to question our perceptions of reality and broaden our understanding of the world and our place within it. The experience of ÆTER is not merely a passive one of sensory stimulation, but a philosophical resonance that shakes us to the core. It challenges us to contemplate the role of technology in our lives and reflect on our relationship with the natural world. The soundscape is a manifestation of our relationships and interdependencies that constitutes our position within the world – it fosters a reflection of our own presence. Through this immersive experience, we may be able to access previously hidden aspects of our sensorium, uncover concealed aspects of ourselves, and discover new relationships within the world we inhabit and are intimately part of.
  
The sound art piece is a poignant reminder of the current Anthropocene geological era, where humanity's impact on our world has reached unprecedented levels. The soundscape of ÆTER is a reminder of the breath of "Gaia" – our planet seen as an interconnectedness of all living beings – and the waves of the universe. It is another call to action to protect and preserve the natural world, to honor and respect its delicate balance, and to cultivate a deeper sense of connection with the world around us.
 
ÆTER is a transformative and transcendental work of art that leaves a profound impact on an active spectator. Its effects linger long after leaving the space, stirring our senses to travel into the depths of philosophical and existential contemplation. The piece is a meditation on the interconnectedness of the world and our own interdependences. As such, ÆTER is not just a technological and aesthetic challenge, but a philosophical tour de force that touches the soul and leaves a profound impact. It invites us to delve into the mysteries of the unknown, revealing hidden aspects of ourselves in the process."
>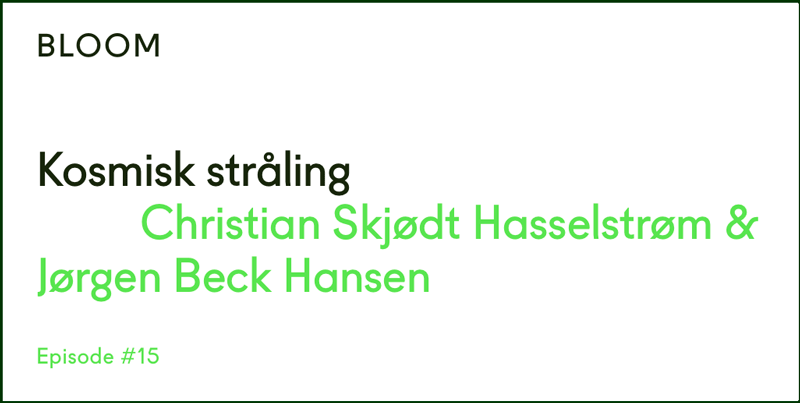 A conversation with particle physicist Jørgen Bech Hansen from the Niels Bohr Institute, recorded live at BLOOM fesival 2022, can now be found as a podcast on Bloom Explore (in Danish only).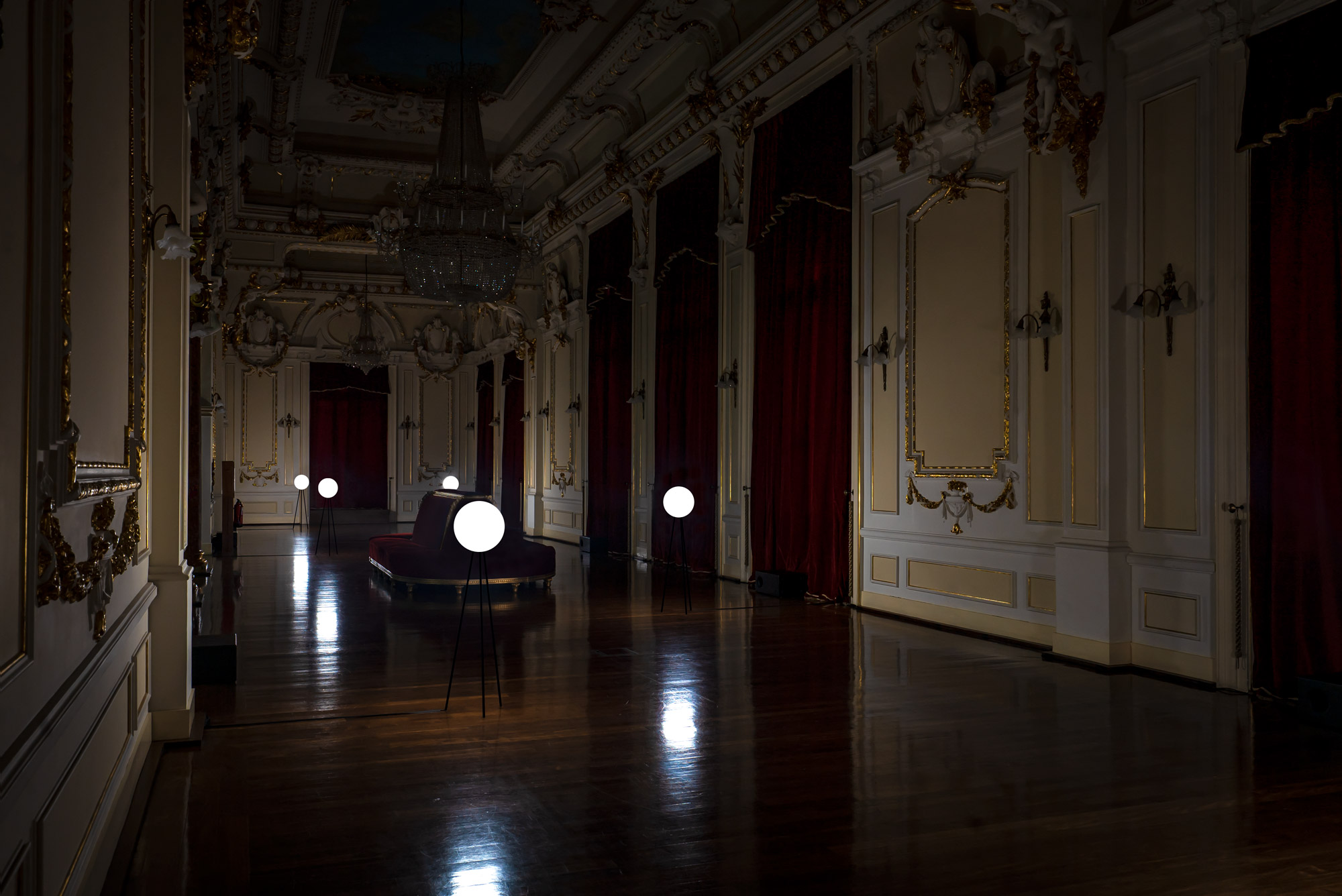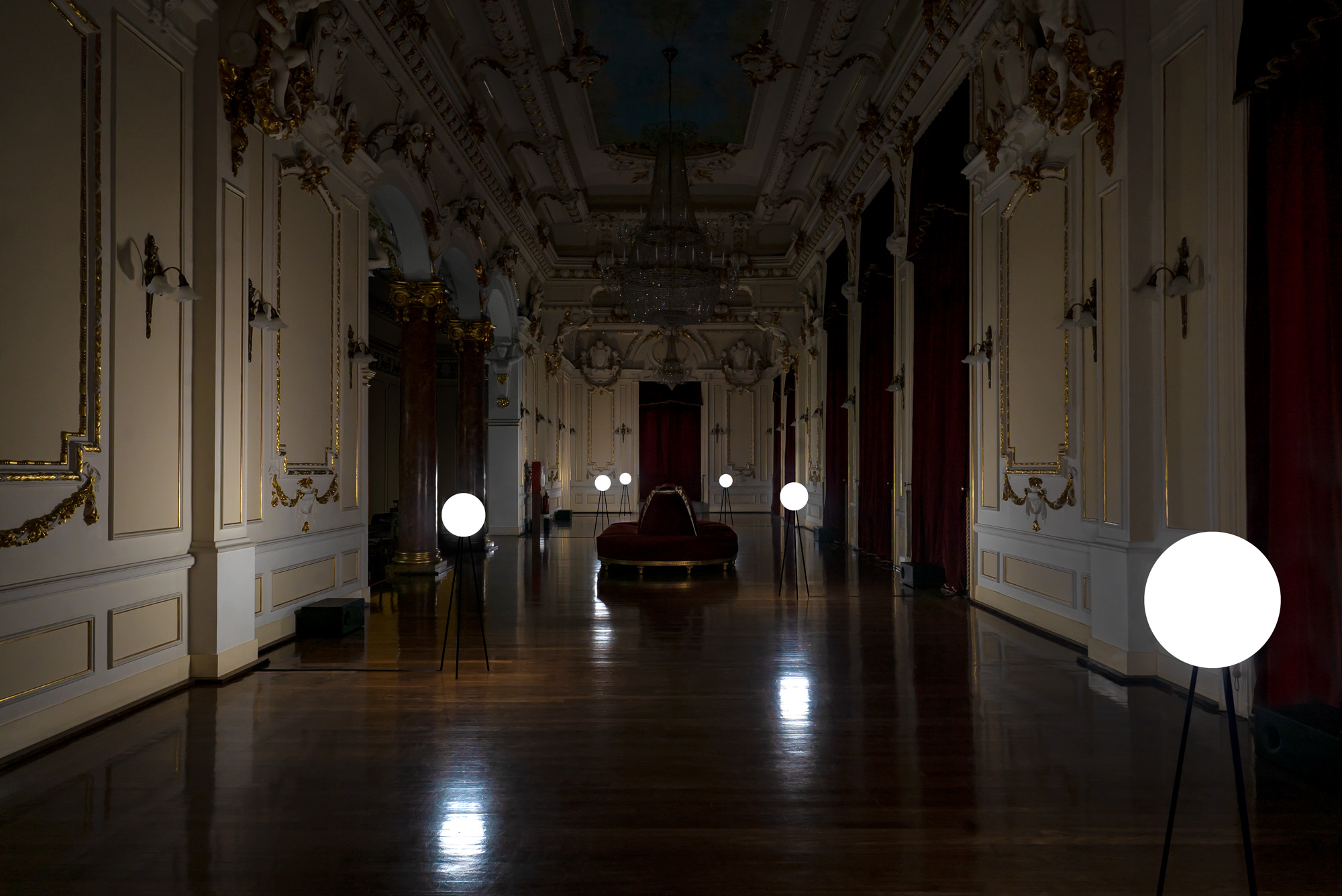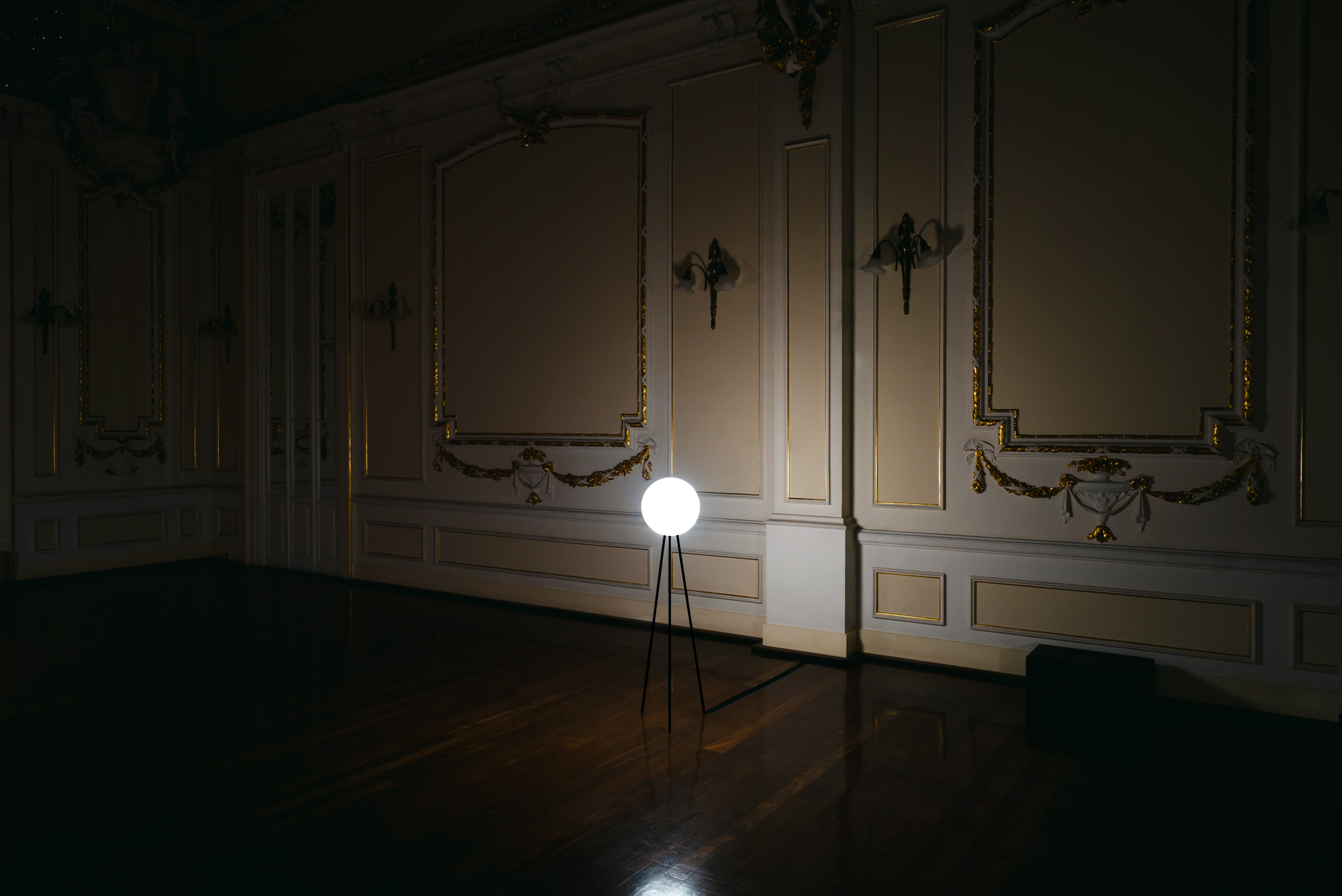 Photo documentation of RADAR L/410A exhibited at Semibreve 2021, Braga, Portugal. Photos: Studio Skjødt Hasselstrøm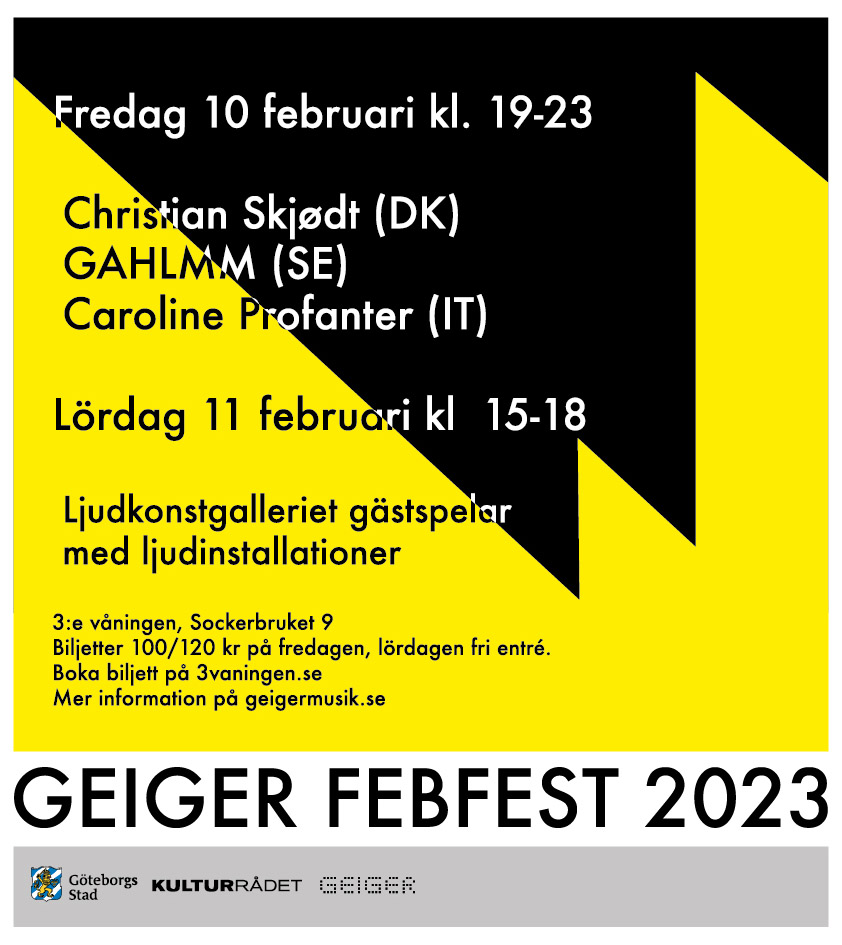 Presenting INTERDEPENDENCIES I at GEIGER February 10.2023 in Gothenburg, Sweden.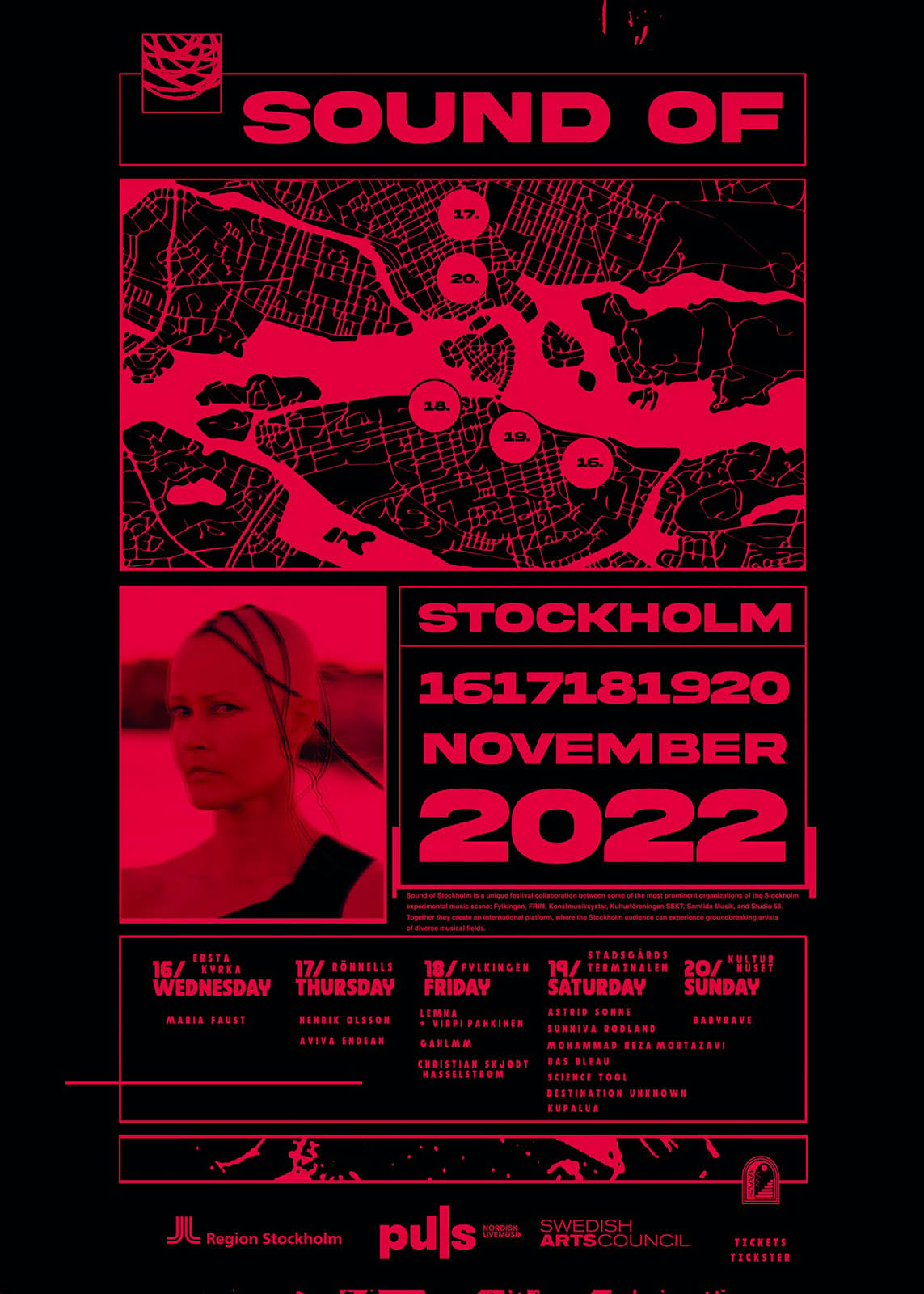 Presenting INTERDEPENDENCIES I at Sound of Stockholm November 18.2022 at Fylkingen, Sweden.

The installation BENEATH will be exhibited as a part of the 2022 edition of Donaueschinger Musiktage.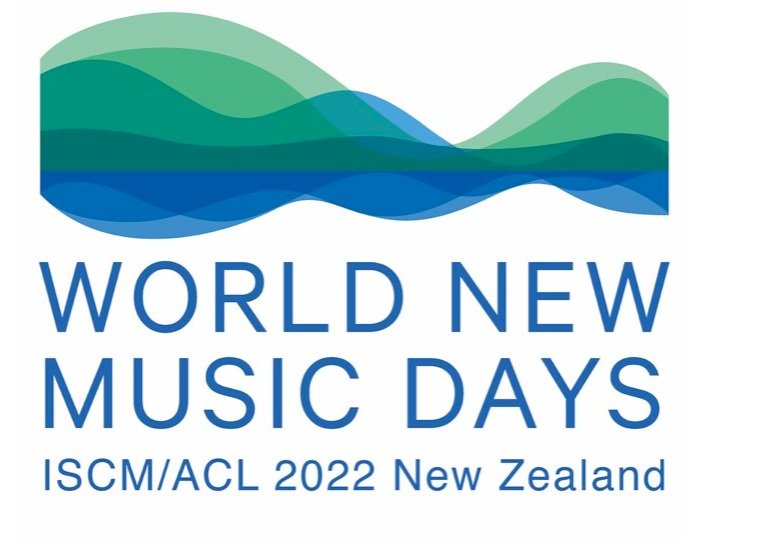 INTERDEPENDENCIES I to be performed at ISCM WNMD 2022 at Te Uru Waitakere Contemporary Gallery, Auckland, New Zealand.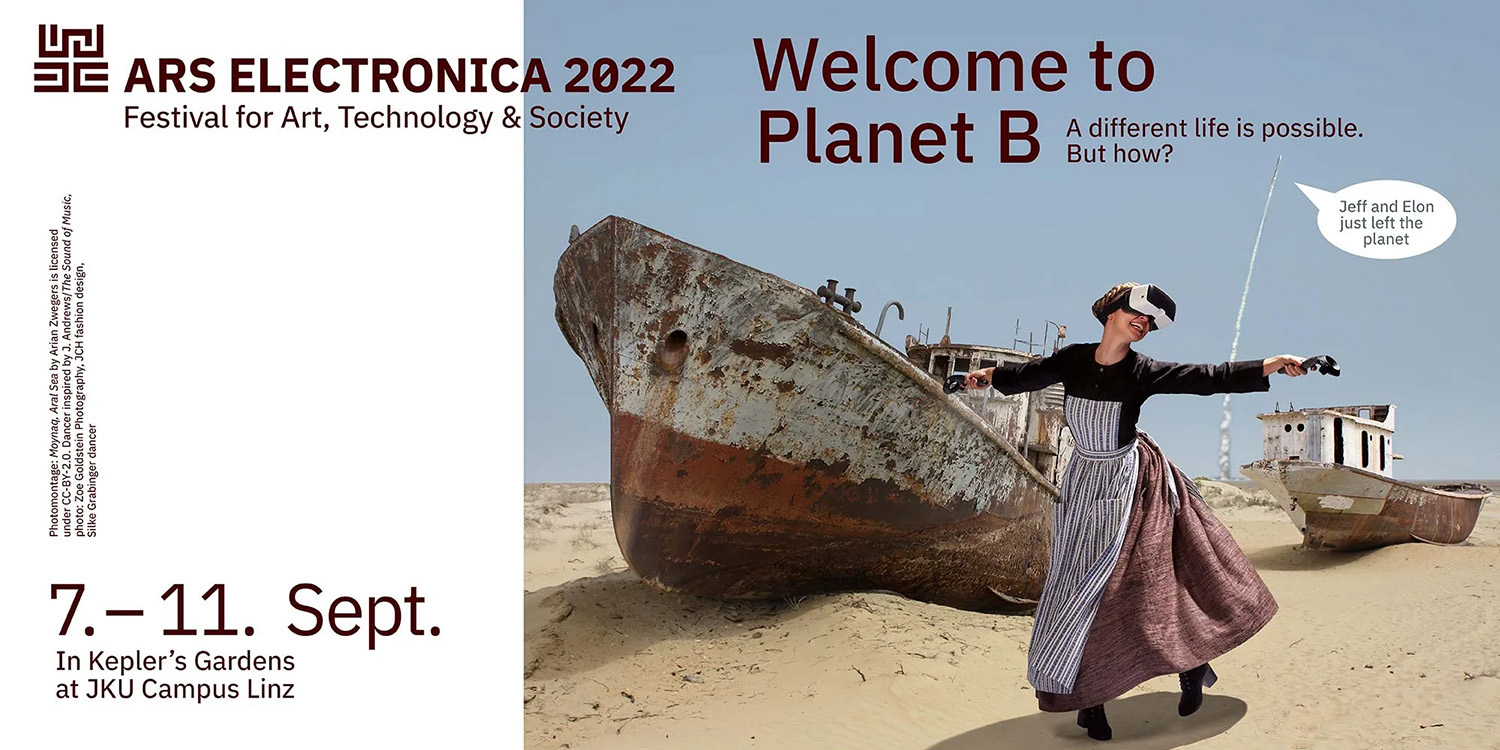 Exhibition of µ at Ars Electronica Festival 2022. The installation can be found in Kepler's Gardens at Johannes Kepler University Linz, Austria.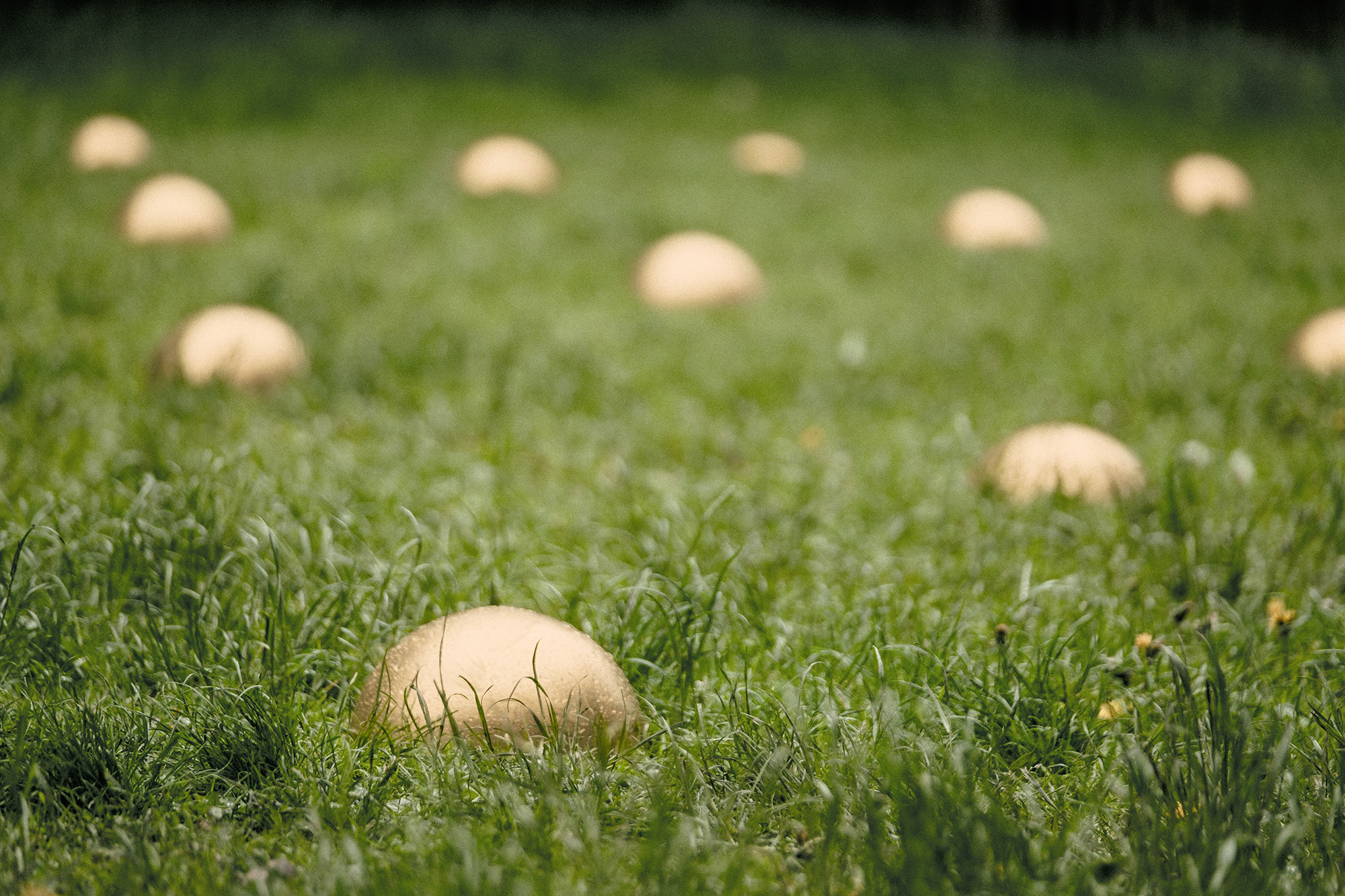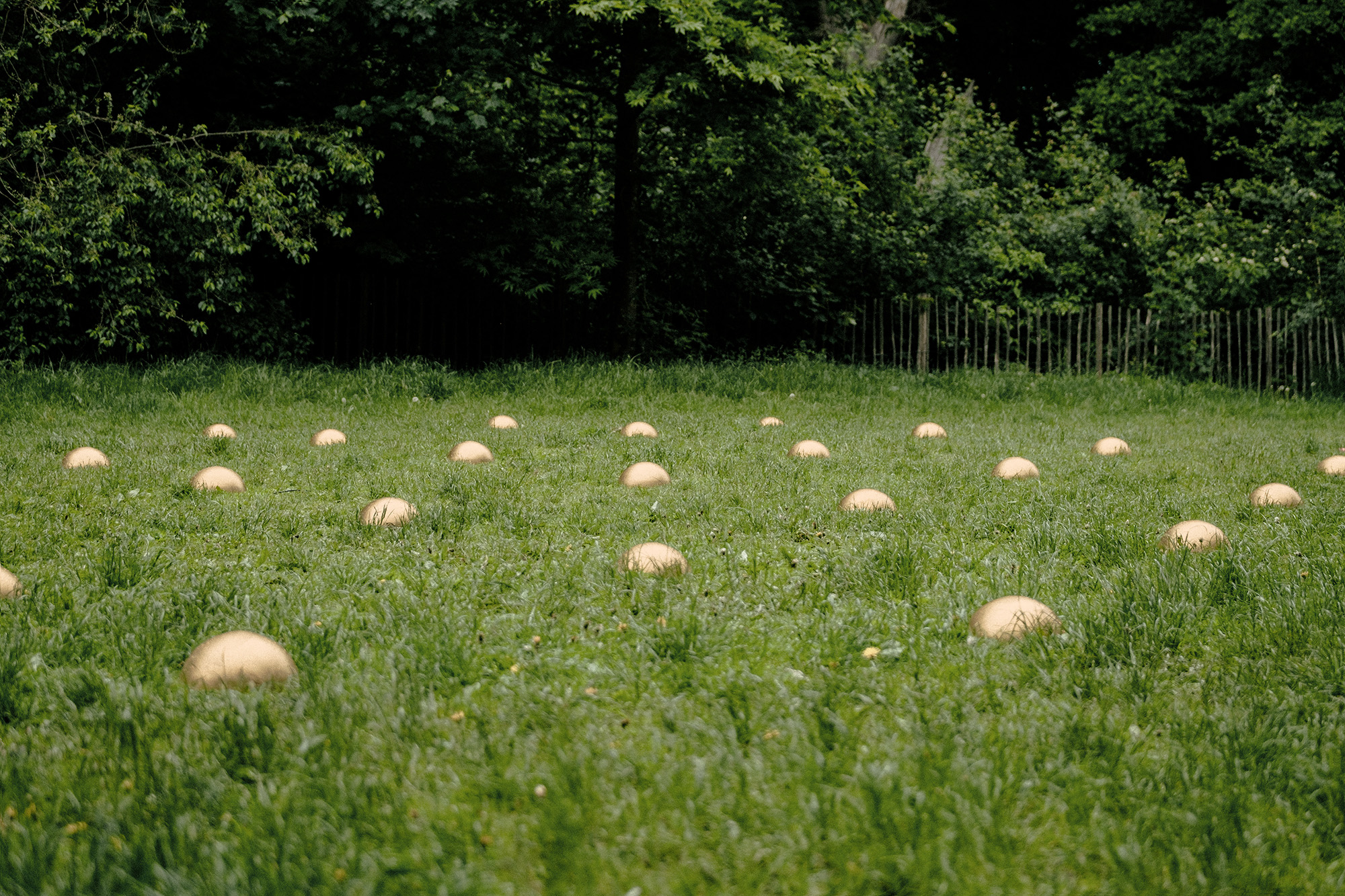 Photo documentation of µ exhibited at Bloom, Søndermarken, Frederiksberg, Denmark. More info about the exhibition can be found here. Photos: Studio Skjødt Hasselstrøm

Collaborating with the Niels Bohr Institute of Copenhagen University on a new project on cosmic rays for the BLOOM festival 2022.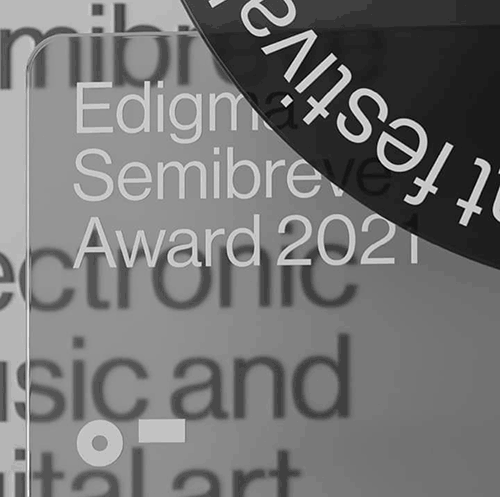 Honored to be the recipient of the Edigma Semibreve Award of 2021.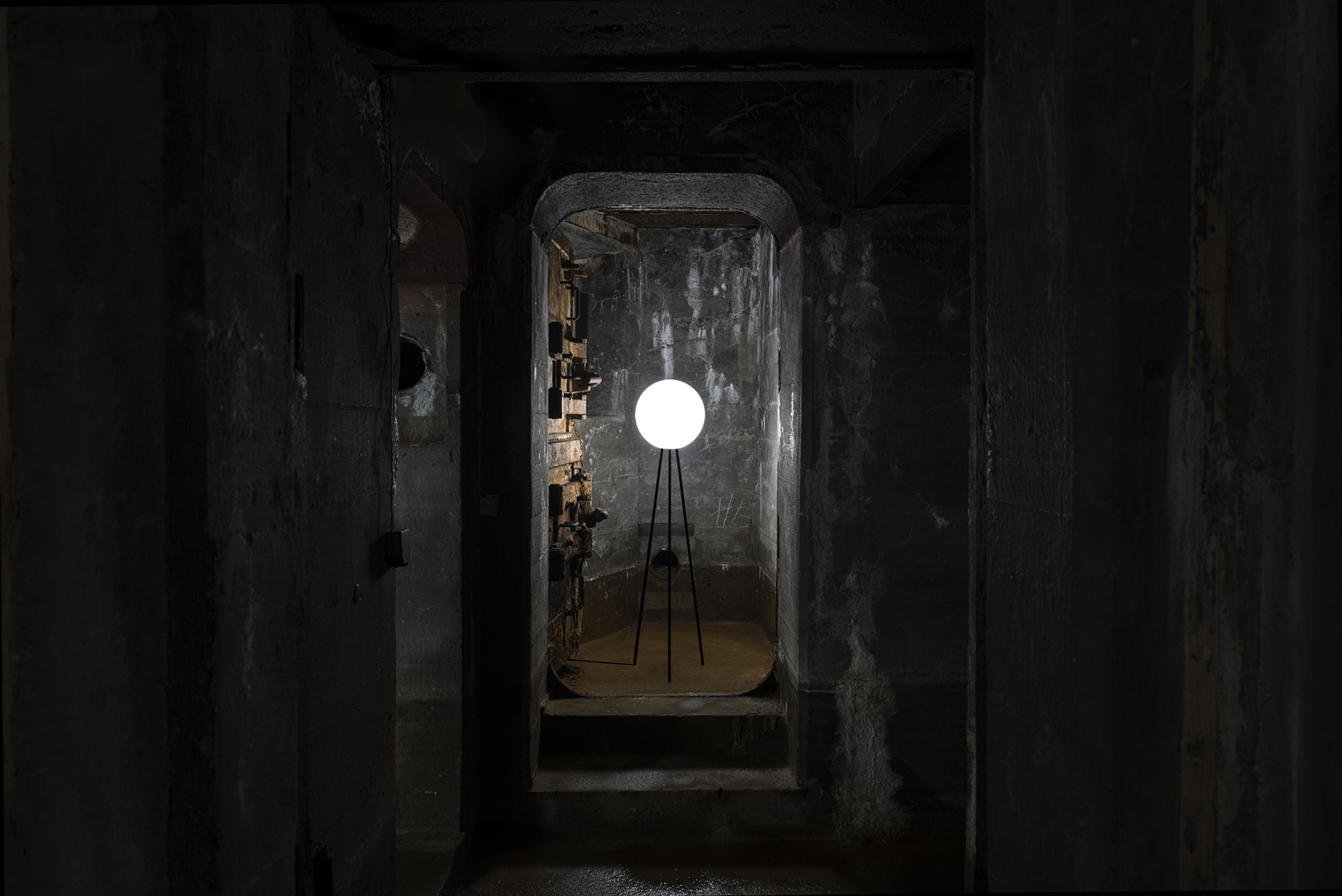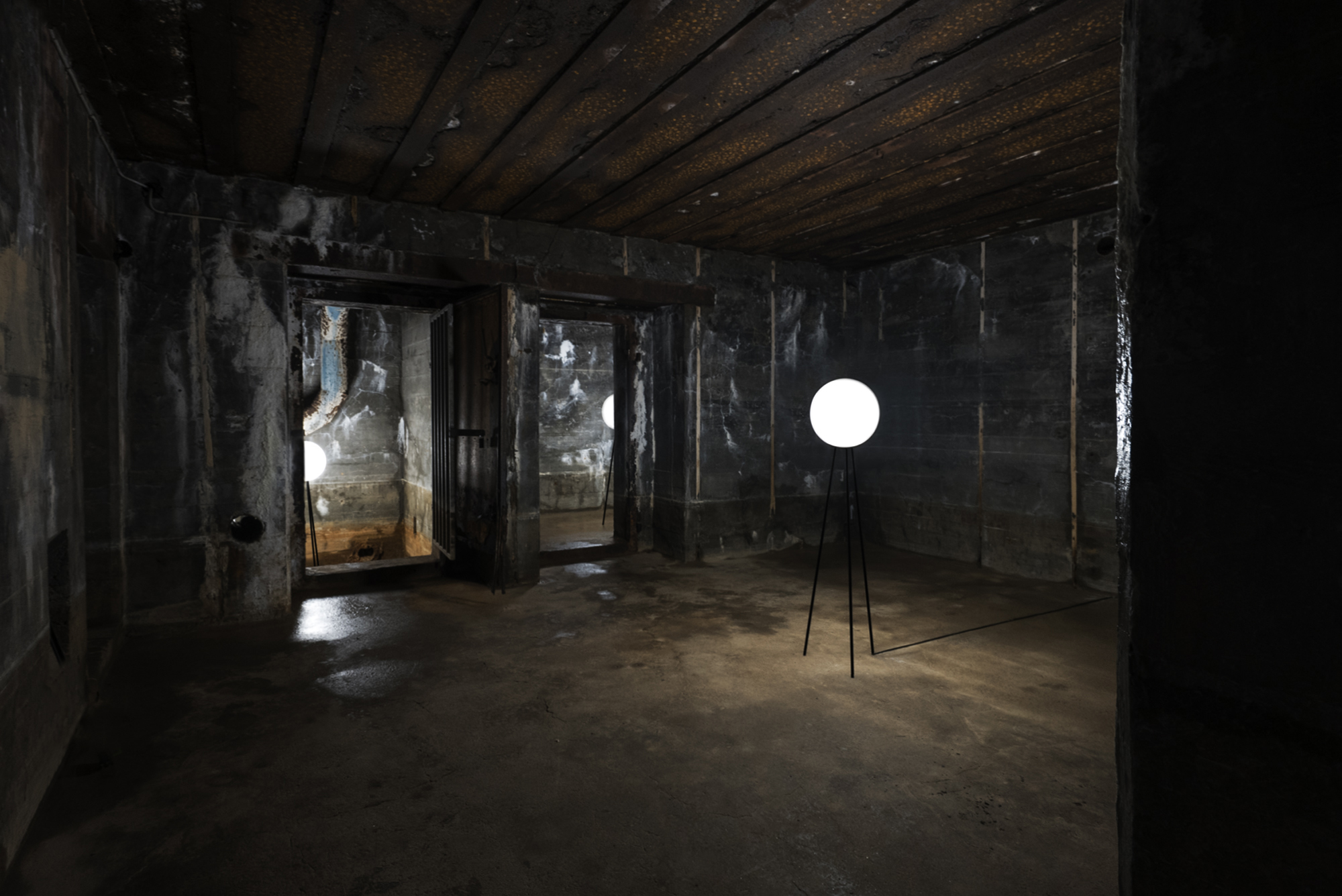 Photo documentation of RADAR L/410A exhibited at Kunsthal Regelbau 411, Oddesund Thyholm, Denmark, More info about the exhibition can be found here. Photos: Studio Skjødt Hasselstrøm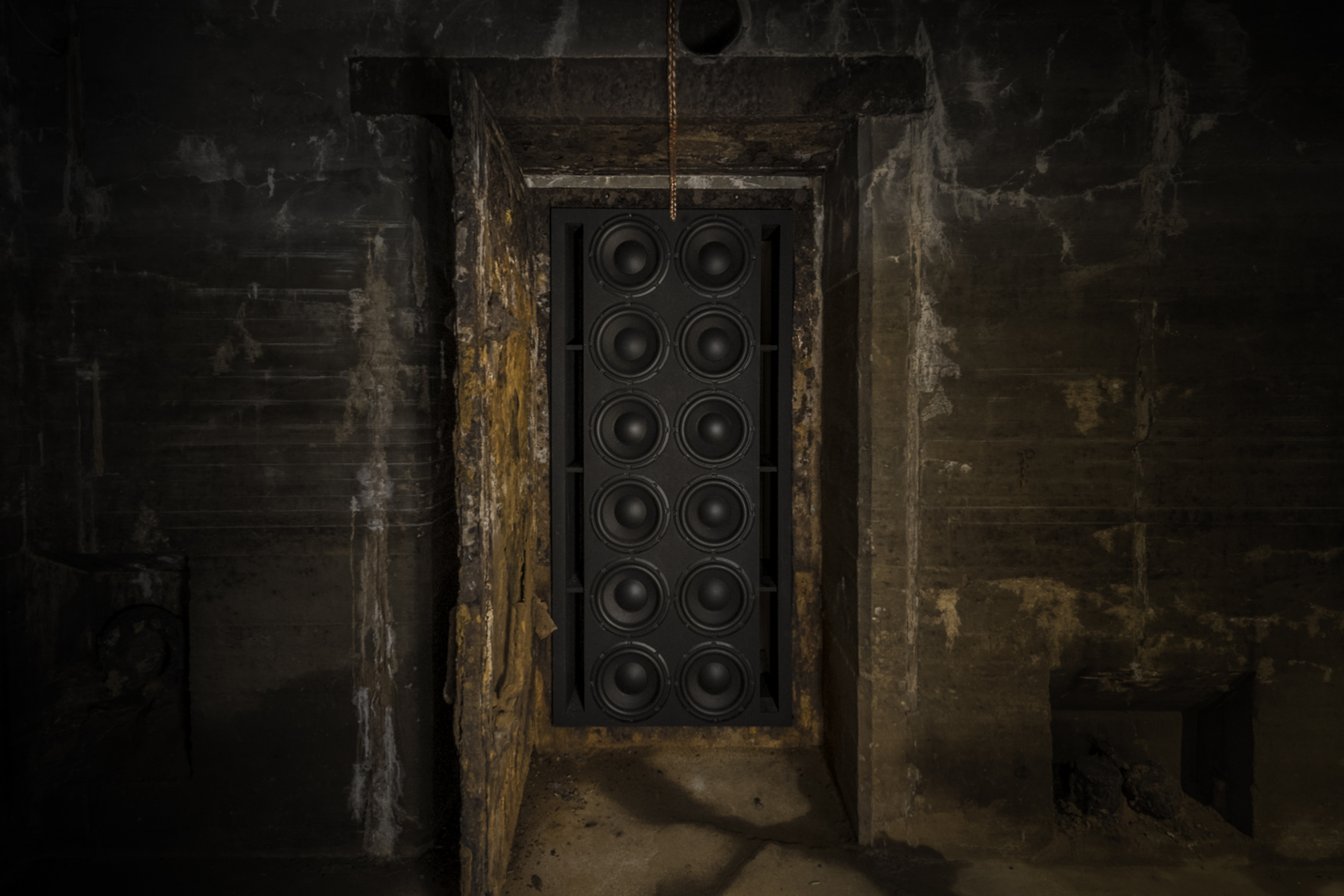 Photo documentation of RADAR L/413A exhibited at Kunsthal Regelbau 411, Oddesund Thyholm, Denmark, More info about the exhibition can be found here. Photos: Studio Skjødt Hasselstrøm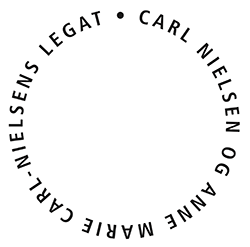 Very honored to receive the Carl Nielsen and Anne Marie Carl-Nielsen's Foundation's Talent Award 2021.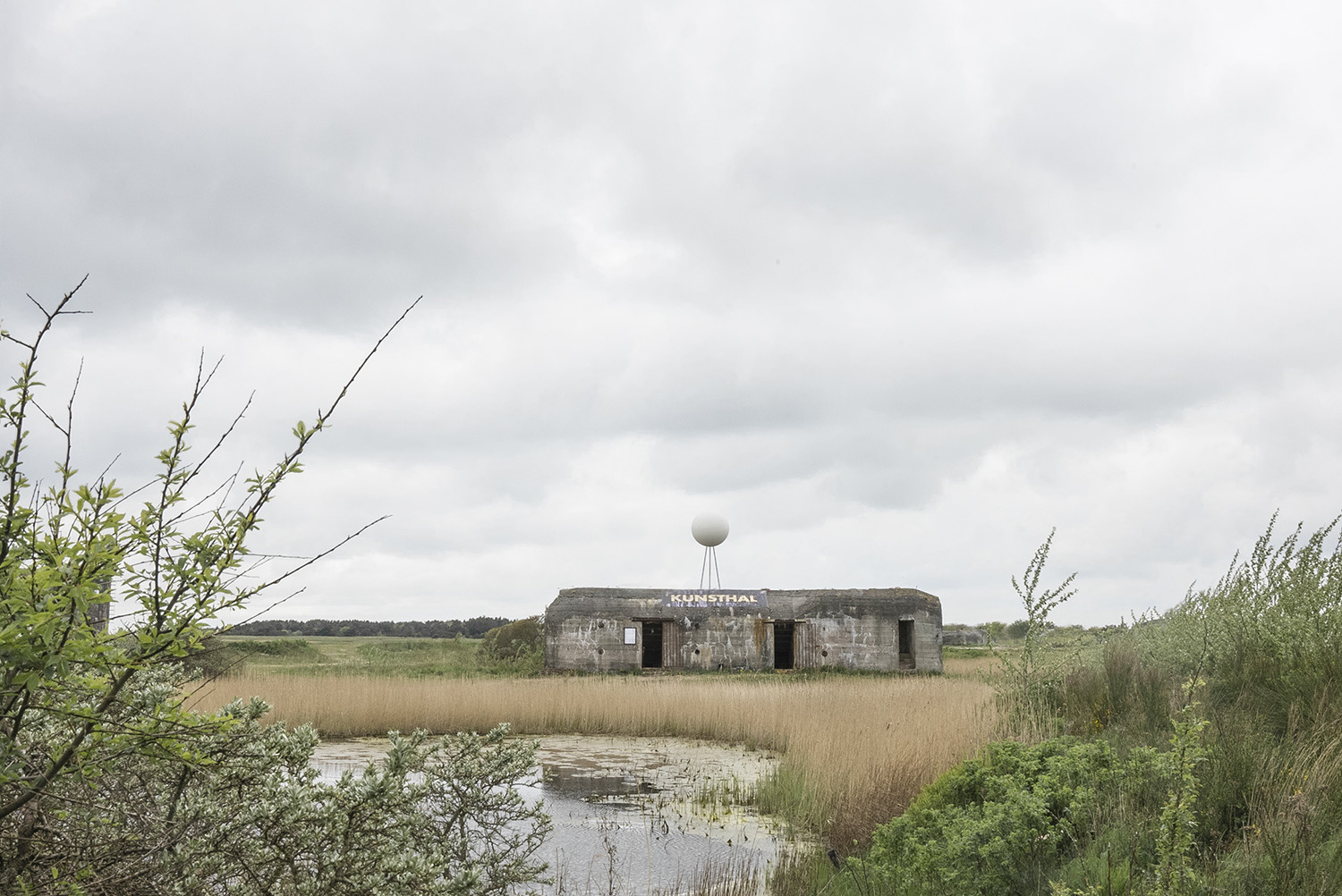 The exhibition RADAR is now open everyday 10.00 - 17.00 at Kunsthal Regelbau 411, Oddesund Thyholm, Denmark, featuring the new site specific works RADAR L/410A and RADAR L/413A. The exhibition period is May 14. - August 08.2021.
Kunstsatellit Egholm / Kunsthal Nord. Exhibition of ADUMBRARE. Egholm, Aalborg, Demmark. September 18-19.2020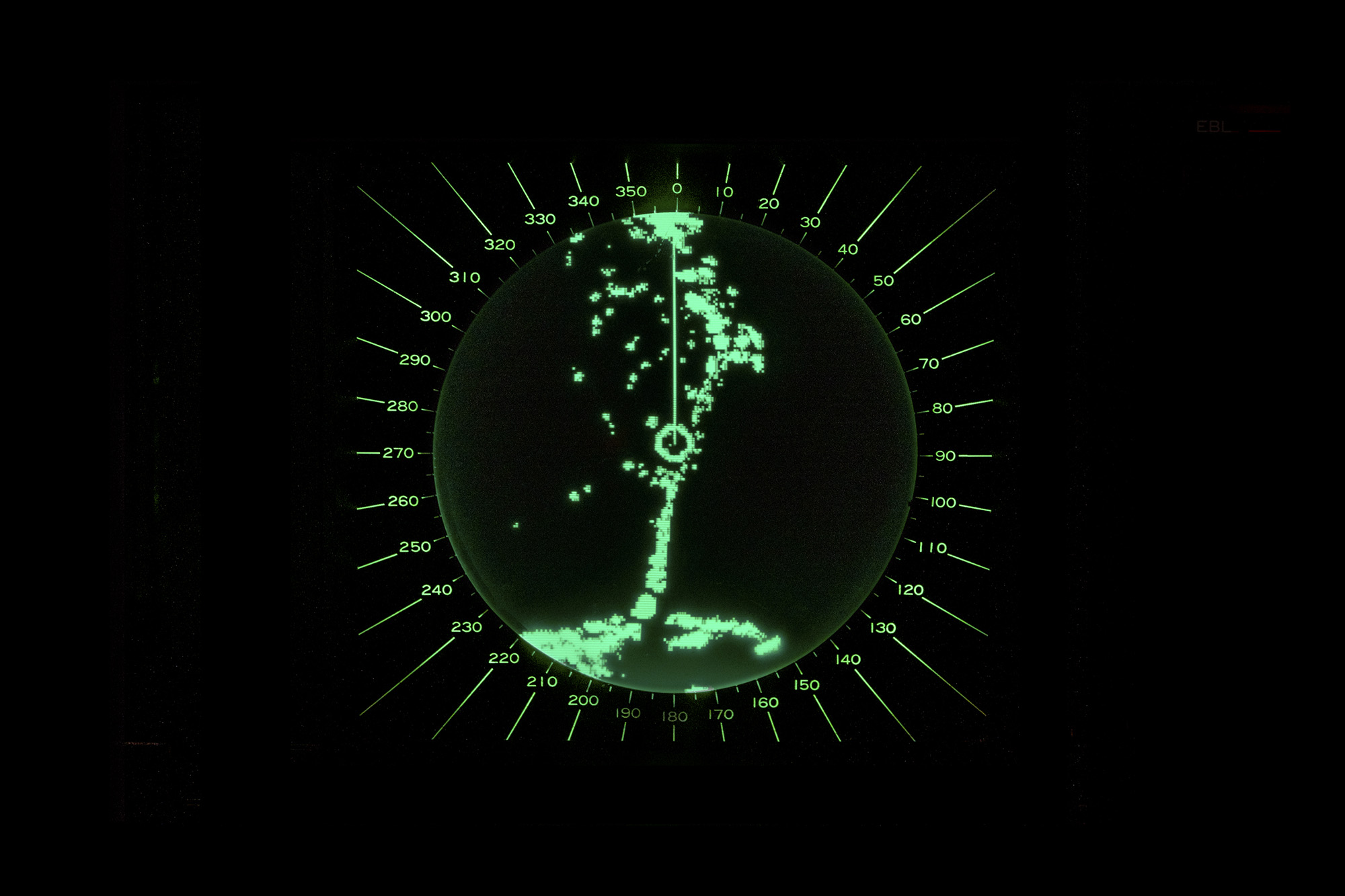 New solo exhibition RADAR in production for Kunsthal Regelbau 411, Oddesund Thyholm, Denmark. Two new site specific works are created in collaboration with engineers, acousticians and other specialists at Bang & Olufsen, radio enthusiasts from OZ3EDR - EDR Struer and with assistence from Sound Art Lab. More info to come.
Video documentation of THE RECEIVER at Struer Tracks #2 - International Sound Art Biennale in Struer, Denmark, August - September 2019. More info about the work can be found here.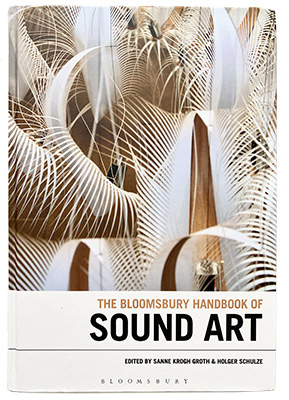 Old work on the cover of the new Bloomsbury Handbook of Sound Art editied by Sanne Krogh Groth and Holger Schulze. Published February 2.2020.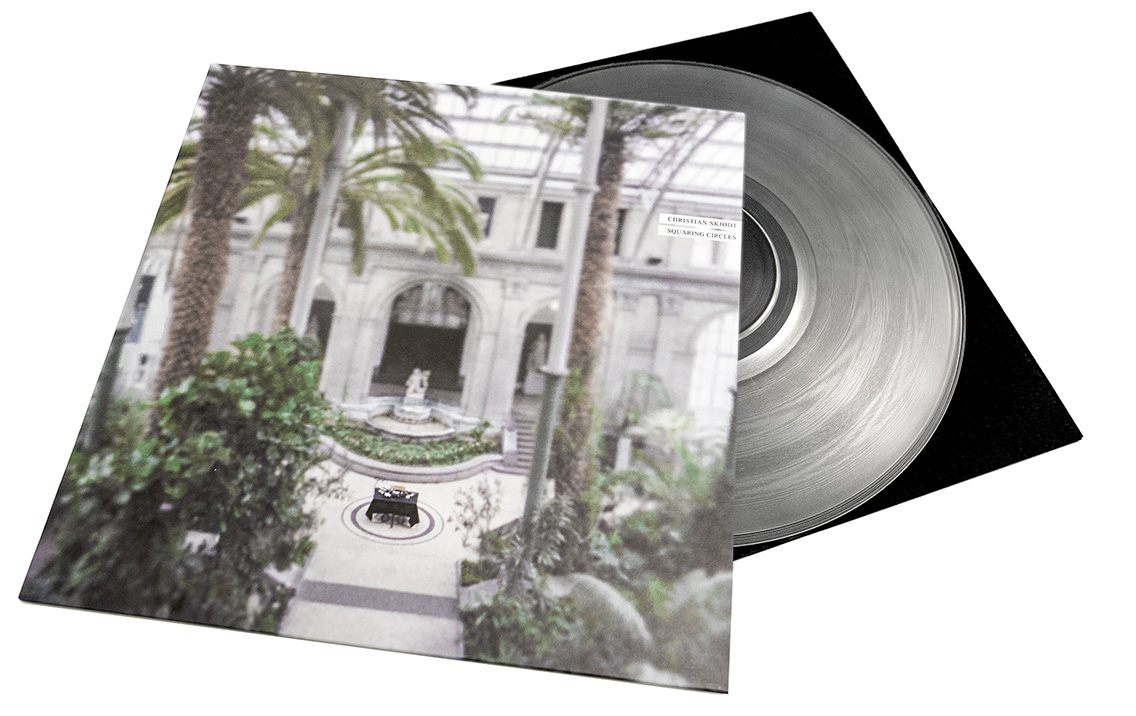 SQUARING CIRCLES is now released as a limited edition vinyl LP at Tonometer. Also avaiable via Bandcamp.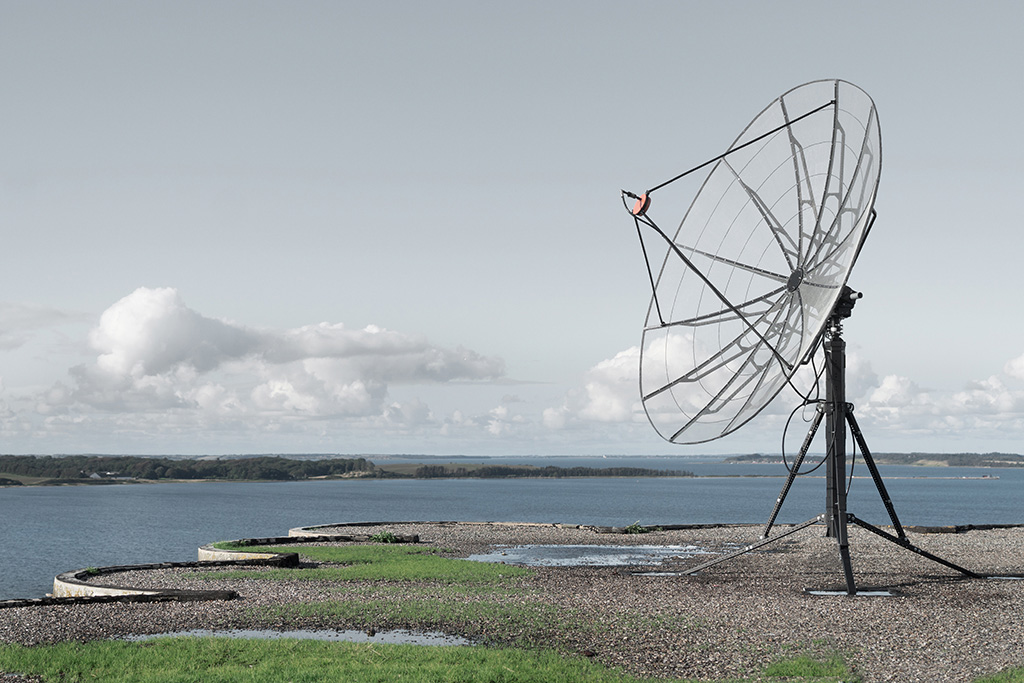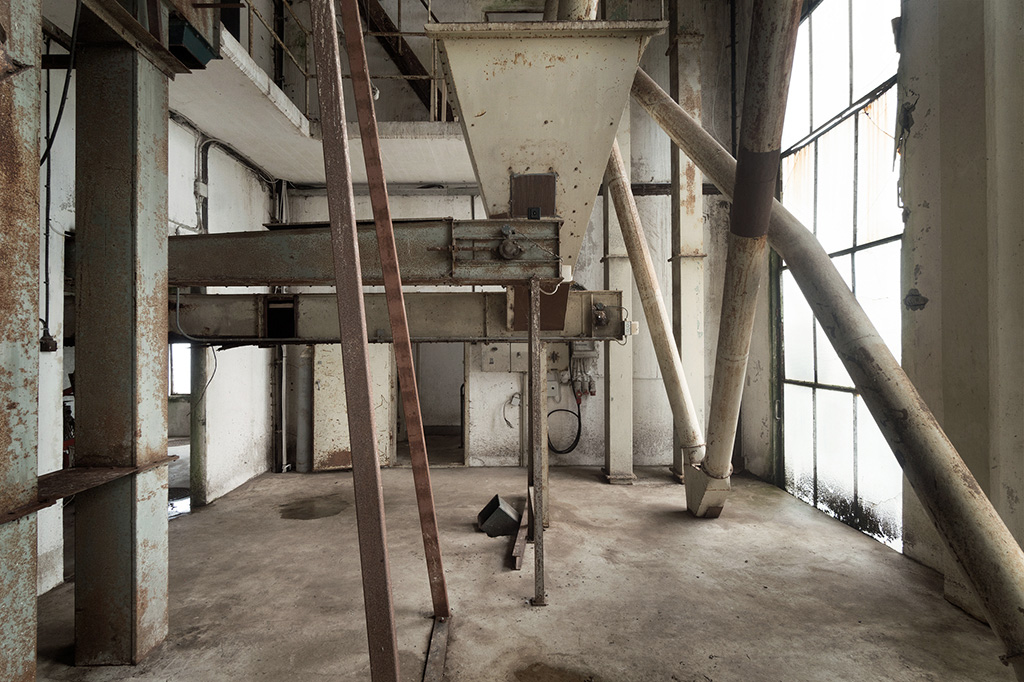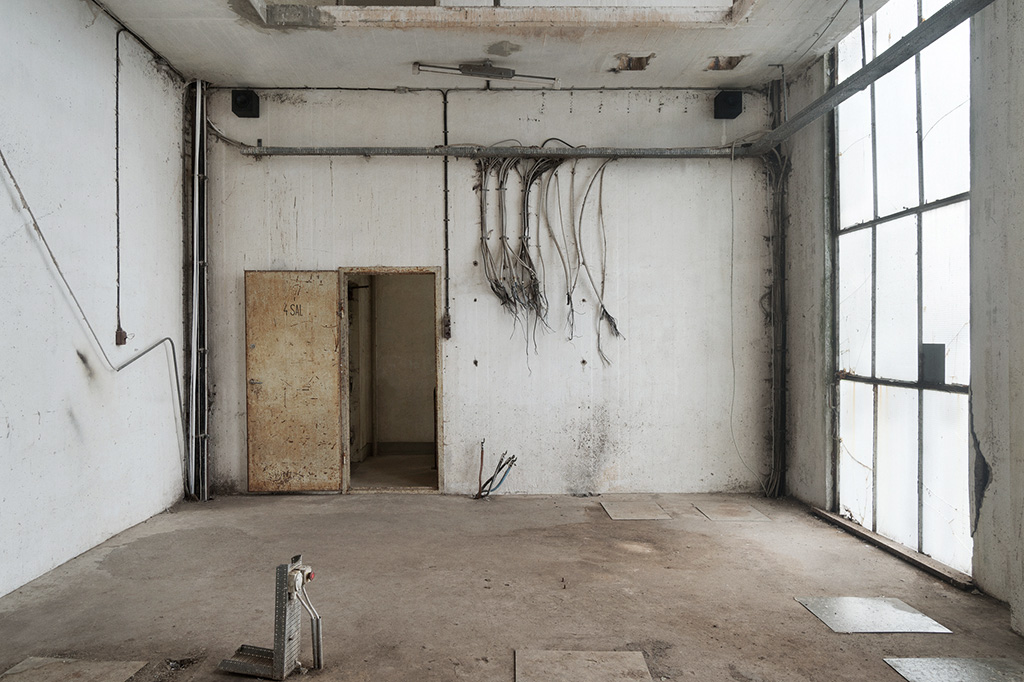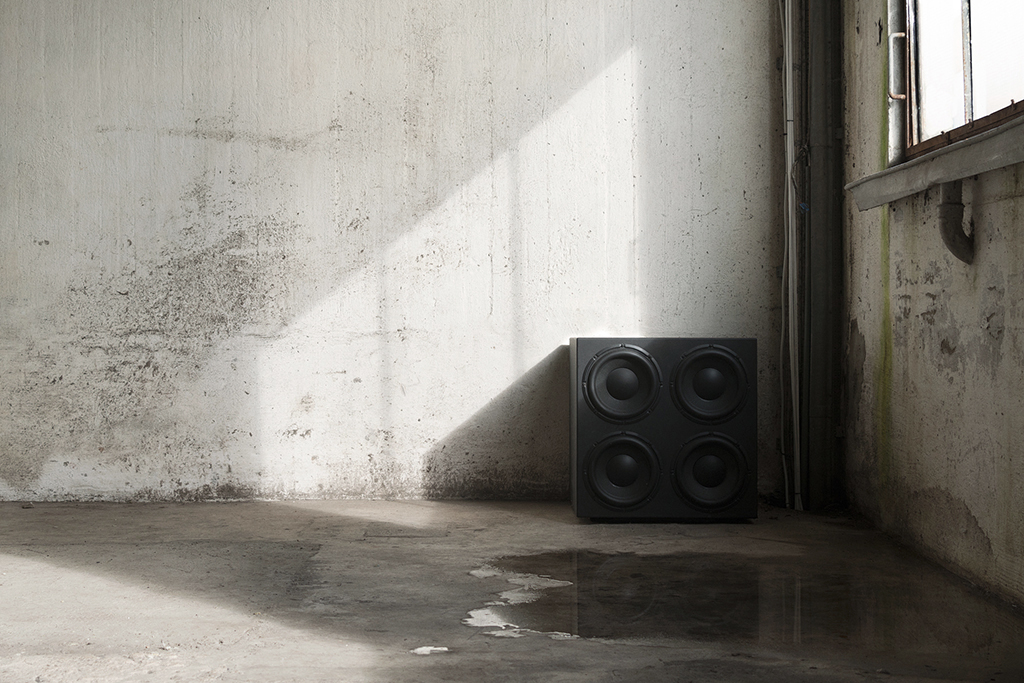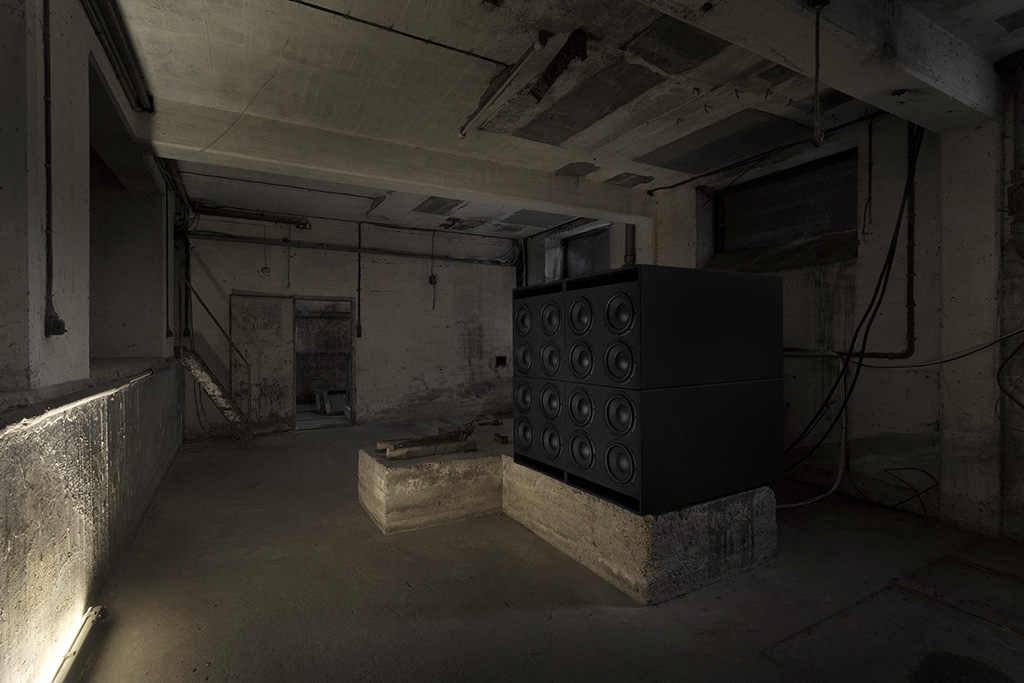 Photo documentation of THE RECEIVER by Lise Johansson. More documentation can be found here.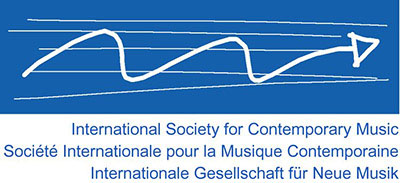 INTERDEPENDENCIES I has been selected to represent Denmark in the 2020 edition of ISCM - World New Music Days held in New Zealand April 2020.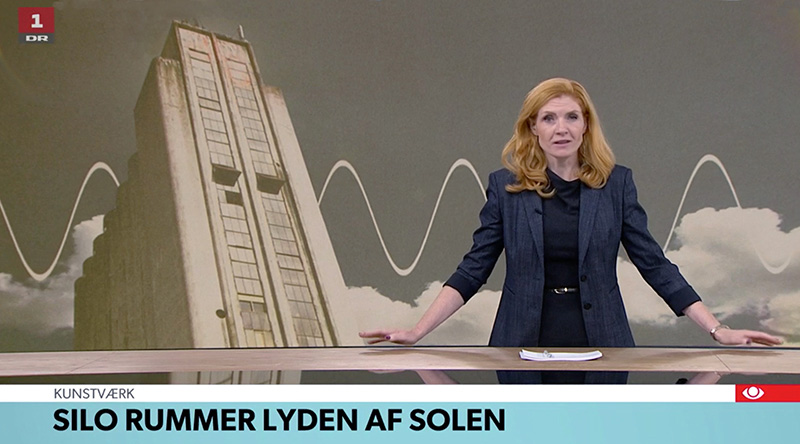 THE RECEIVER will be featured in great lenght in prime newscast at Danish national television (Danish Broadcasting Corporation) DR1 TV AVISEN September 5.2019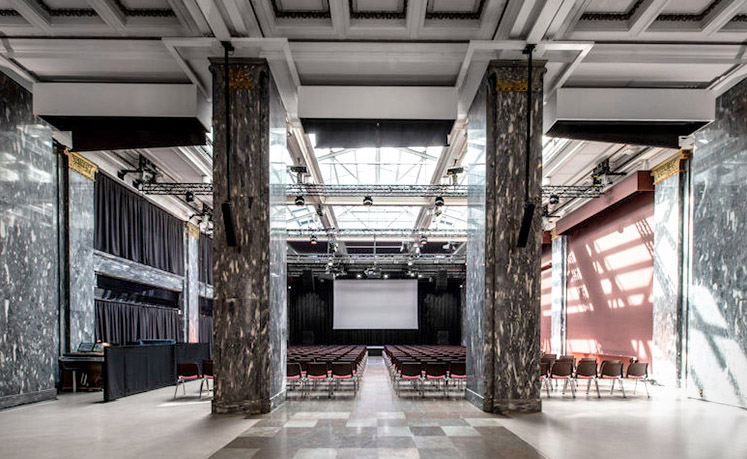 In collorabration with Notam, INTERDEPENDENCIES I will be presented live at the ULTIMA festival at Sentralen in Marmorsalen, Oslo. September 21.2019

Struer Tracks #2 - biennale for urban sound art, located in Struer, Denmark is now open and THE RECEIVER can be experienced everyday 10 - 17 untill September 07.2019. Artist list: Younes Baba-Ali (MA), Magnus Bugge (NO), Elsebeth Jørgensen, Jacob Kirkegaard, Ignas Krunglevičius (LT), Hanne Lippard (NO), Lundahl & Seitl (SE), Oswaldo Maciá (CO), Jonas Olesen & Sandra Boss, Christian Skjødt, Maia Urstad (NO), Crystelle Vu (FR) & Julian Oliver (NZ). Curated by Christian Skovbjerg Jensen.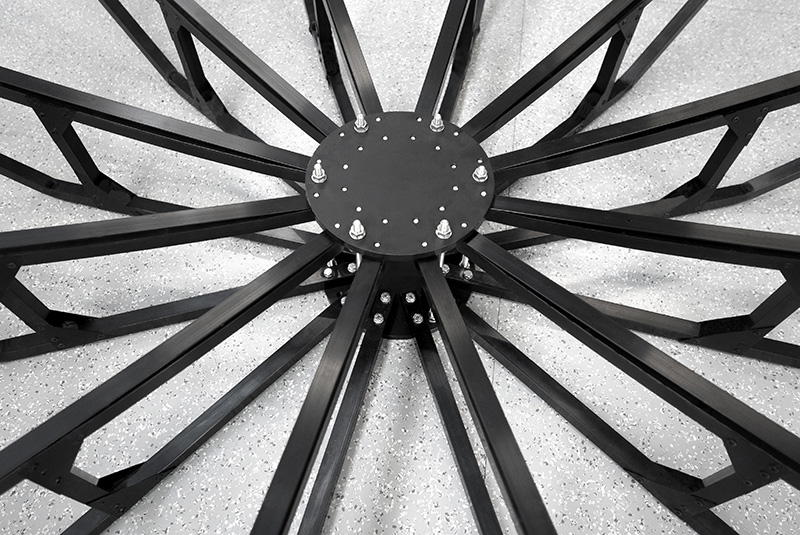 Currently working on a new piece commissioned by Struer Tracks - biennale for urban sound art, located in Struer, Denmark. The project is called THE RECEIVER and it is realised in collaboration with engineers, acousticians and other specialists at Bang & Olufsen. Opening of the festival will be August 23.2019. More info to come!

"The jury experienced the installation at the 2017 Ars Electronica festival exhibition and was already then drawn to the huge Æter installation and its majestic yet subtle presence that goes into dialogue with and offers an auditive insight into the invisible electromagnetic surroundings. Æter "listens" to the surroundings, even the audiences themselves, and transmits these signals as a deep low frequency undertow, the auditive part and thus the artwork constantly changing. The jury found it aesthetically moving, appealing, and somehow repulsive at the same time. It doesn't come on to you, it's almost ignorant of the audiences except for their electromagnetic signals." Jury: Christina Kubisch, Soichiro Mihara, François Pachet, Rikke Frisk, Shilla Strelka.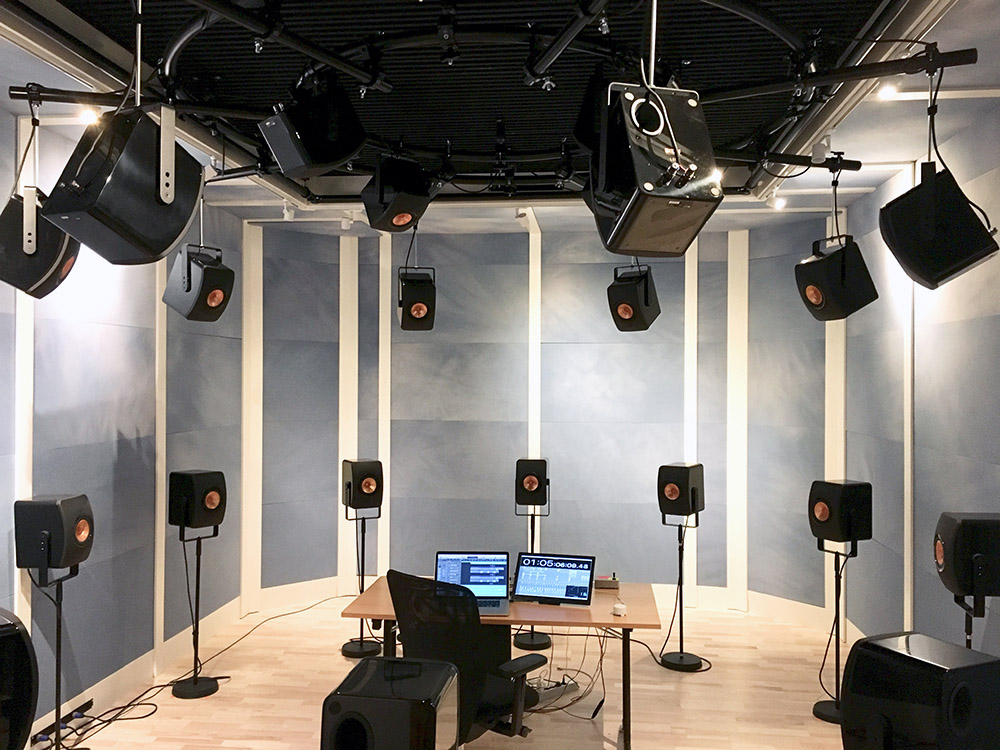 Back at Notam - Norwegian Center for Technology in Music and Art in June 2019 working on a new spatial sound piece to be presented at the Open Days 2019 festival.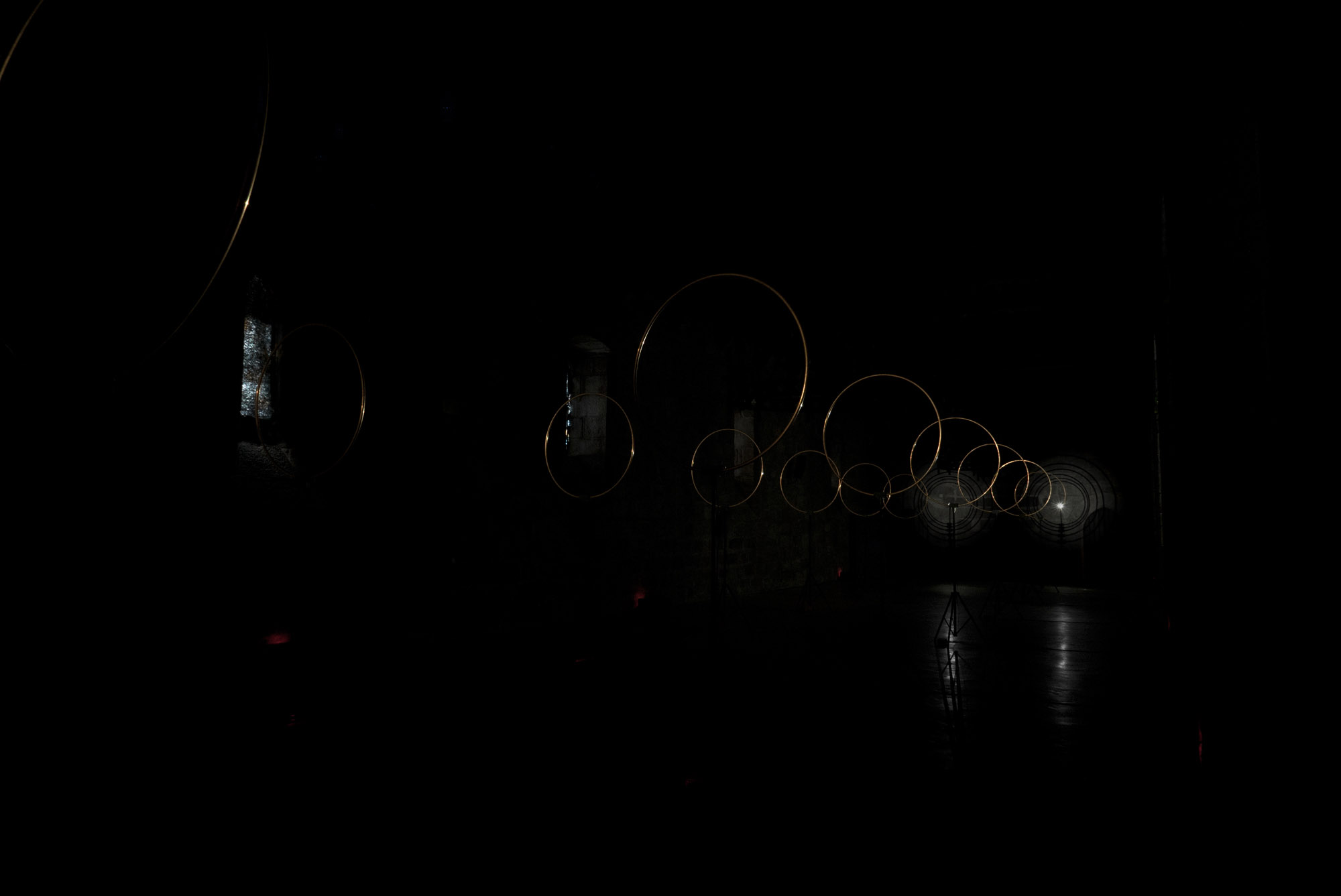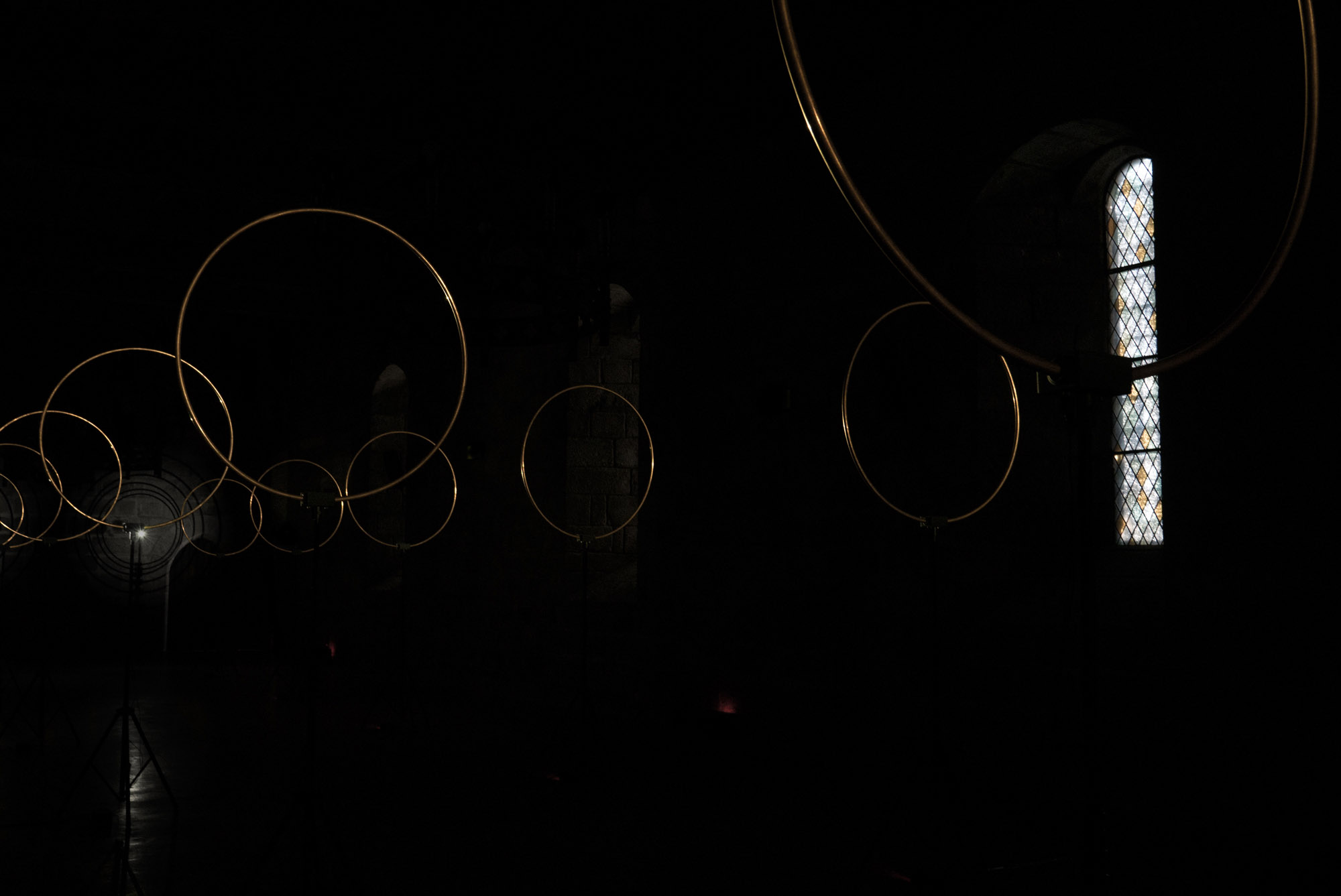 Photos from the exhibition of ÆTER in Salão Medieval, Largo do Paço, Archiepiscopal Palace, Braga September 2018.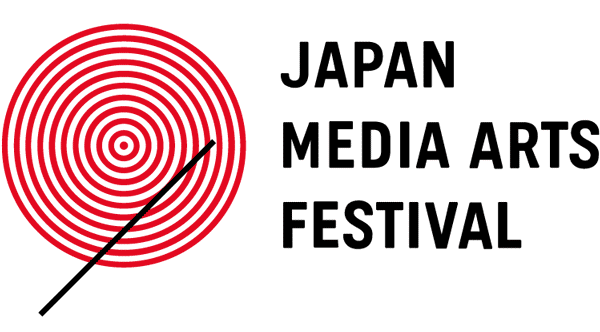 ÆTER has been chosen as the Jury Selection 2018 in the Art Division of the 21st Japan Media Arts Festival.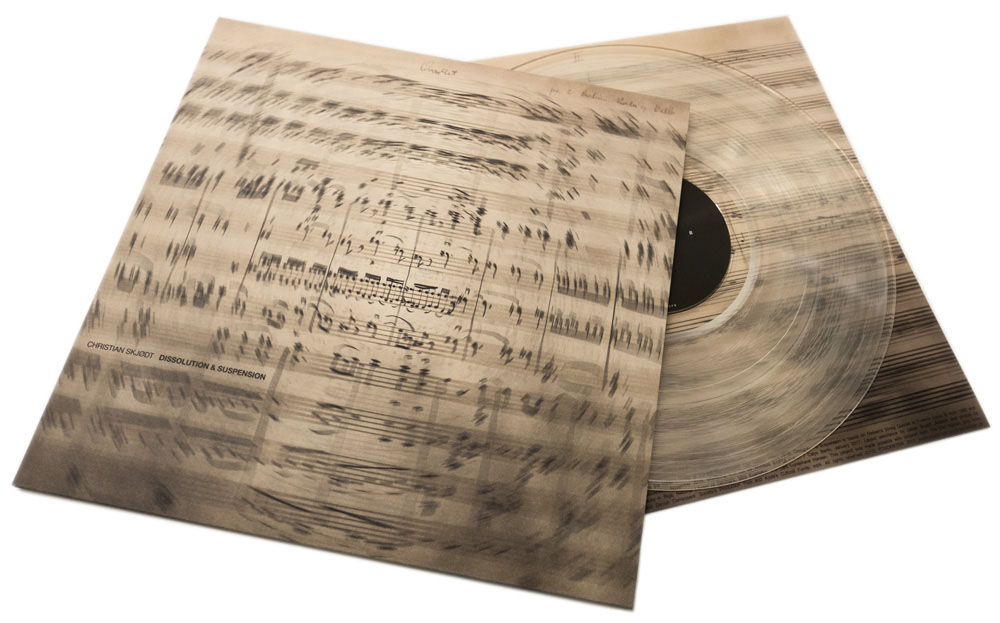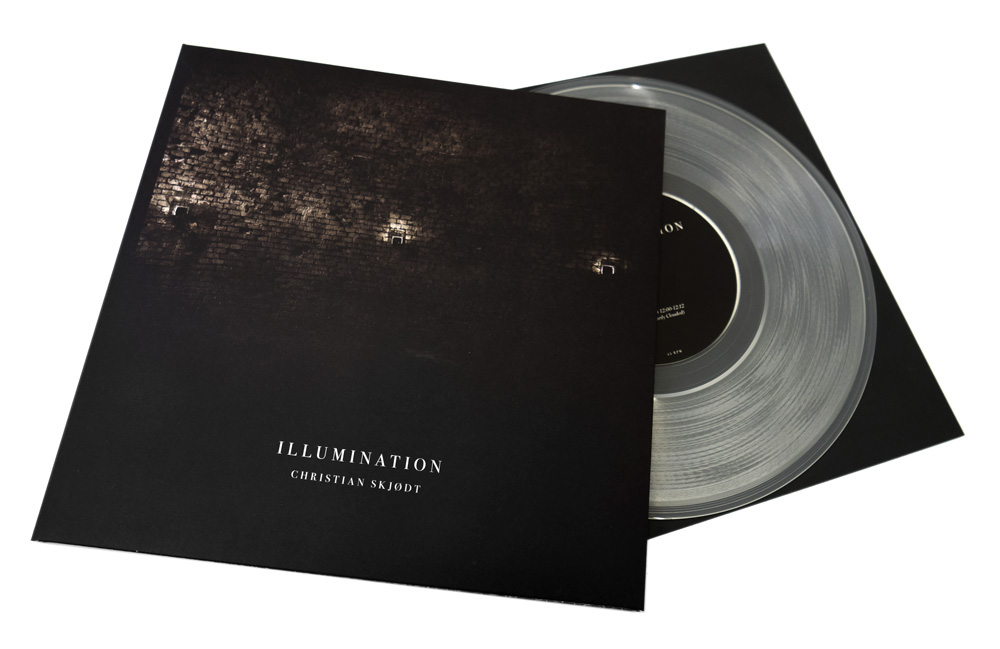 New vinyl records will be released March 2018 on Tonometer; Dissolution & Suspension (LP) and Illumination (10"). There will be an event at Kunsthal Charlottenborg, Copenhagen February 27.2018 organized by the Danish Cultural Institute celebrating the two releases.

Participating in the 2018 edition of the 'Mois Multi - Festival international d'arts multidisciplinaires et électroniques' in Quebec, Canada with the works Inclinations and ÆTER. More info about the festival can be found here.
Video documentation of ÆTER at Ars Electronica Festival 2017 – Festival for Art, Technology and Society. POSTCITY Linz, Austria, September 7-11.2017. More info about the work can be found here.
A snapshot before the performance October 20.2017 at the »zoom in« festival 2017 held at the Minster in Bern, Switzerland. The performance was recorded and more info will follow.
Video documentation of one fourth of Alternating Currents I-IV exhibited at Kungshuset, Lund, Sweden.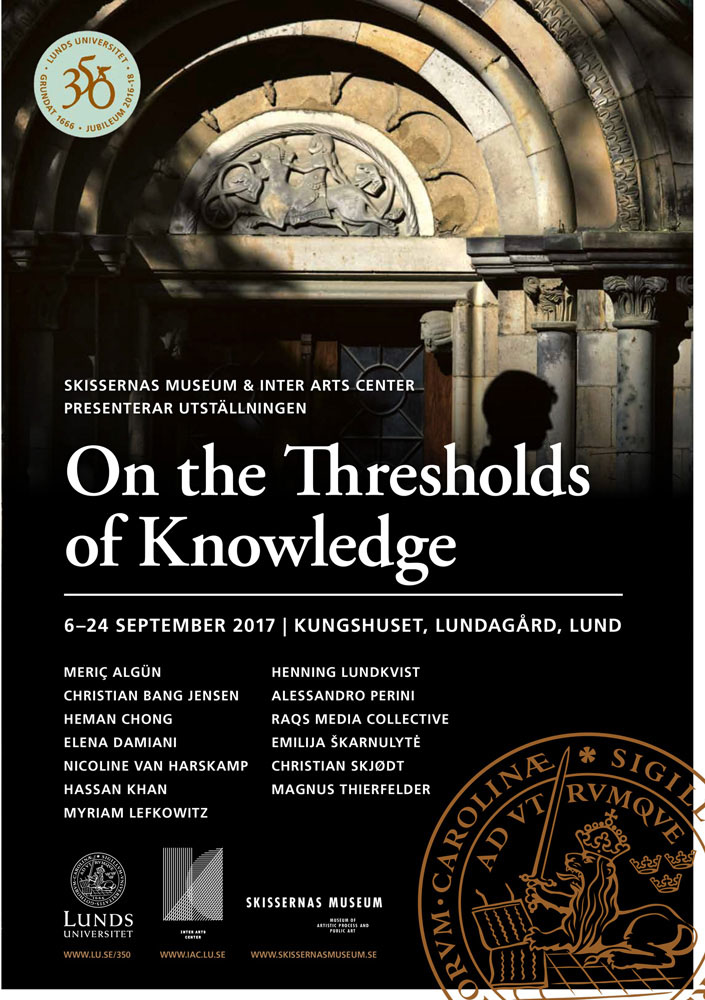 In 1688 The Kings House (Kungshuset) was donated to the university by Carl XI, just 20 years after the inauguration of Lund University. The 16th century edifice built by the Danish King, Frederik III, is one of the oldest in Lund. It served as the main building for the university up until the late 19th century, and through the centuries, there has been an astronomical observatory, as well as an anatomical operating theatre. The building is both a starting point for, and an element of, the location-specific jubilee exhibition. Now visitors will have the opportunity to discover the building and experience the works of 13 contemporary artists spread out on all the floors.
The project is curated by Christian Skovbjerg Jensen and Patrick Amsellem and is a co-production by Inter Arts Center from the Faculty of Fine and Performing Arts and Skissernas Museum – Museum of Artistic Process and Public. The project is funded by Lund University's 350th anniversary jubilee with a grant from the City of Lund. The Botanical Garden and the University Library in Lund have been valuable collaboration partners for the exhibition.
Participating artists: Meriç Algün, Christian Bang Jensen, Heman Chong, Elena Damiani, Nicoline van Harskamp, Hassan Khan, Myriam Lefkowitz, Henning Lundkvist, Alessandro Perini, Raqs Media Collective, Emilija Škarnulytė, Christian Skjødt and Magnus Thierfelder.
Welcome to the Opening: 6th of September at 17:00-20:00. Kungshuset, Lundagård, Sweden. The exhibition will run from 6th to 24th of September 2017.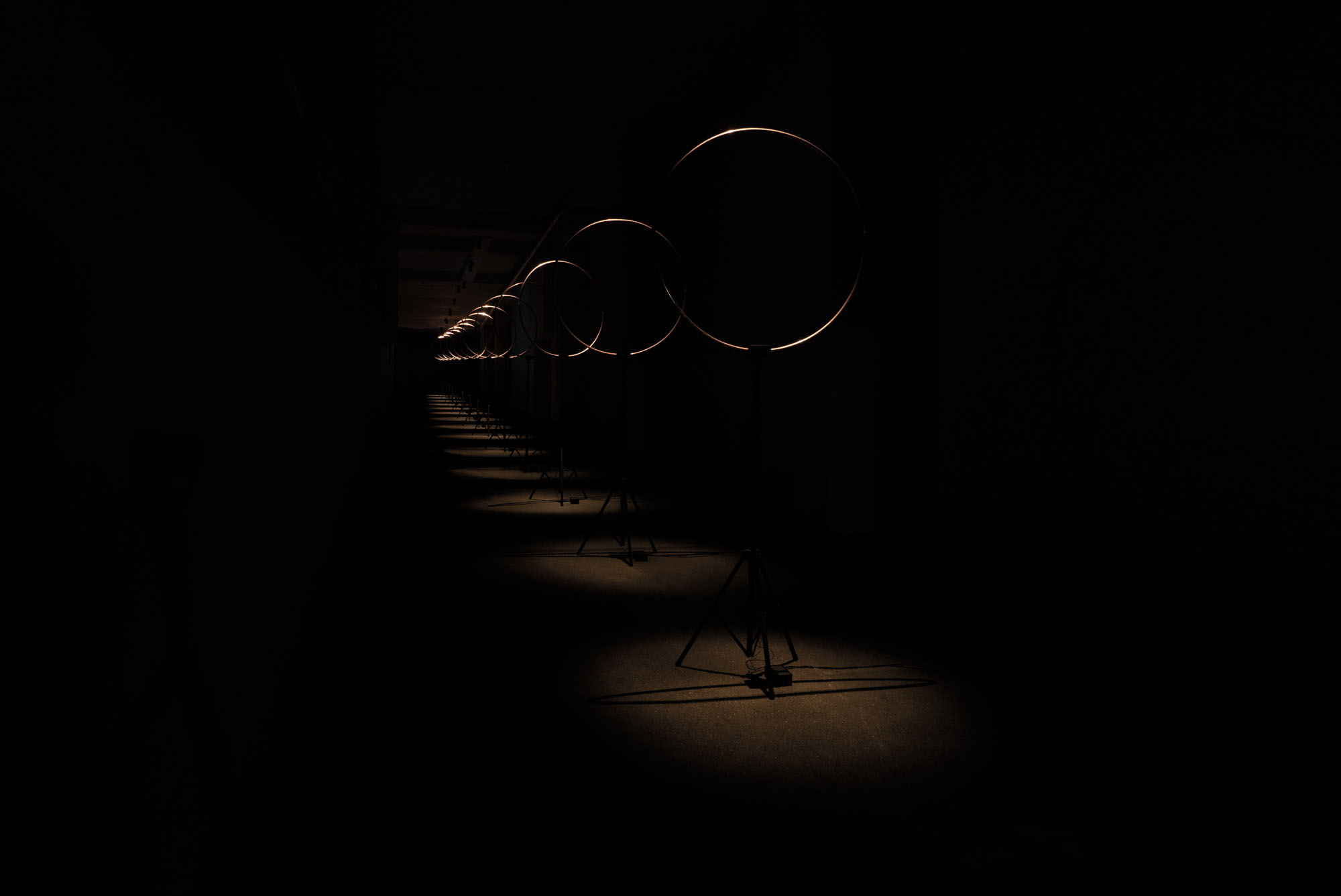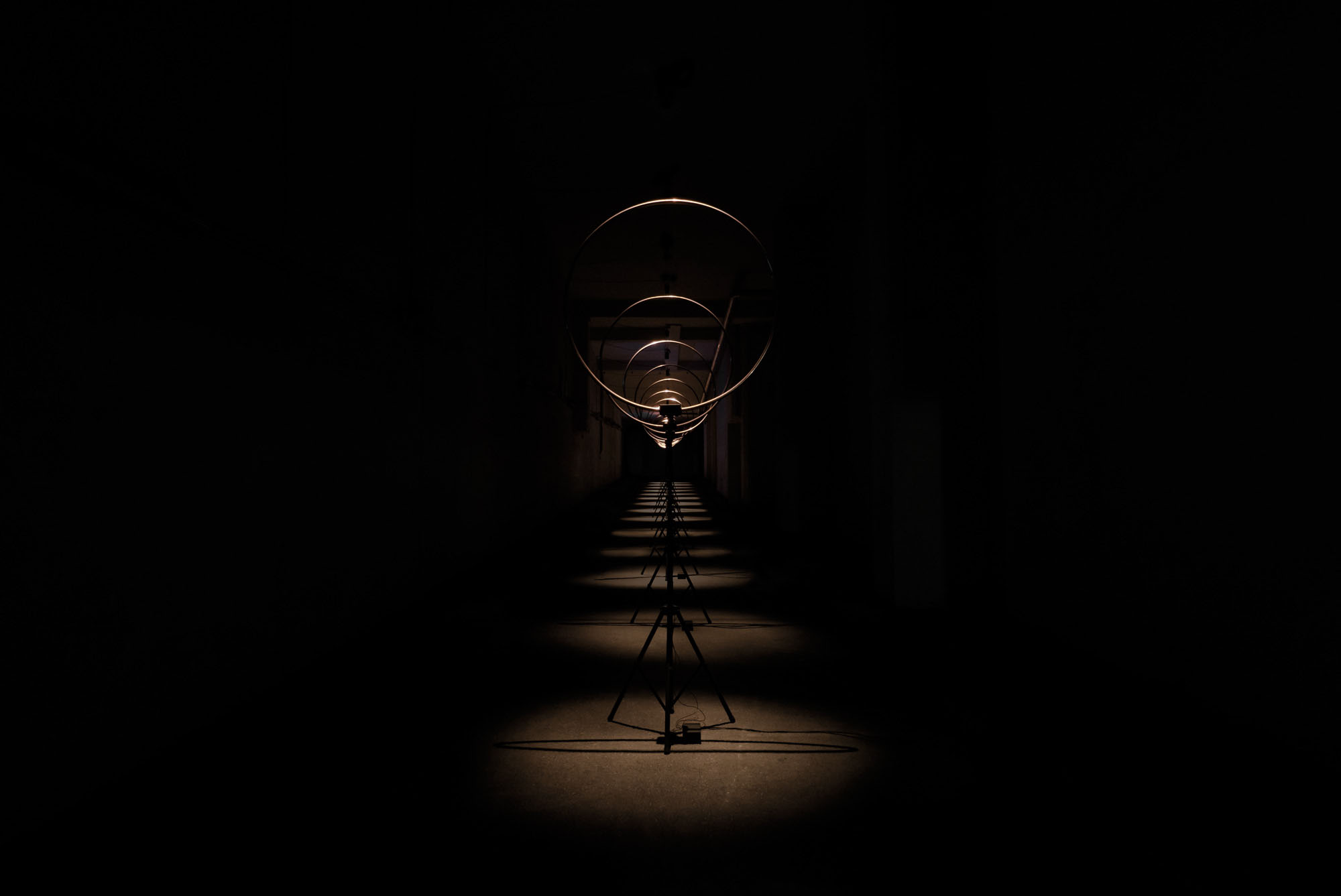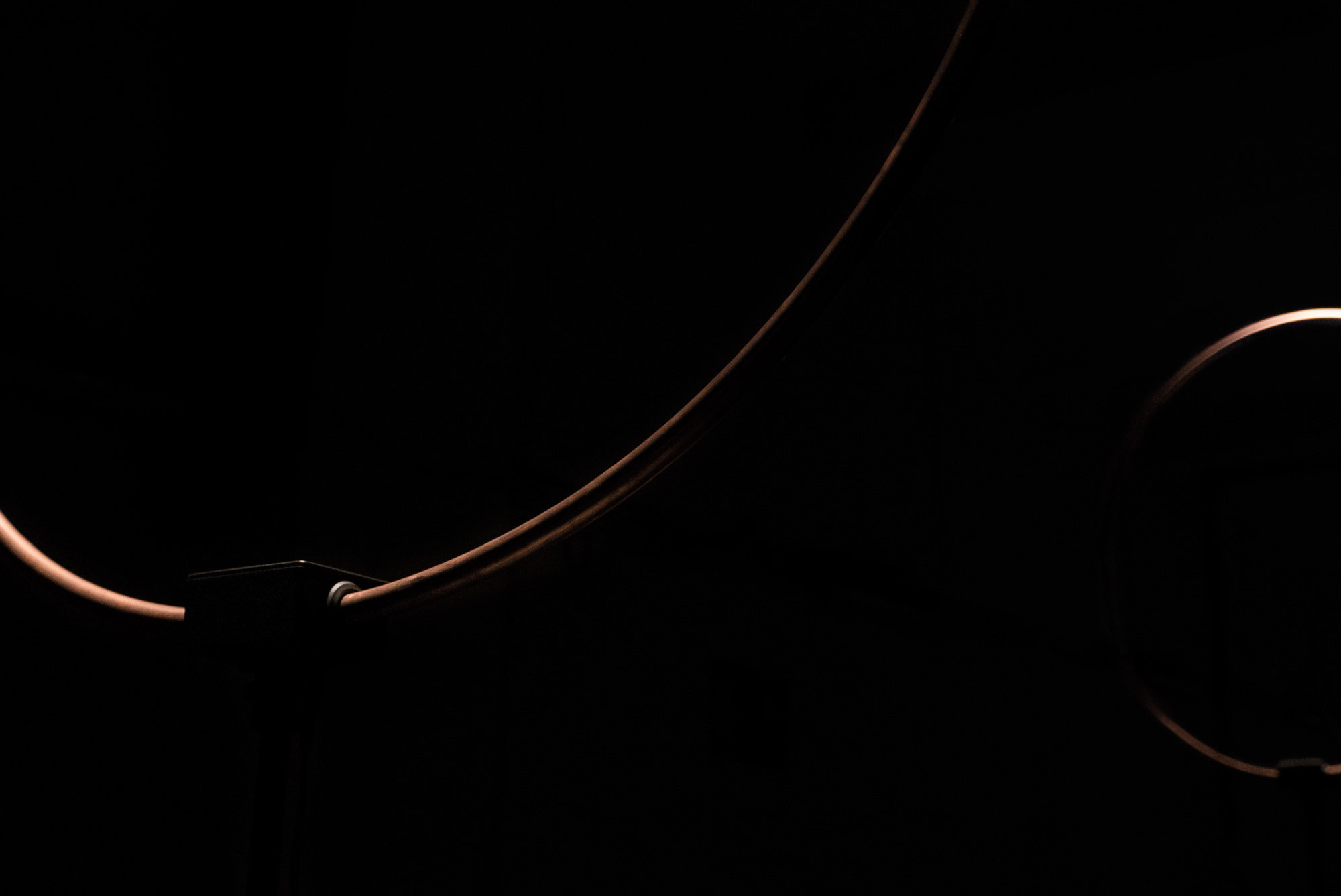 The new sound installation ÆTER will be presented at the 2017 edition of the Ars Electronica Festival in Linz, Austria.
September 7-11, 2017, Linz will host an exciting, comprehensive confrontation with the reality and the vision of artificial intelligence. Symposia, exhibitions, performances, workshops and artistic interventions will elaborate in depth on its cultural, psychological, philosophical and spiritual dimensions. Consideration of the essence of a future artificial intelligence created by human beings will also be the point of departure of a process of reflection about ourselves, our weaknesses and strengths—in short, about what makes us human.
More about ÆTER can be found here.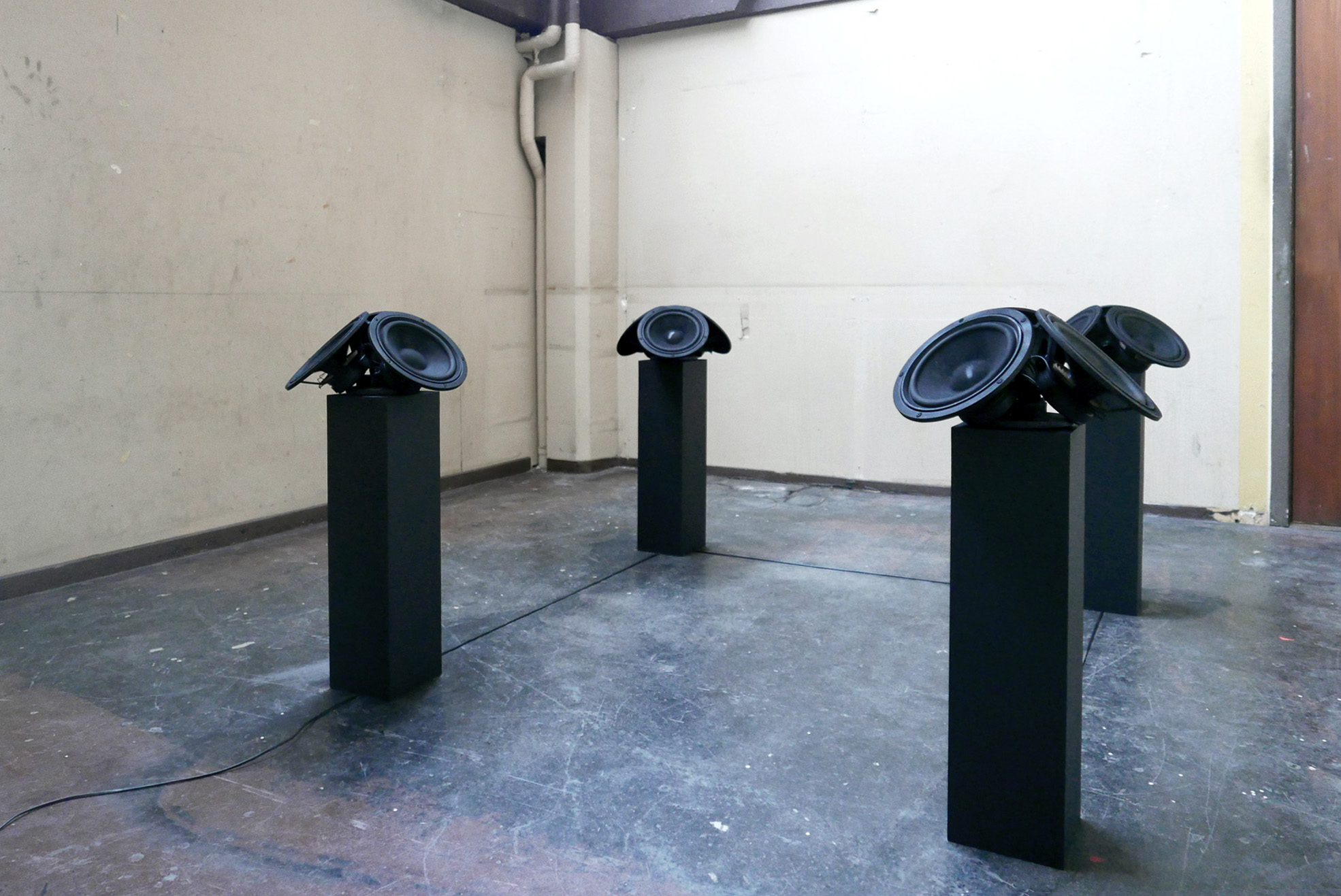 ALTERNATING CURRENTS I-IV will be presented at the group show 'Engros' May 19 - June 24.2017 at Grønttorvet, Copenhagen, Denmark.
Exhibiting artists: Nanna Abell, Solveig Adalsteinsdottir, Lisbeth Bank, Julie Bitsch, Anders Bonnesen, Rune Bosse, Ole Broager, Mikkel Carl, Eva Steen Christensen, Jesper Dalgaard, Rose Eken, Esben Gyldenløve, Lone Høyer Hansen, Kasper Hesselbjerg, Ellen Hyllemose, Jytte Høy, Amalie Staunskjær Jakobsen, Klaus Thejll Jakobsen, Oscar Jakobsen, Veo Friis Jespersen, Kirsten Justesen, Marianne Jørgensen, Heine Kjærgaard Klausen, Esben Klemann, Jørgen Carlo Larsen, Karin Lind, Karin Lorentzen, Mathias & Mathias, Ragnhild May, Henrik Menné, Morten Modin, Astrid Myntekær, Tina Maria Nielsen, Camilla Nørgård, Kaj Nyborg, Peter Olsen, Lars Bent Petersen, Cai-Ulrich von Platen, Bjørn Poulsen, Finn Reinbothe, Amitai Romm, René Schmidt, Thora Sigurdardottir, Christian Skjødt, Julie Stavad, Hartmut Stockter, Morten Stræde, Daniel Svarre, Laurits Nymand Svendsen & Margrét Agnes Iversen & Malte Klagenberg & Jens Tormod Bertelsen & Søren Krag & Cilla Leitao & Sune Lysdal & Carla fra Hellested & Lorenzo Tebano & Anna Samsøe & Ásta Fanney Sigurdardottir, Rikke Ravn Sørensen, Mikael Thejll, Charlotte Thrane, Fredrik Tydén, Sif Itona Westerberg, Torgny Wilcke.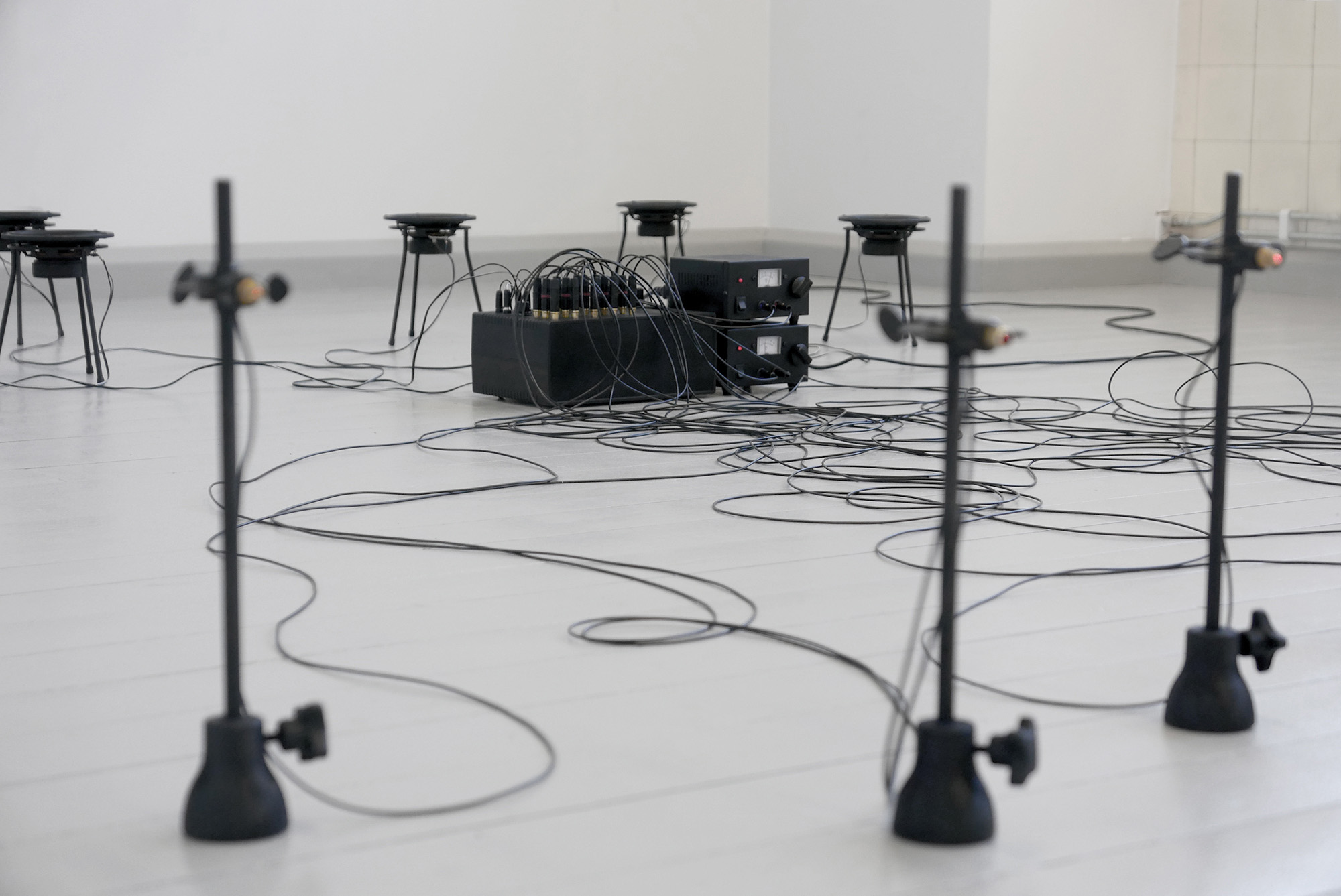 For the third consecutive year, Inkonst and Inter Arts Center present Intonal festival in partner-ship with CTM and Unsound. As ever, Intonal celebrates musical expressions off the beaten track – from exciting journeys into sound to experimental club music and energetic live perfor-mances. And artist talks, screenings and video and sound installations are integrated even deeper into the festival program this year. The installation programme has become more integrated and prioritized in the Intonal programme. For the third edition of the festival Intonal will present four installations with Anne de Vries, Christian Skjødt, Mark Fell and Hassan Khan. In the Black Room IAC will present Anne de Vries' video Critical Mass: Pure Immanence. In the Annex on the third floor, Christian Skjødt is developing a new installation - RAMIFICATIONS - during his two months residency at IAC, through the Make Sound programme. Mark Fell was in residency at IAC in the Fall of 2016, and is also developing a new installation, for the White Room. And last but not least Hassan Khan is putting together two installations in one, outside the entrance to IAC and the Mazetti House.
The Intonal Festival will talke place 28th - 30th of April 2017 at Inkonst and Inter Arts Center, Malmö, Sweden. More information about the installation can be found here.
Video documentation of the solo exhibition Sub- at Overgaden. Institute of Contemporary Art in Copenhagen, July 2016. Featuring the works: Refractions, Inclinations and Vibrant Disturbance IV.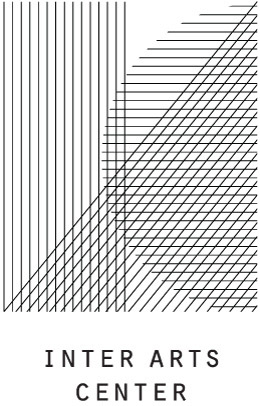 Artist-In-Residence at Inter Arts Center (IAC) in Malmö, Sweden March - April 2017. IAC is a platform for artistic research and experimentation, part of the Faculty of Fine and Performing Arts at Lund University. It acts as a meeting place and a work space for researchers and artists who use the facilities for short or long term projects.
What makes IAC unique is that it in addition to being an environment designed specifically for artistic research and interdisciplinarity, it is also open to experimental and multidisciplinary artists working in visual art, music and theatre. This combination of artist working within as well as outside the academy is a vital component in the development of artistic research.
IAC's position in the art world differs markedly from that of institutions such as museums, art galleries, concert halls, theatre companies and venues, as well as more artist-driven and often short-term initiatives. IAC does not need to adhere to specific formats of presentation nor focus on attendance. This allows IAC to concentrate more on contributing to the development of various artistic fields, by working with processes, research, experimentation and technology over time.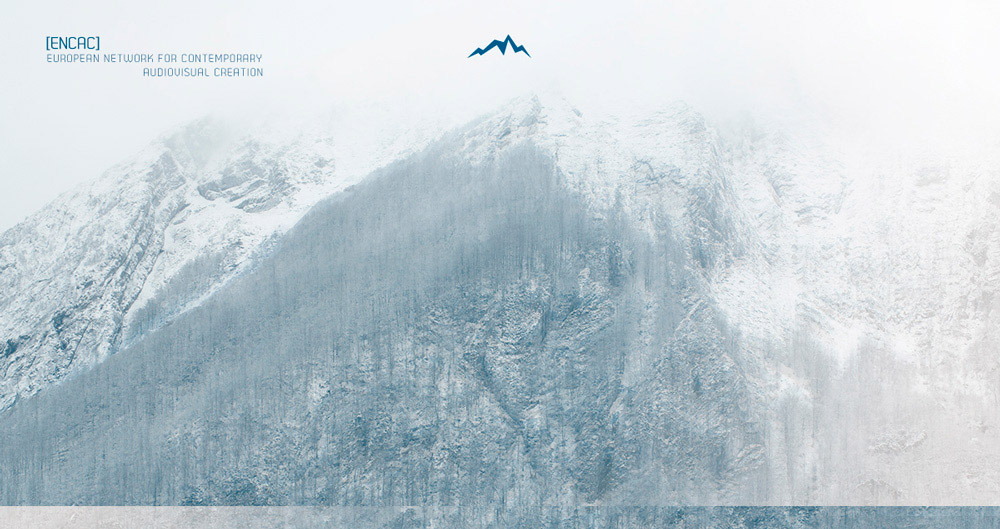 The European Network for Contemporary Audiovisual Creation (ENCAC) is pleased to announce this year's winners of their annual open call. Totalling 186 submitted projects from 34 countries, a wide range of approaches from developers, performers, visual artists, film makers, choreographers and musicians, composers and sound artists presented their particular visions of the potential for audiovisual creativity in cross-disciplinary fields.
Winning projects are: "ÆTER" by Christian Skjødt, "Embodied Gestures" by Enrique Tomás, "Manufactory" by Transforma, "Permafrost" by Adam Basanta and Gil Delindro, "Aeryon" by Maotik and "Soft Probe" by Matthew Biederman and Marko Peljhan. Each of the 6 winning artists will be awarded a residency at one of the following institutions: Avatar, Quebec, CTM Festival DISK, Berlin, hTh Montpellier, LABoral Centro de Arte y Creación Industrial, Gijón and Le Lieu Unique, Nantes.
More info can be found here.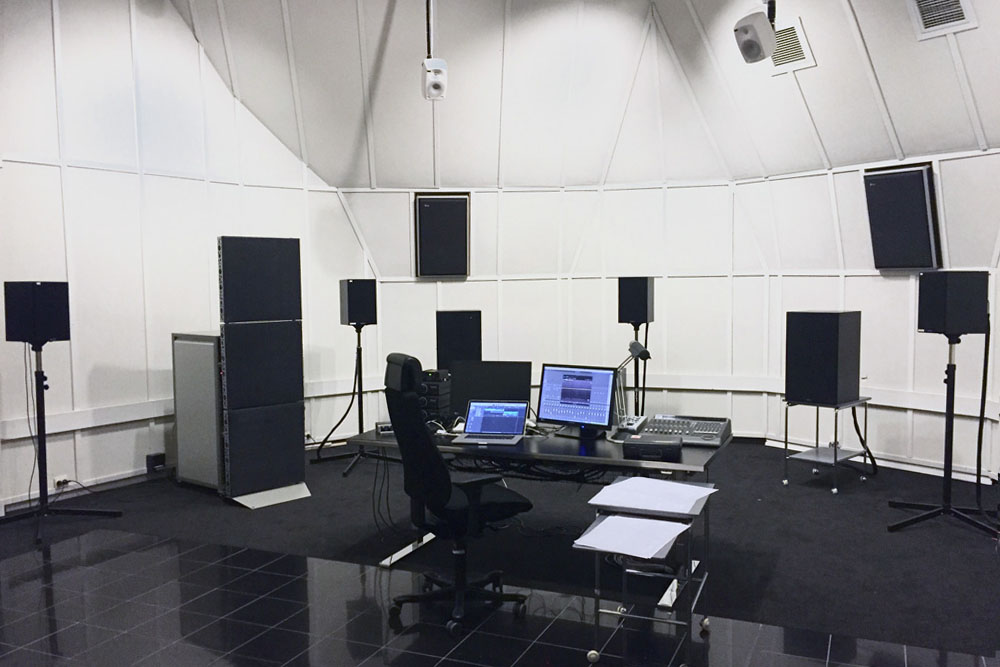 Artist-In-Residence at E.M.S. in Stockholm, Sweden, November/December 2016.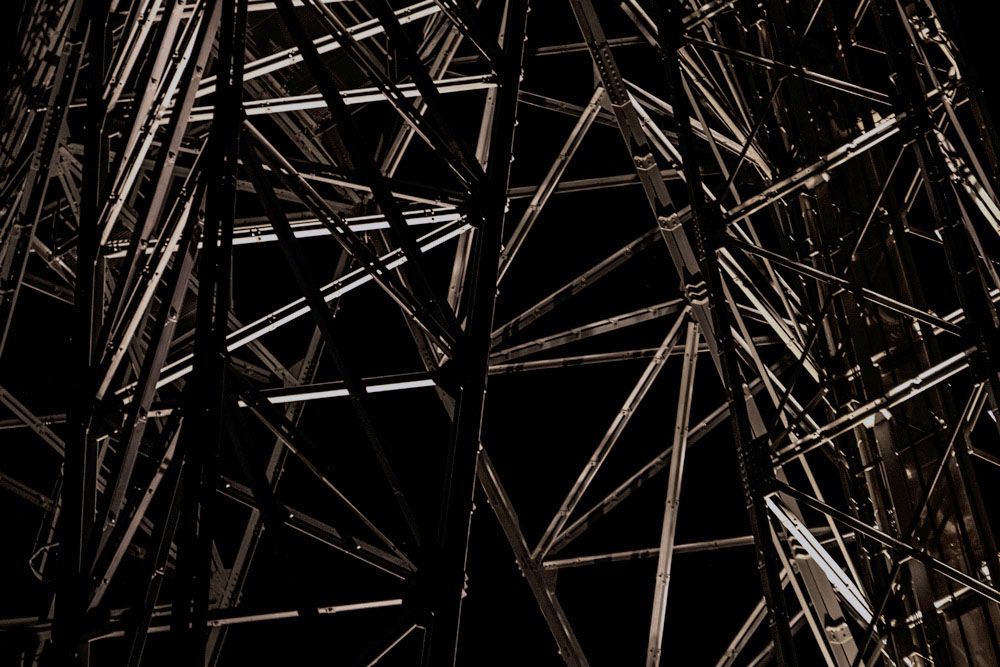 Premiere of site-specific 4-channel sound piece 75 TONS OF STEEL in the Aalborg Tower, Denmark. September 16.2016
The White-Walled Laboratory
What happens in the moment we actually hear ourselves and our own presence? In the moment when the inaudible becomes audible? Christian Skjødt's exhibition Sub- makes the mind and body vibrate.
Laser beams are directed at the windows facing onto Christianshavn Canal, capturing vibrations from their panes. They shoot back, creating feedback. The first room of the exhibition houses the installation Refractions (2016). Here Skjødt works acoustically with the phenomenon of the window as the material division of two spaces. Because at the exact point when the laser beam is translated into sound, whether the sound comes from inside or outside is irrelevant. This generates new premises for the space. Not as a single space, but as x number of spaces with the emergence of a sensitive relationship between the feedback system and the people who occupy the space. As soon as one system shuts down, another begins. The work is the sum of the number of systems listening to themselves and each other – an uncontrollable sum of x number of memories, x number of perspectives as sound is not solely something we can measure in decibels and hertz.
The kinetic work Inclinations (2016) is installed in the corridor. The loudspeakers send out sound waves that are beyond the audible frequency range of human hearing. On each of them there is a ball that the vibrations of the loudspeaker set in motion, creating a rhythmic pattern. The prepared loudspeakers make sound present. The work is a witness to what we are unable to hear and the boundary between our sensory apparatus and the materiality of the world.
The Installation of Flux and Vibrations
Skjødt works in the field of installation art, with a specific focus on the connections between sound and space and a constant eye and ear on human sensory perception.
This approach takes us back to New York in the late 1950s, when the composer and theorist John Cage extended the field of musicality to include the categories 'silence' and 'noise' and reinstated music as a category of sound. As an extension of this, a group of artists under the collective name Fluxus started to incorporate sound in more sculptural and visual forms that were spatially installed. Many of these artists attended Cage's courses on experimental composition at the New School of Social Research in New York.
In the publication Background Noise (2015), the art theorist Brandon Labelle describes how Fluxus' innovative use of mixed media (especially sound) changed perceptions of art. Fluxus artists drew attention to the radical use of art in situ, pointing to our presence in a material world. Consequently, the art world started to turn its attention to attentiveness itself – the aesthetic experience – rather than the art object. According to Labelle, sound art gained ground as art moved from objects to environments, because the essence of sound is relational, oscillating and communicative – in a constant, dynamic relationship to the spaces and bodies it emerges between.

Physics and Aesthetics
Christian Skjødt compiles sound installations with a laboratory approach in which technical and physical experiments play a central role. He has described how in many ways sound bypasses the intellect and 'speaks' directly to the body, reminding us of the direct link between the body, thinking and reality. His visuals are minimalist, investigating individual audio-technical principles that investigate themselves and the space they are in. His work is based on the physicist's approach of allow- ing objects and materials to be what they are. But the listener physically changes this sterile scenario adding x number of unknown factors. By making the visitor part of the art situation standing in the midst of the artwork, Skjødt continues the legacy of the Fluxus movement. As a work, Refractions can thus not be pinned down, developing as it does due to the presence of the 'sound bodies' participating in the space. Many of Skjødt's works function interactively and reactively, including Vibrant Disturbance (2012), which changes according to the degree and intensity of the flow of light. In this way, Skjødt creates spaces where it is impossible to stand at a distance as a viewer. We have to relate to place and time.

Between hearing and listening
Skjødt combines two languages in his works. One is the language that articulates the conditions of hearing and conceives of people in terms of capacities – a language based on the scientific ideal of measuring the world and its materiality. The other articulates human perception and the potential of listening, where the individual is understood as a socially con- ditional entity. Skjødt intervenes between these two spheres, seeking to frame the moments where the inaudible becomes audible to let sensory perception unfold.
Text written by Karen Juhl for the exhibition folder of Sub- July 2016 at 'Overgaden. Institute of Contemporary Art'.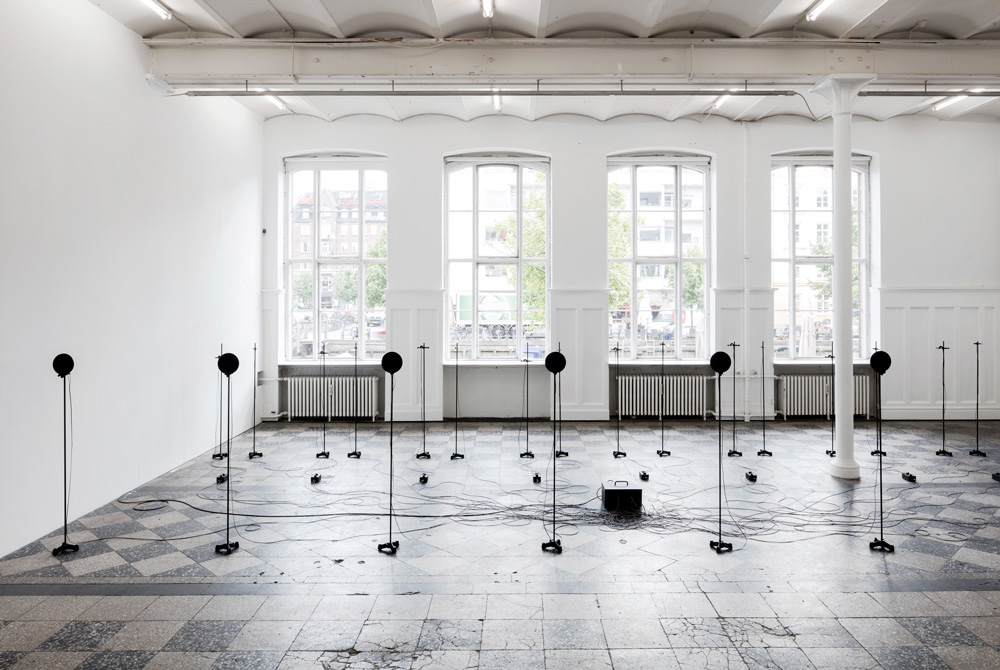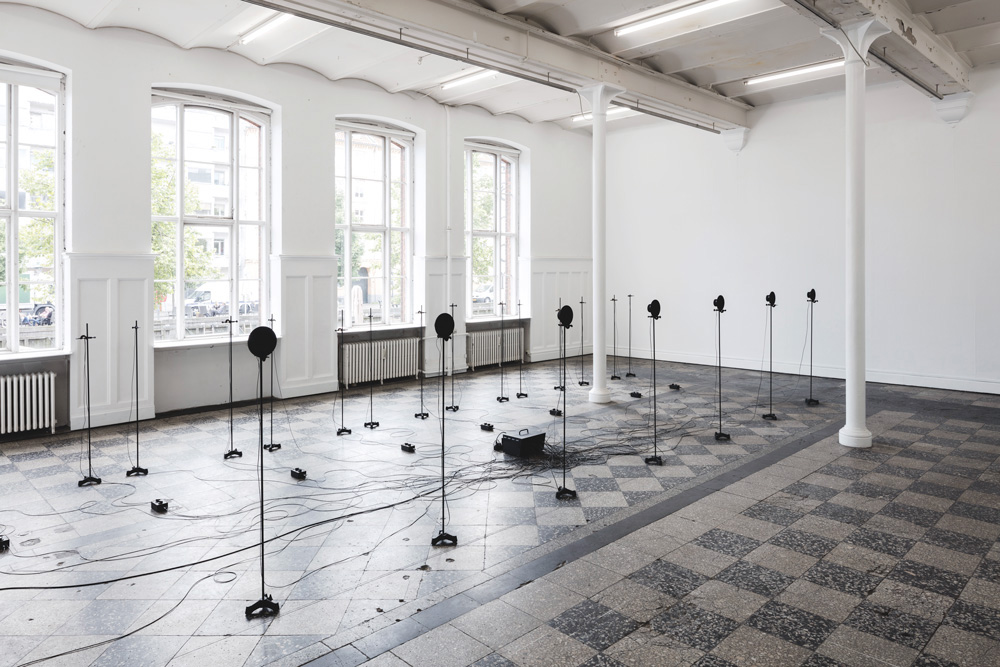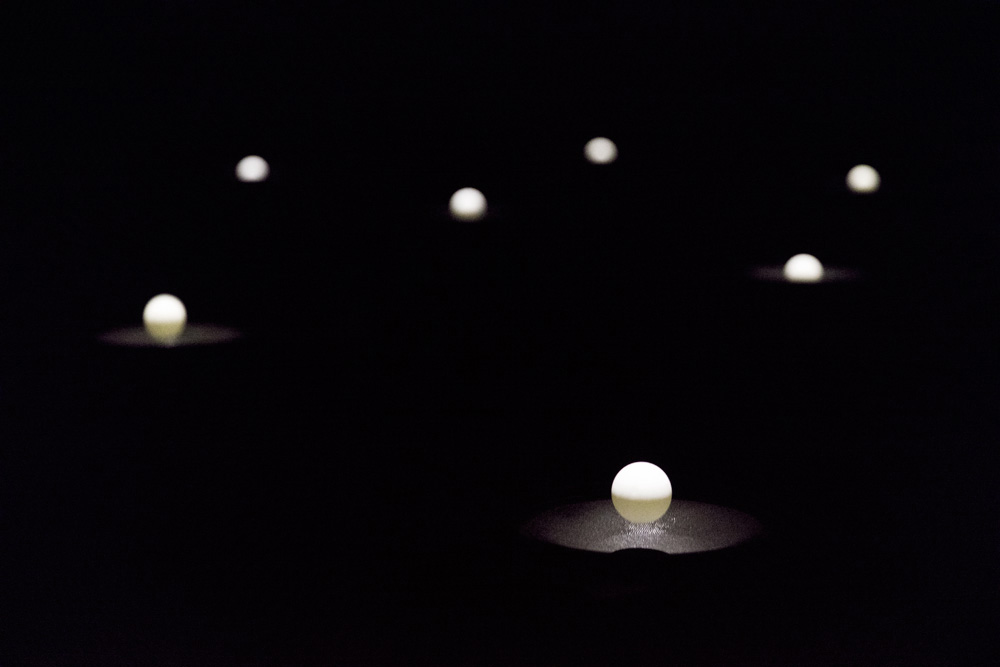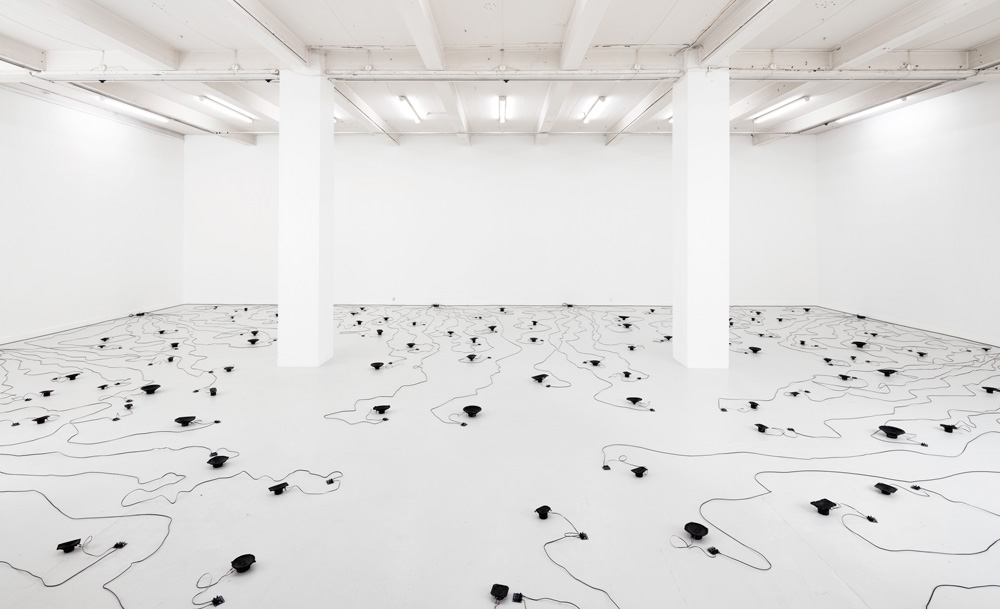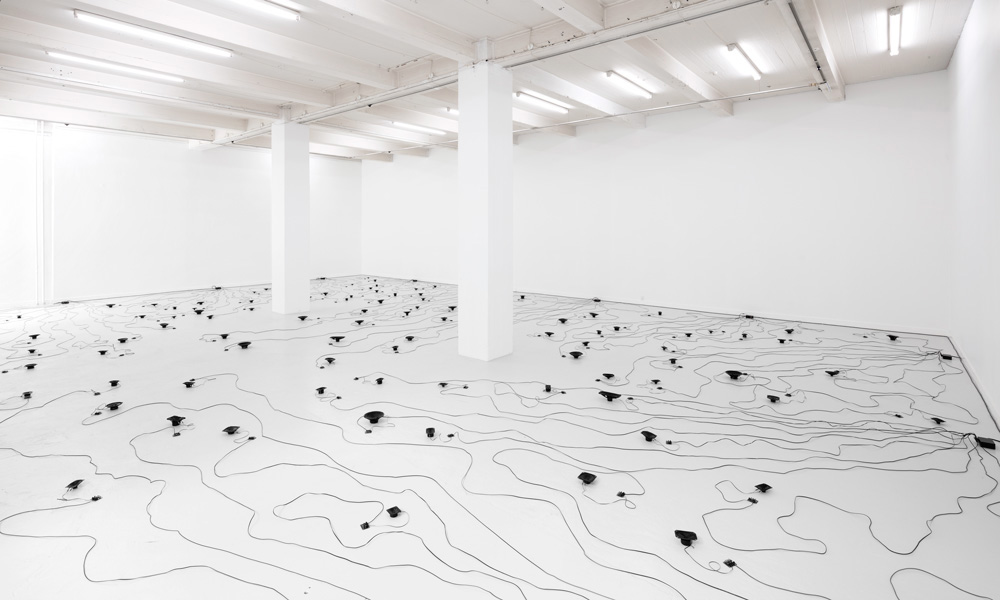 Documentation - including videos - of the works from the exhibition Sub- at 'Overgaden. Institute of Contemporary Art' can be found here: Vibrant Disturbance IV, Inclinations, Refractions. Photo: Torben Eskerod.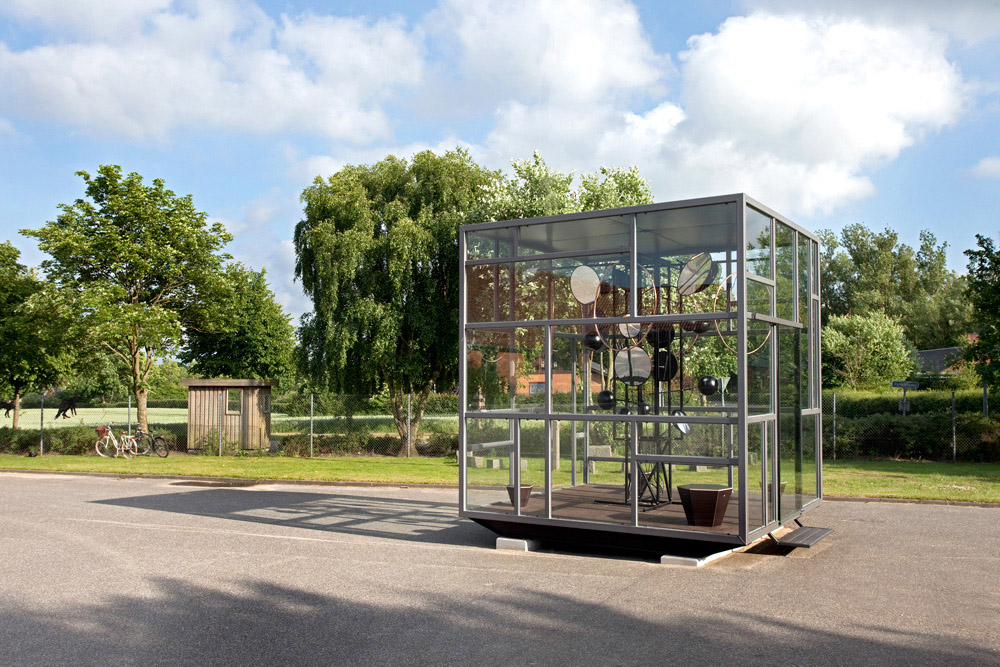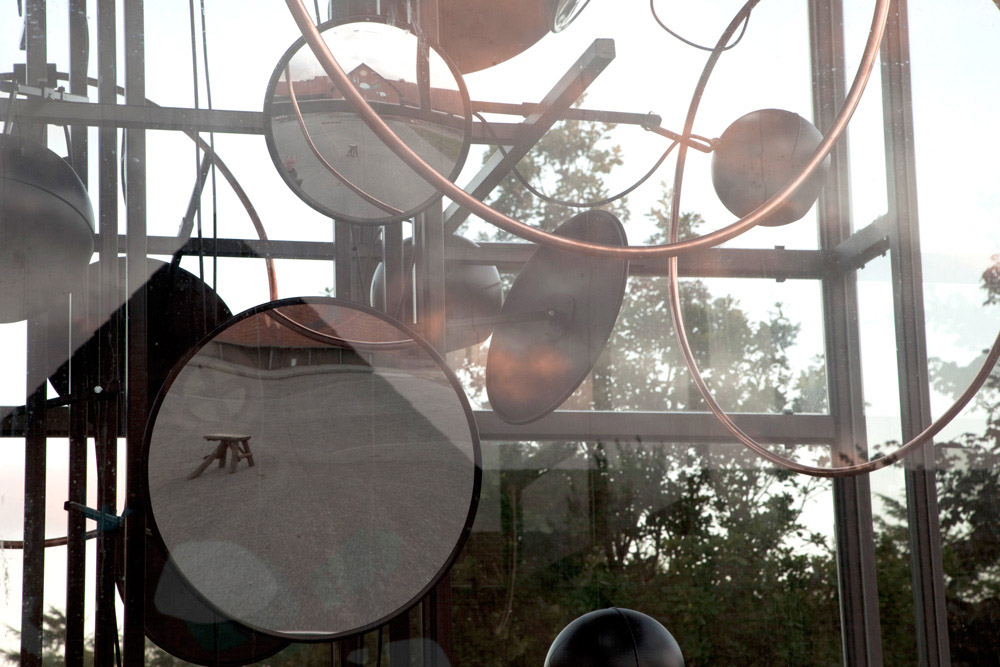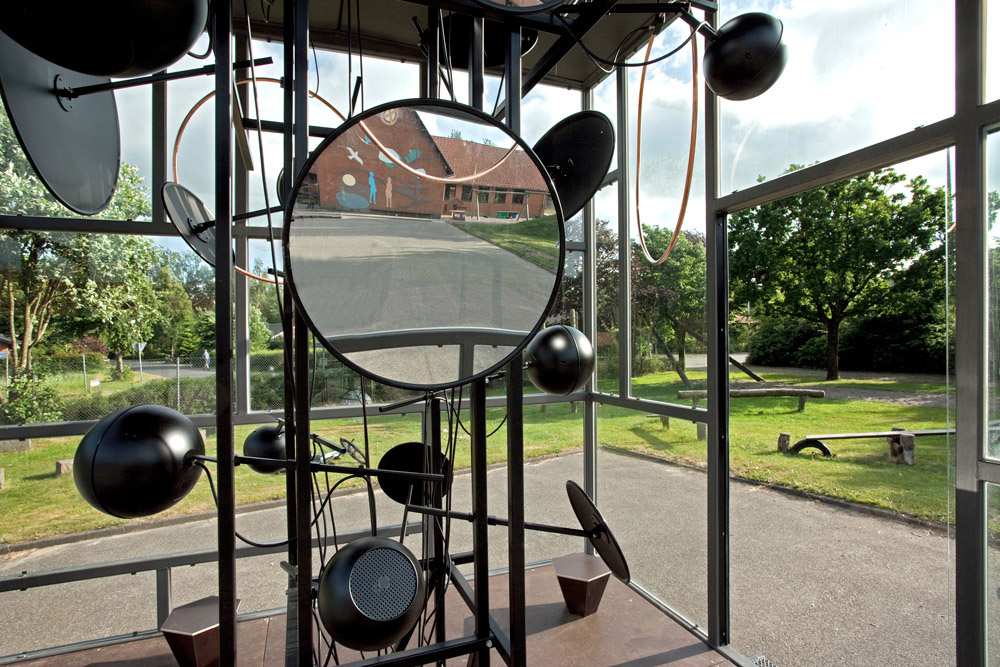 Documentation of the permanent installation created in collaboration with Jørgen Carlo Larsen can be found here. Photos: Erling Lykke Jeppesen.

The solo exhibition Sub- will open July 15.2016 at 17:00-20:00 at 'Overgaden. Institute of Contemporary Art' in Copenhagen as a part of their sound art programme SummerSounds. The saxophone player, composer and improvisor Lotte Anker will do a performance at the opening.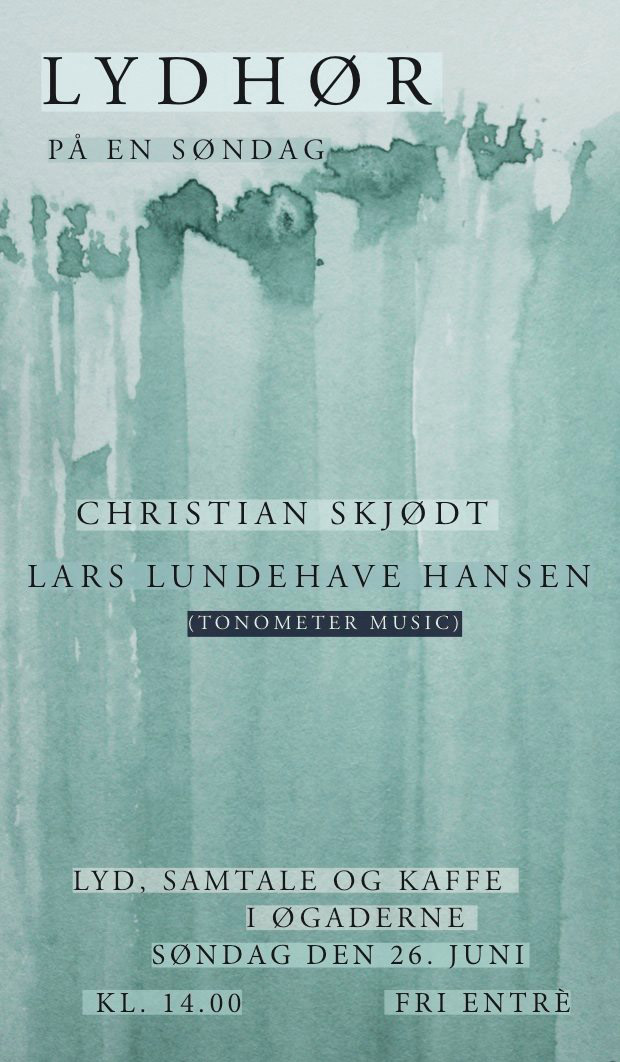 Tonometer at Lydhør På En Søndag, Aarhus, Denmark June 26.2016.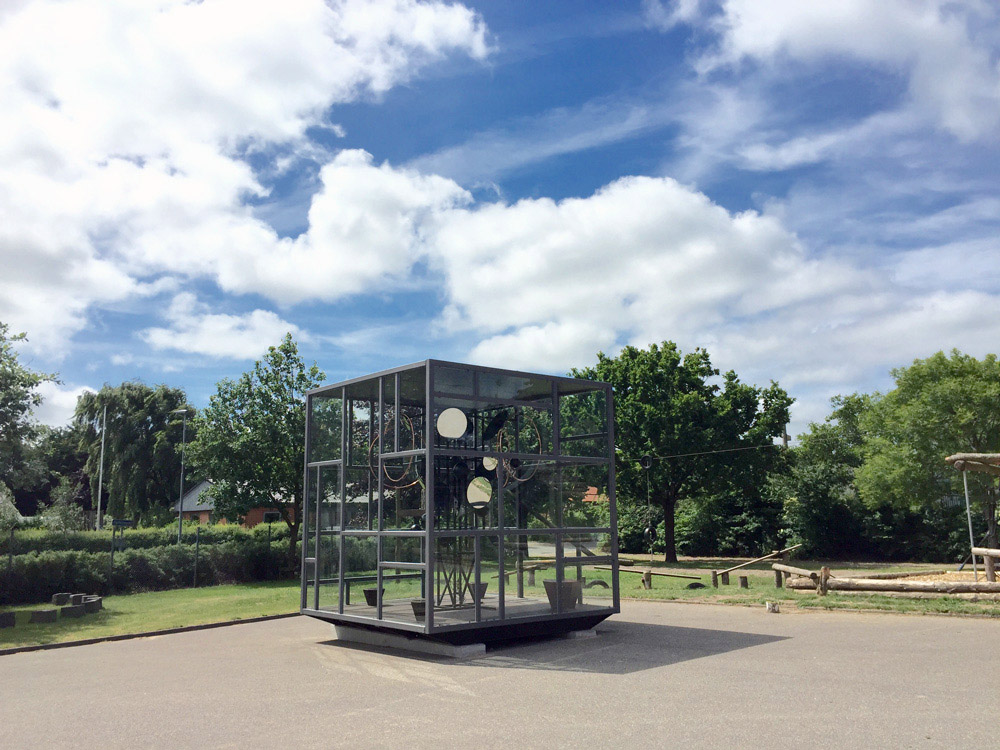 The installation 56°25'59" N 8°46'35" Ø 52 m over havet will be inaugurated June 24.2016 and will be on permanant display. The project is a collaboration with artist Jørgen Carlo Larsen created for Margrethe Reedtz Skolen in Ryde, Denmark and is supported by the Danish Arts Fundation.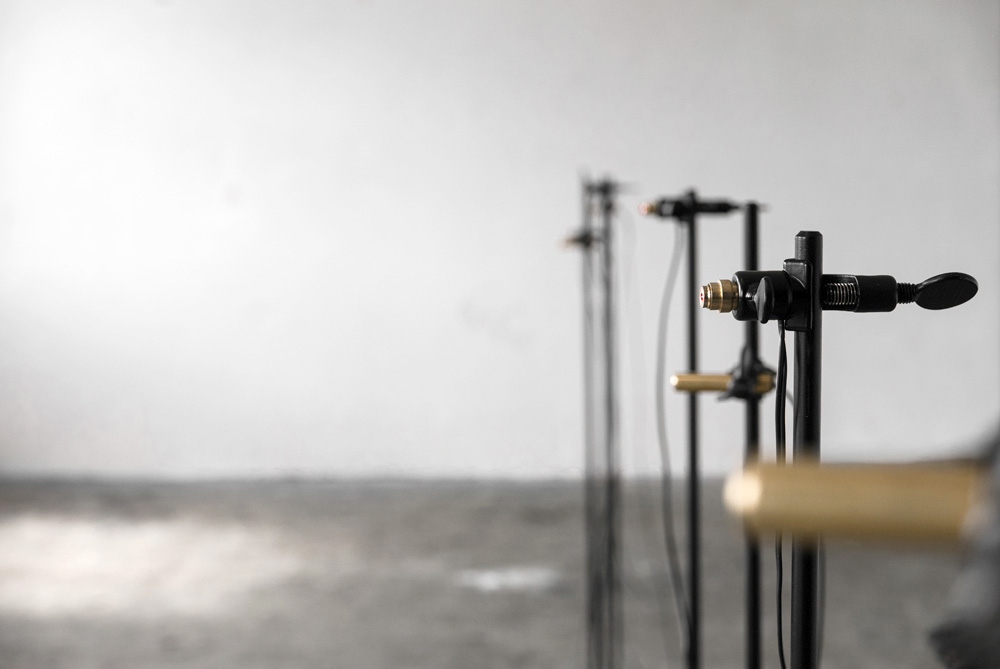 Photo documentation of Eavesdrops from the SPOR Festival 2016, Aarhus Denmark, can be found here.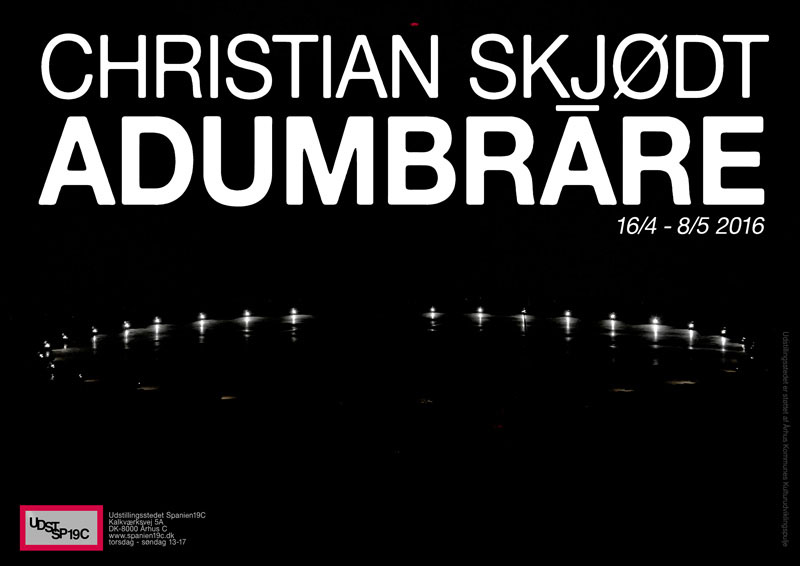 Adumbrāre on exhibition April 16 - May 8.2016 at Spanien 19C, Aarhus, Denmark.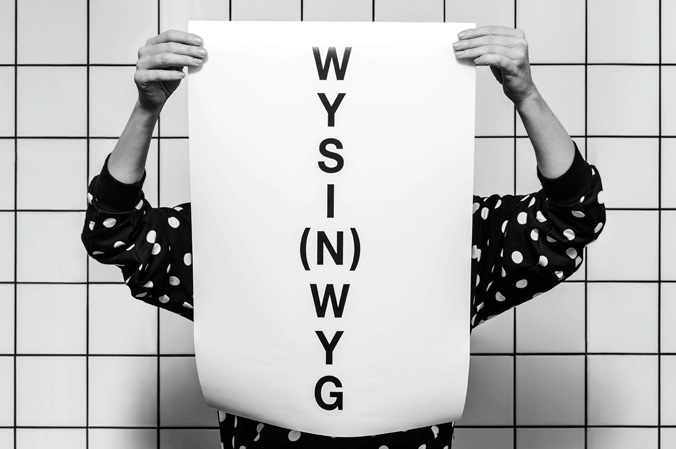 A new sound installation, Eavesdrops, is featured on this years SPOR Festival May 11-14.2016.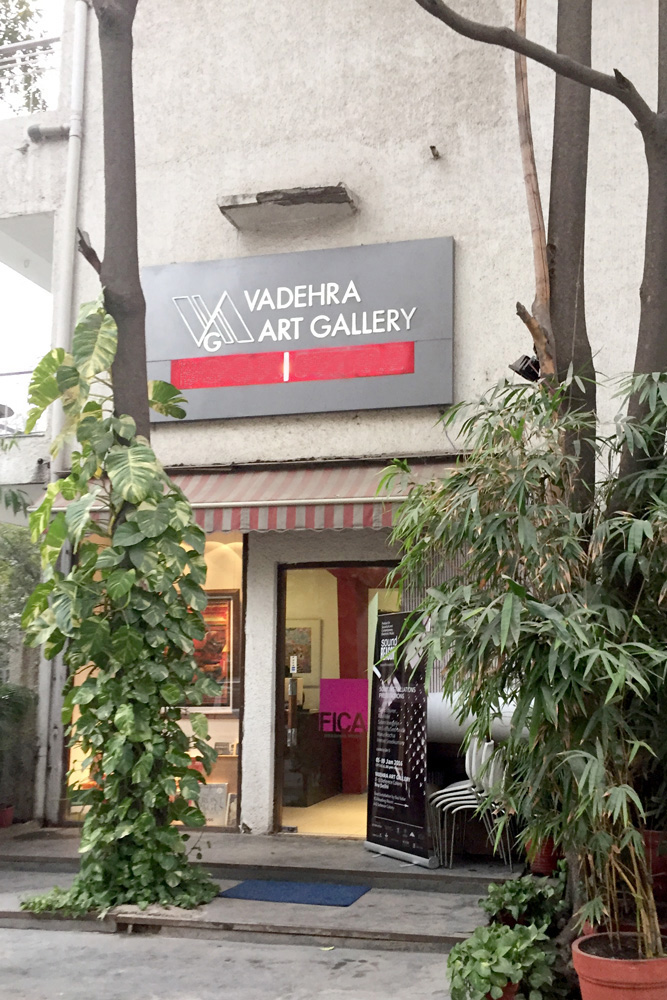 Giving an artist talk at the Foundation for Indian Contemporary Art (FICA) Reading Room, Vadehra Art Gallery, New Delhi. January 7.2016. Organized by 'Sound Reasons IV'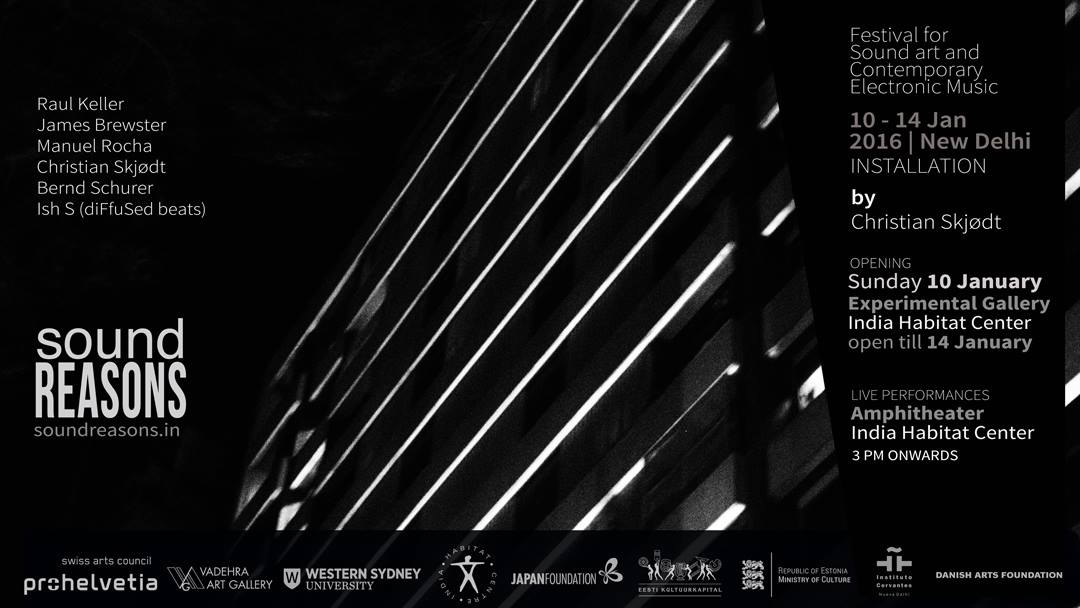 Participating in the Sound Reasons IV festival in New Delhi, India January 2016.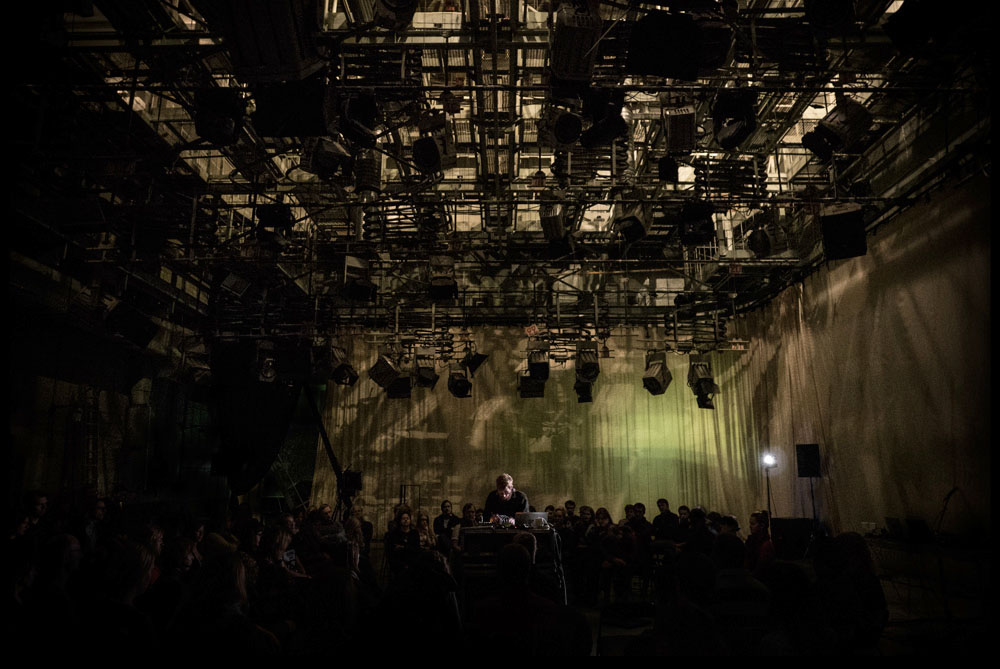 From the performance October 24.2015 in 'ERR 4.Stuudio' of DISSOLUTION & SUSPENSION as a part of the ÜLE HELI Festival in Tallinn, Estonia. More info about the piece can be found here.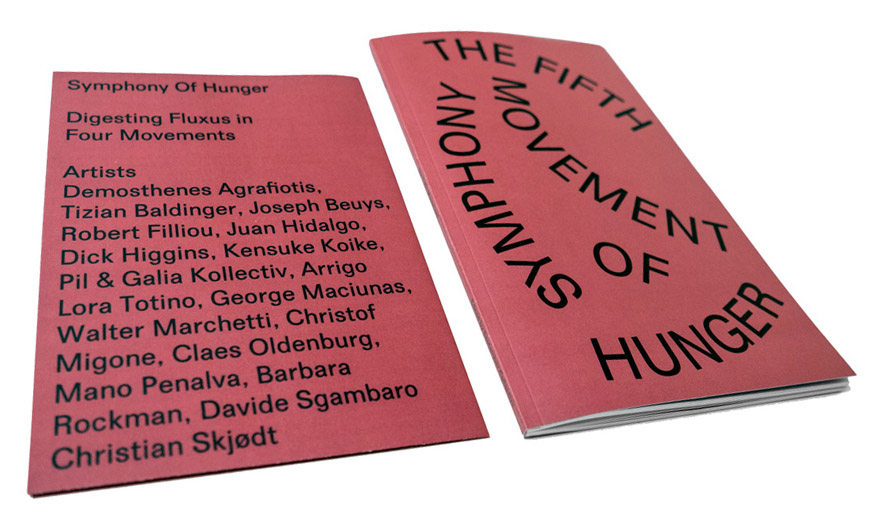 Publication in connection to the Symphony of Hunger exhibition is now released. ISBN 9788890125980.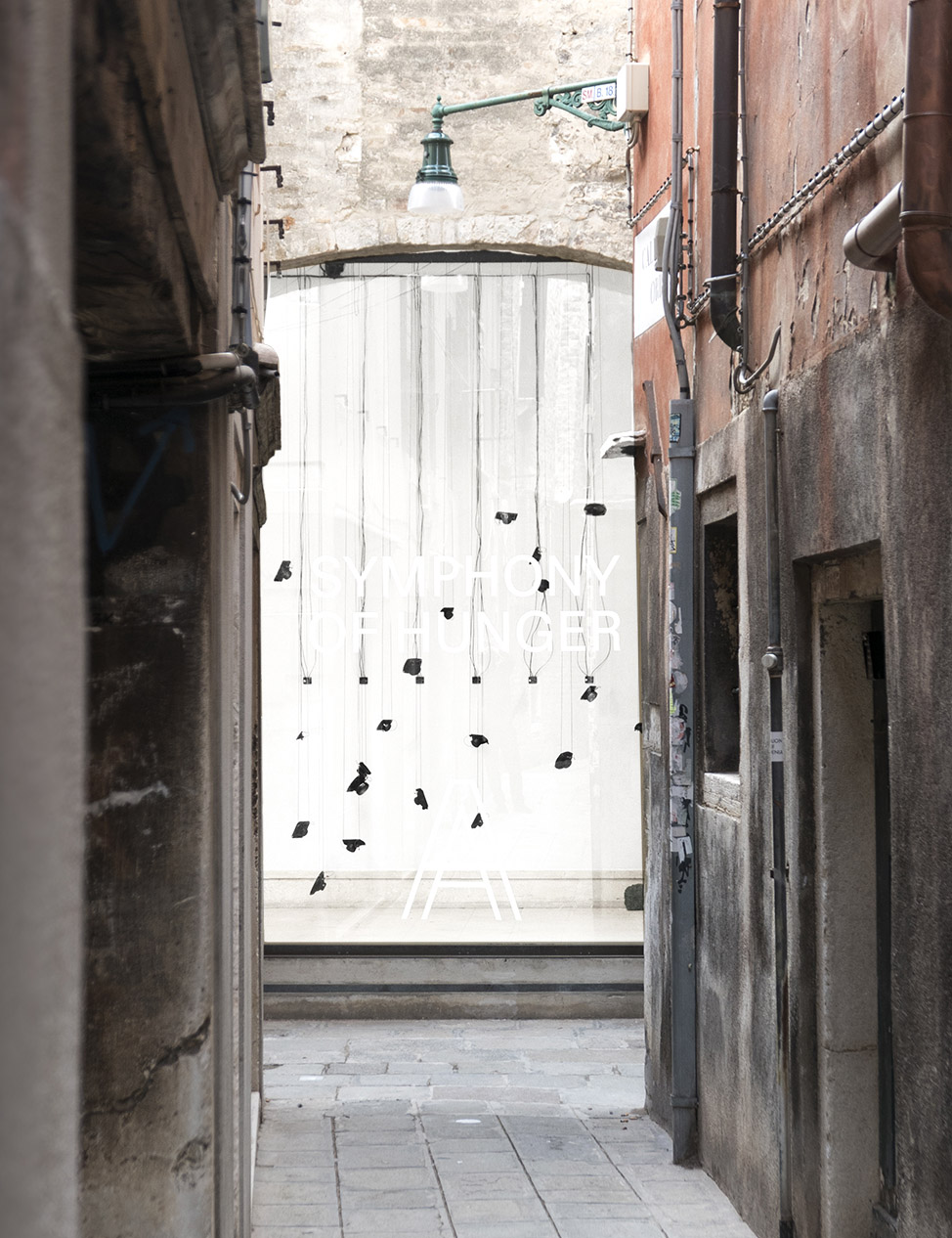 September 24. - October 31.2015 VIBRANT DISTURBANCE can be experienced at A PLUS A GALLERY in Venice, Italy as a part of the group exhibition SYMPHONY OF HUNGER curated by SCSV. About the exhibition:
Inspired by a notable selection of works from the FONDAZIONE BONOTTO collection, the show feeds an appetite for candid action and fosters a relation to bodily presence through a composition of pieces by established and emerging artists. Considering themes of desire, taste, digestion, and waste, the exhibition will use an experimental curatorial model to orchestrate an organic exploration of corporal, sociopolitical, and aesthetic hungers.
The exhibition is anchored by historical works from renowned artists including DEMOSTHENES AGRAFIOTIS, JOSEPH BEUYS, ROBERT FILLIOU, JUAN HIDALGO, DICK HIGGINS, ARRIGO LORA TOTINO, GEORGE MACIUNAS, WALTER MARCHETTI, and CLAES OLDENBURG, many of whom were active in the Fluxus movement. Originating in the 1960s, Fluxus was integral to challenging and expanding the definitions of art by breaking away from pre-existing practices. Deriving its name from the Latin word for "flowing" or "fluid," the movement was driven by artists who craved human connections, actions, and exchanges and believed deeply that art originates in the belly rather than the brain. Inspired by these intentions and stemming from early experimental music scores by composer John Cage, Fluxus artists explored notions of democratic inclusion, interactive association, and indeterminacy in art.
This exhibition re-enlivens the spirit of Fluxus with a convergence of contemporaneity. While the key efforts of the movement may have passed, major threads of its revolutionary intentions live on within the current creative sphere. Many artists today are inspired by the same hunger for expression of social, cultural, and political matters through physicality and interaction. By uniting the historical Bonotto selections with a global assemblage of contemporary works, this exhibition creates a harmonious meeting of artists across five decades and nine countries that share a common craving.
Showcasing the recent work of eleven international artists and collectives, this exhibition illustrates a fluid continuity of attitude through a wide range of media. Throughout its run, several site-specific works will be revealed, including an immersive installation by sound artist CHRISTIAN SKJØDT [Denmark], as well as three newly commissioned works: a poetry piece by BARBARA ROCKMAN [USA], a performance by TIZIAN BALDINGER [Switzerland], and an interactive installation by DAVIDE SGAMBARO [Italy]. The exhibition will also feature sound and video works by CHRISTOF MIGONE [Canada], and PIL & GALIA KOLLECTIV [Israel]. Photographic work by KENSUKE KOIKE [Japan], and two dynamic objects by MANO PENALVA [Brazil] will also be displayed.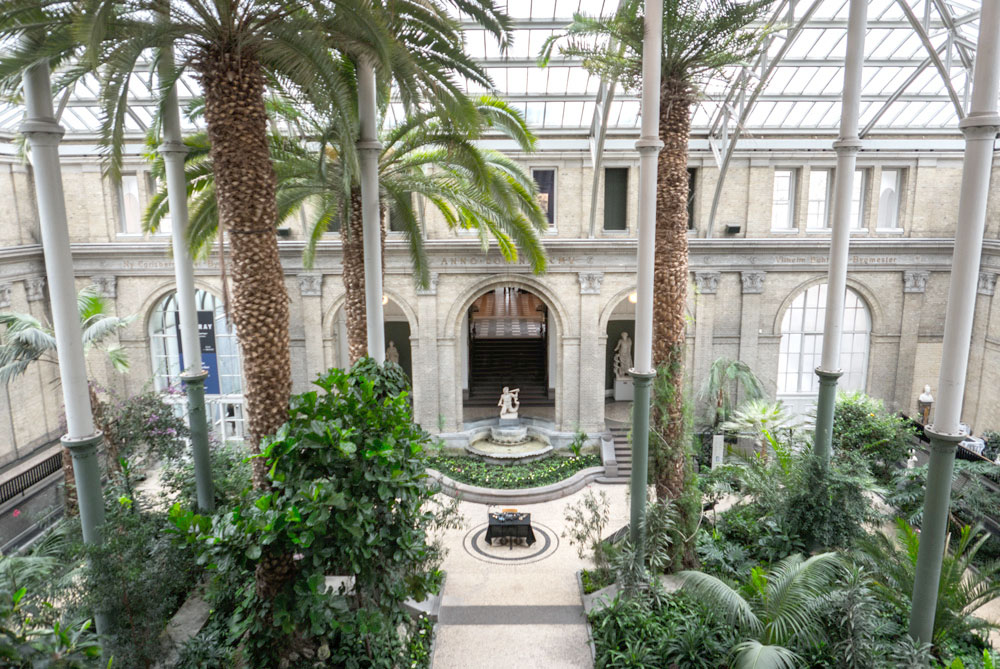 Based on one of the classic mathematical problems from ancient Greece - squaring the circle - a new sound piece was performed at Glyptoteket's Winter Garden, Copenhagen DK in connection to Glyptoteket's event of contemplation called SLOW September 18.2015. Thanks to SNYK/Wundergrund.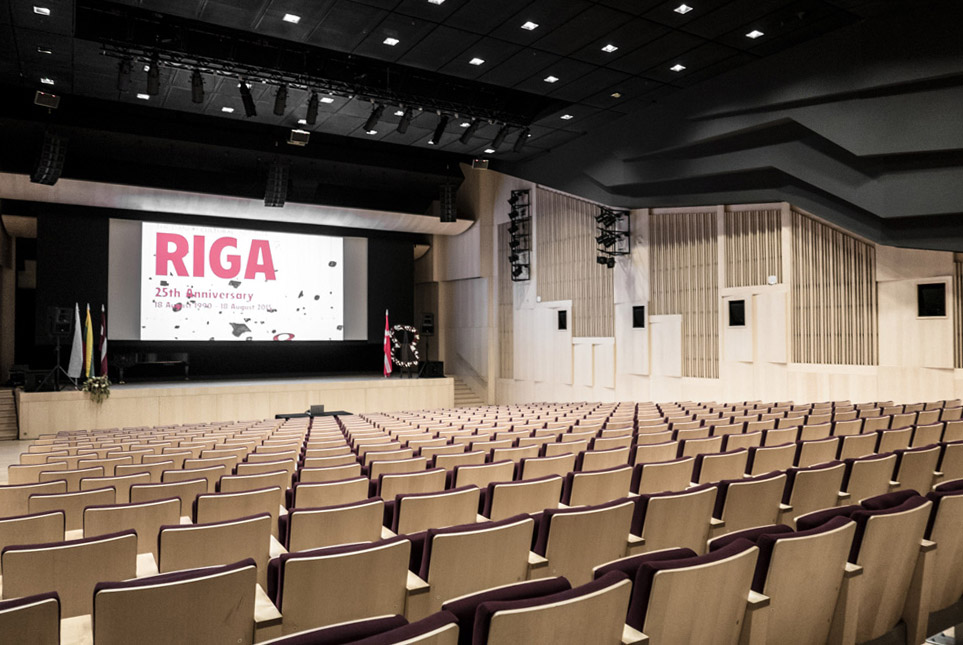 DISSOLUTION & SUSPENSION was premiered at the National Library of Latvia, Riga August 18.2015 in connection with The Danish Cultural Institute's 25th anniversary in the Baltics. More info about the piece and an excerpt from a audio recording of the performance can be found here.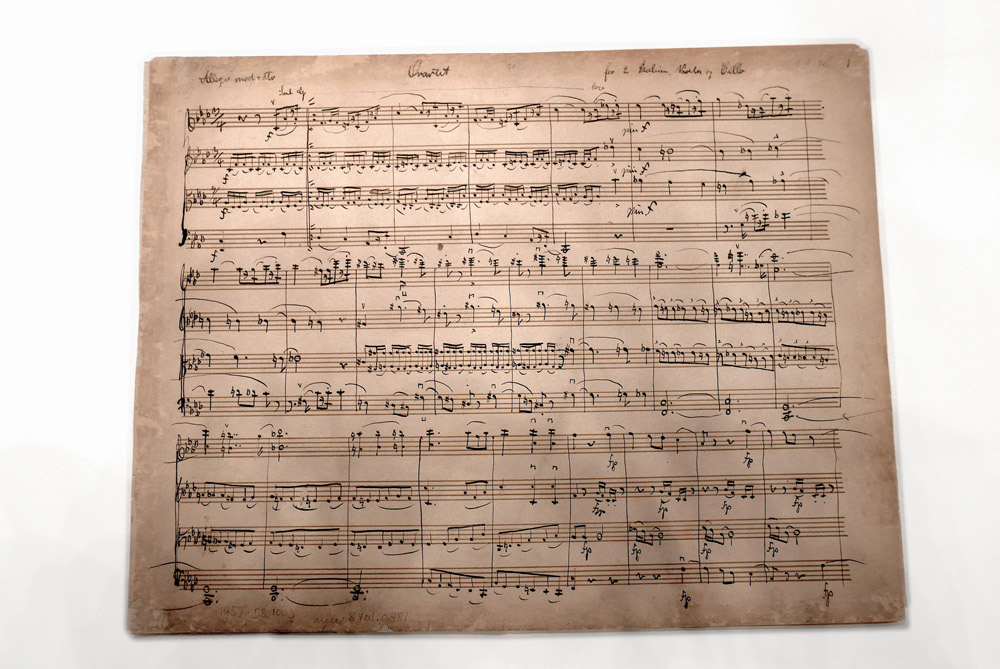 Working on DISSOLUTION & SUSPENSION, a new 4-channel sound piece celebrating the 150th birthday of Danish composer Carl Nielsen. The piece is commissioned by The Danish Cultural Institute. Thanks to the National Library of Denmark for the opportunity of studying Nielsen's original scores and skeches.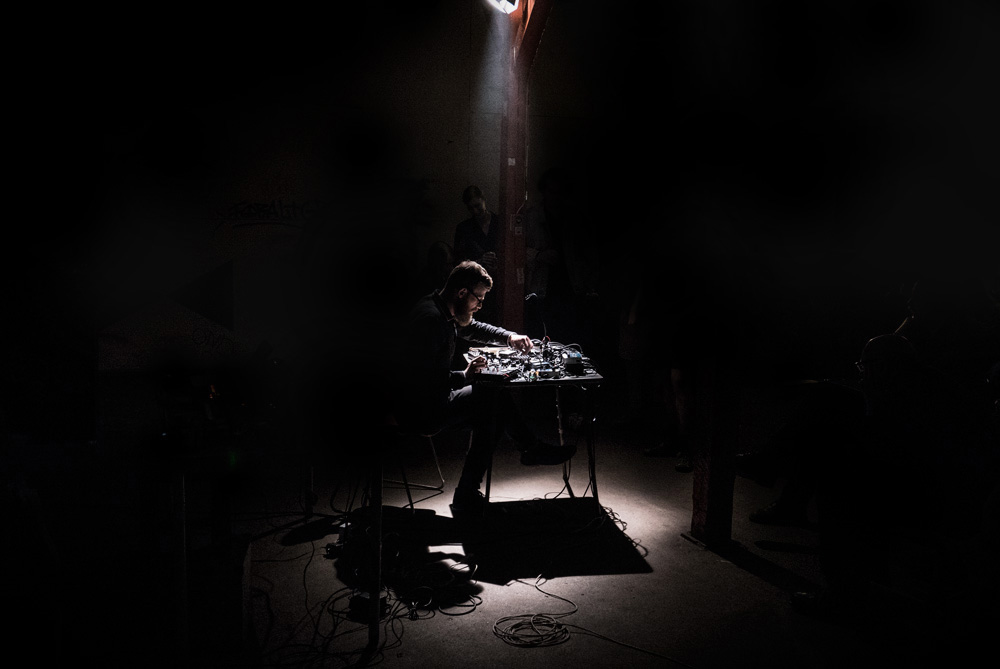 A snapshot from a solo performance at Mayhem, Copenhagen, Demark, June 27.2015. Thanks to Lars Lundehave Hansen for making the 'In Concert' series possible.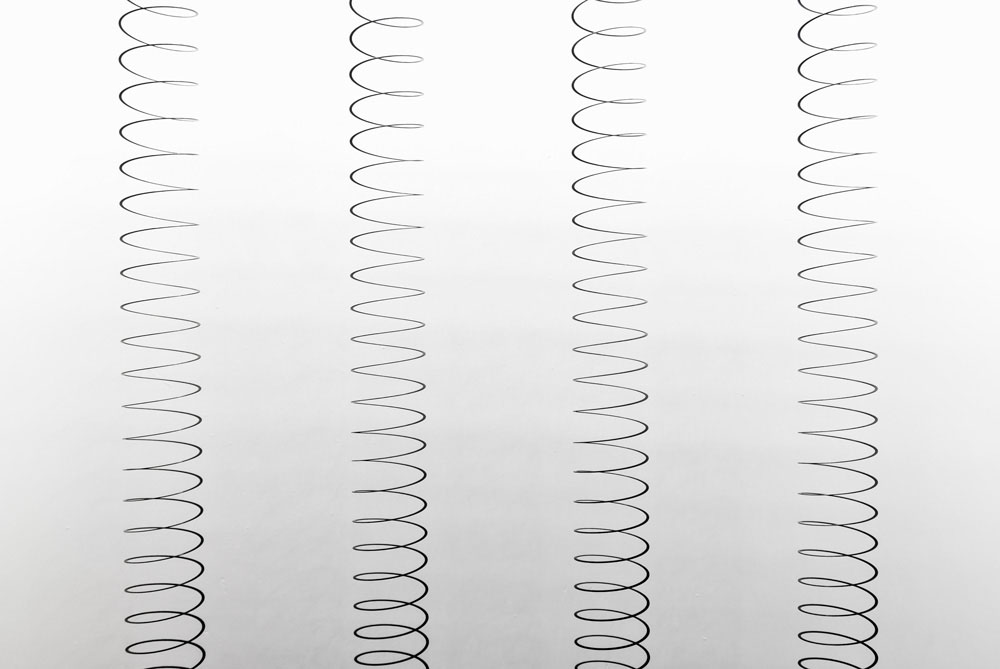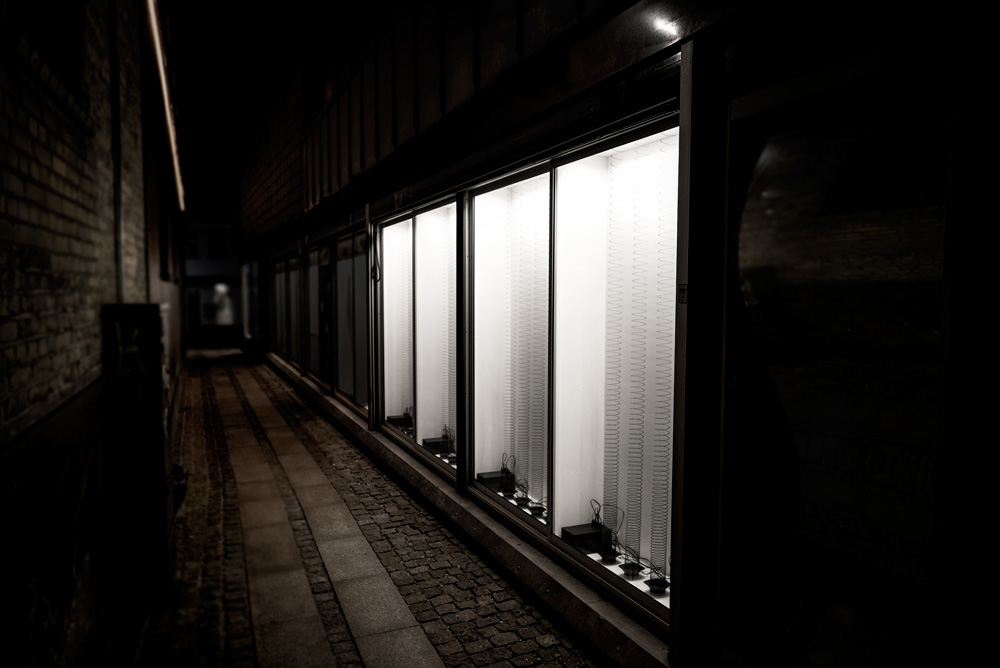 Documentation of the exhibition of COLUMNS at Kunstrum Snæversti, Museum of Contemporary Art, Roskilde, Denmark can be found here.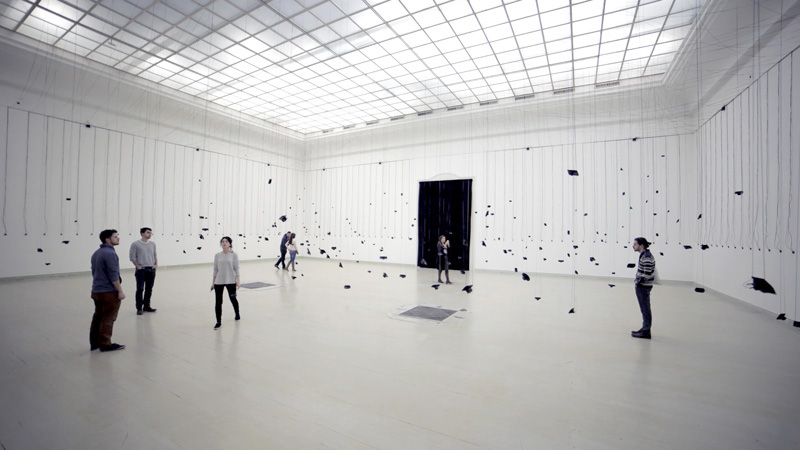 Video documentation of VIBRANT DISTURBANCE III is available here.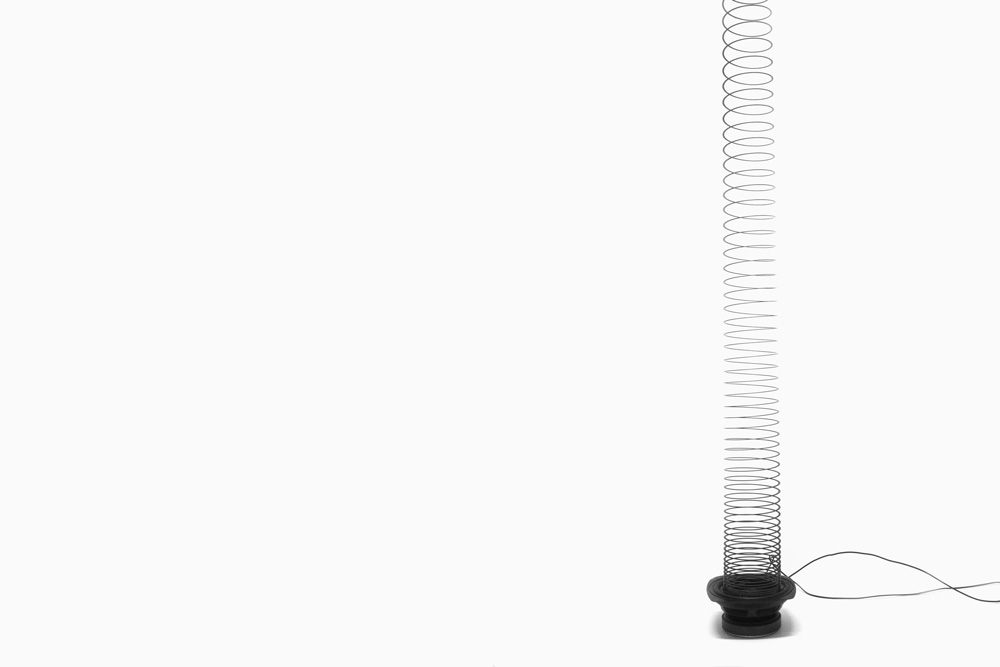 New installation COLUMNS exhibited December 17.2014 - March 15.2015 at Kunstrum Snæversti, Museum of Contemporary Art, Roskilde, Denmark.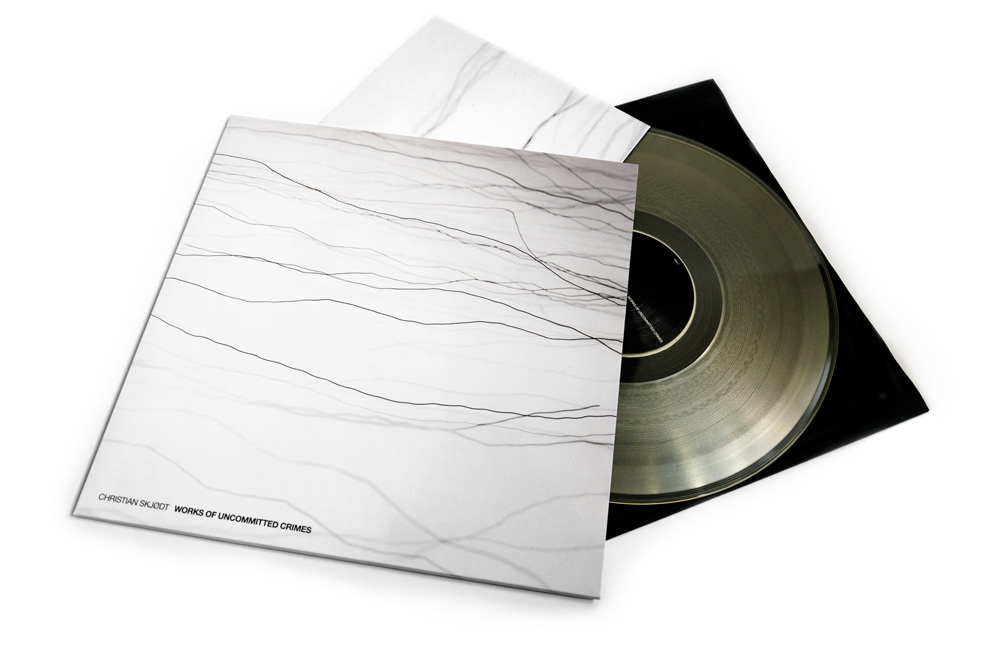 Review from VITAL WEEKLY 959: "Skjødt is someone who wheels the drone machine, and as such he's not the only one in the world of course, but I must admit he does some very impressive work. Both of these pieces are heavy slabs of drone music; Part One is all out loud, and half way through adds weight to the pieces by adding more and heavy bass sounds, while the second part starts out softer and slowly starts building up. At one point in that piece there seems to be an angelic choir humming from above and beyond – but then, maybe I was hallucinating. Then, still in this hazy state of listening, I was thinking about machines humming in a parking lot late one evening. Skjødt moves all over the place to create his vast sonic soundscapes and he does that very well. There is a lot of drone music out there, there is a lot of great drone music out there (and you know I am sucker for drone music), and while Skjødt is perhaps not the most 'new' sounding artist in the field of drone music, he delivered one hell of a great record. Play loud, is my suggestion for this and you'll be blown away by the rich sonic detail of it all." (FdW)

Featured in 'DR P1 Radiofortællinger' together with Eddy Bøgh Brixen who works with forensic acoustics. The show will air December 14.2014, and will also be available as podcast.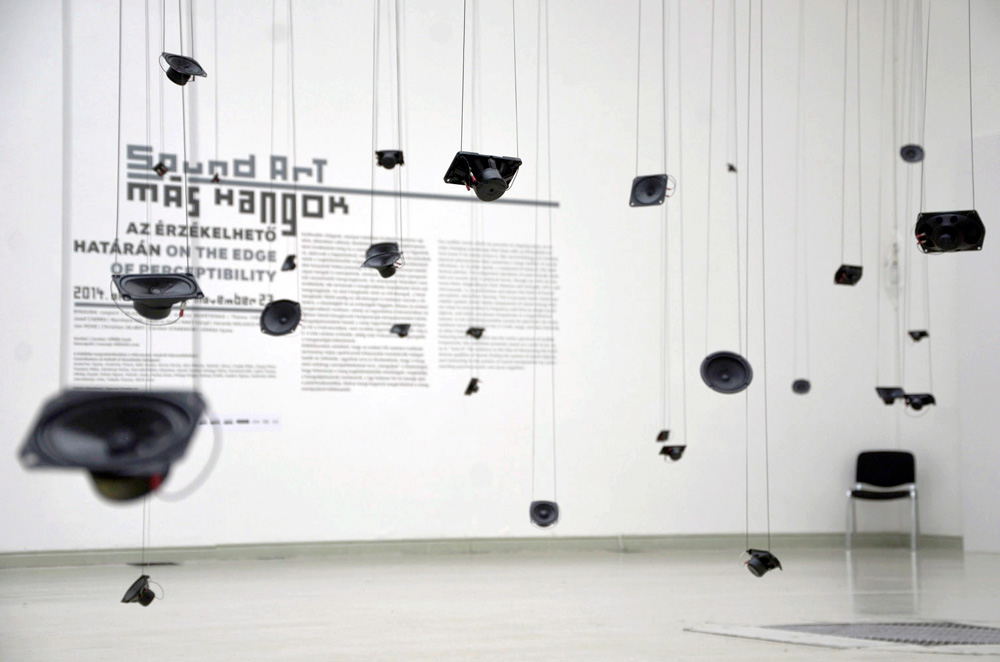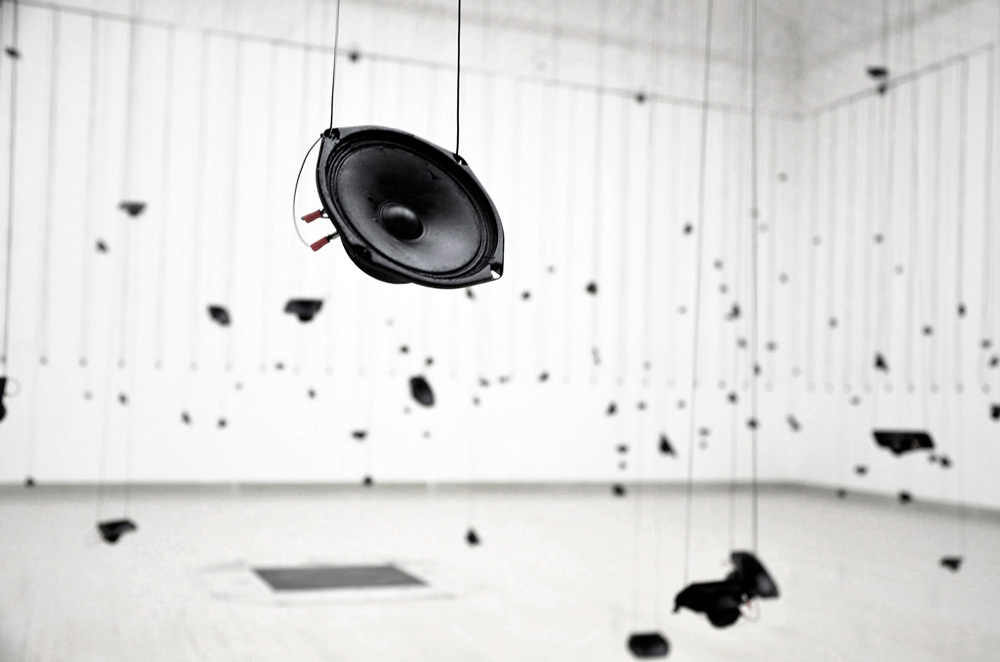 © Műcsarnok | Kunsthalle, Budapest, 2014. Photo: Imre Nagy Kővágó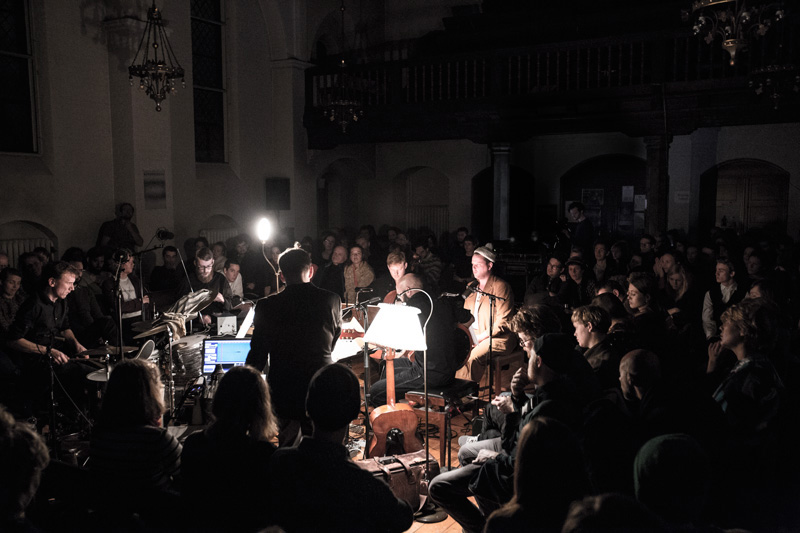 A shapshot from the performance of the piece OMDREJNINGER at the Wundergrund Festival 2014. The piece is a collaboration with composer and guitarist Mark Solborg and was commisioned by SNYK with support of The Danish Arts Foundation. Photo: Hanne Budtz-Jørgensen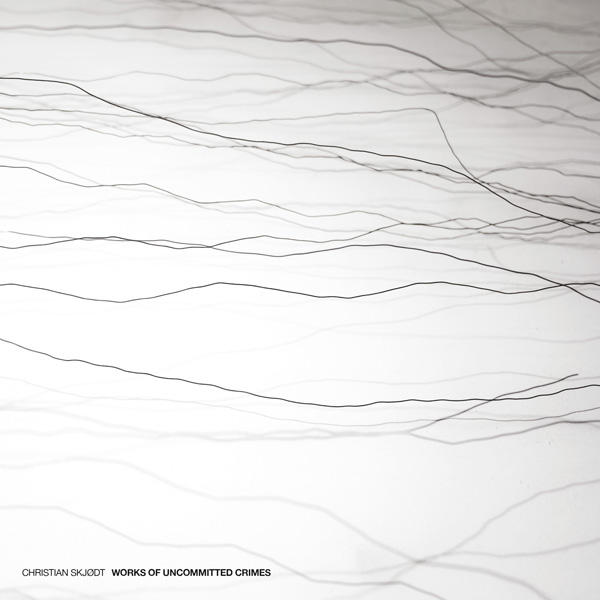 Solo album WORKS OF UNCOMMITTED CRIMES is now released as limited edition vinyl LP on Tonometer. There will be an release party November 25.2014 at Mayhem, Copenhagen.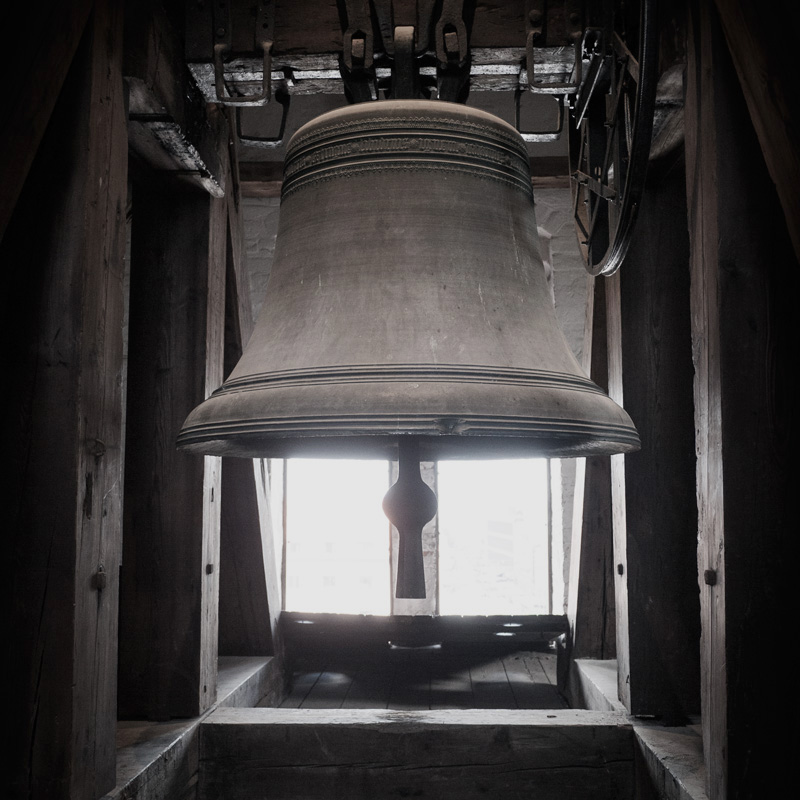 Recording the bell of the tower of Sankt Laurentii in Roskilde, Denmark for a new sound piece ASSATUS SUM commissioned by Museum of Contemporary Art to be premiered October 31.2014.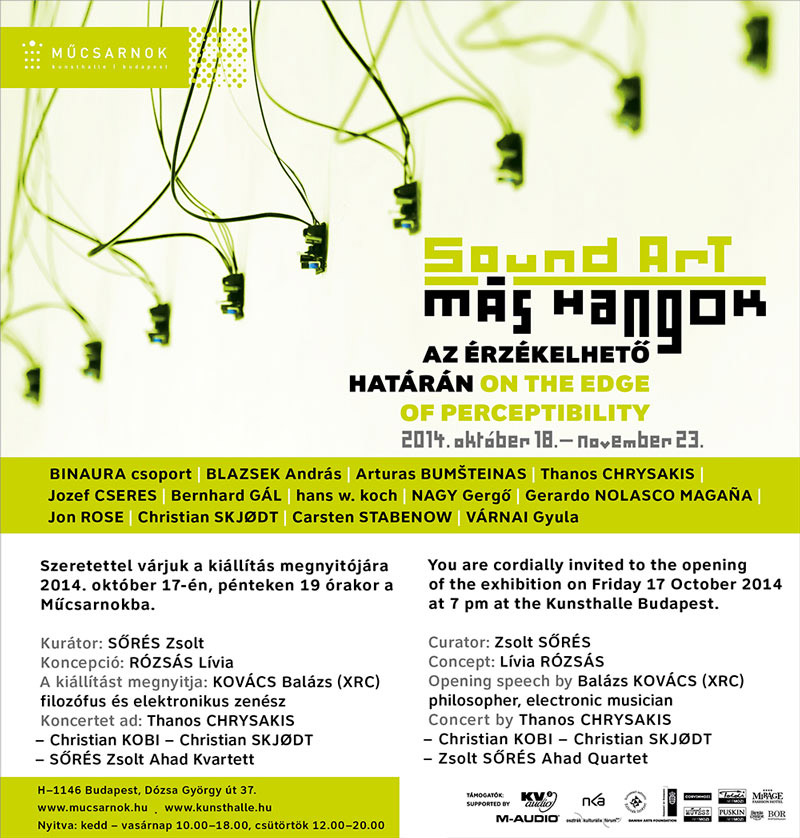 Opening of 'On The Edge Of Perceptibility' October 17.2014.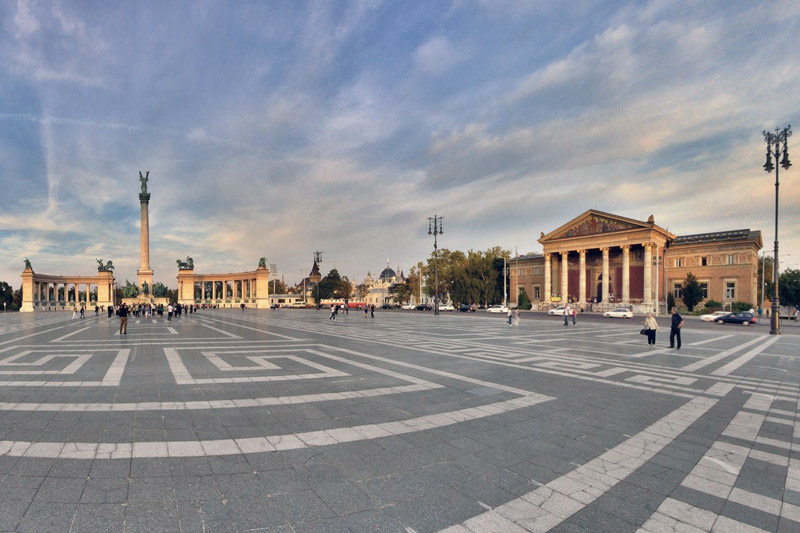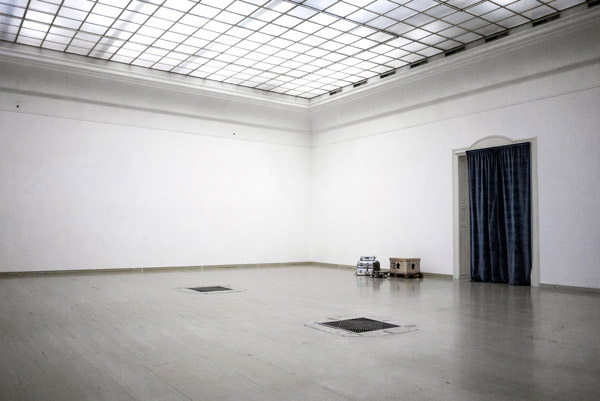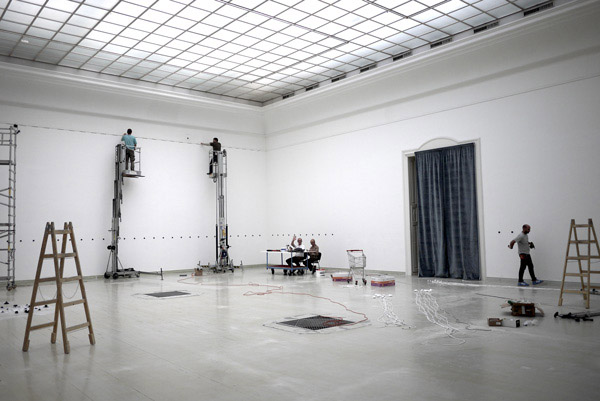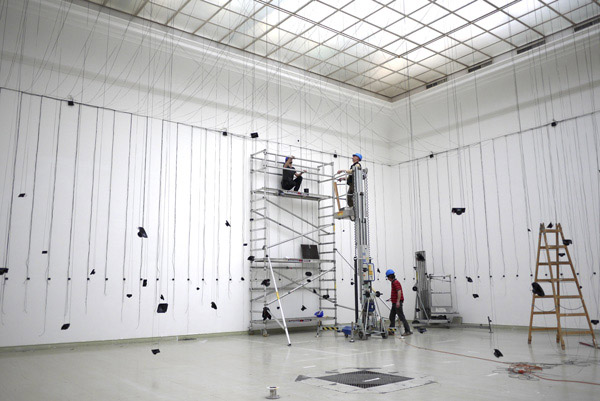 Installing the third and by far largest version of VIBRANT DISTURBANCE at Műcsarnok Kunsthalle Budapest in Hungary for the upcoming sound art group exhibition 'On The Edge Of Perceptibility' curated by Zsolt Sőrés and Lívia Rózsás.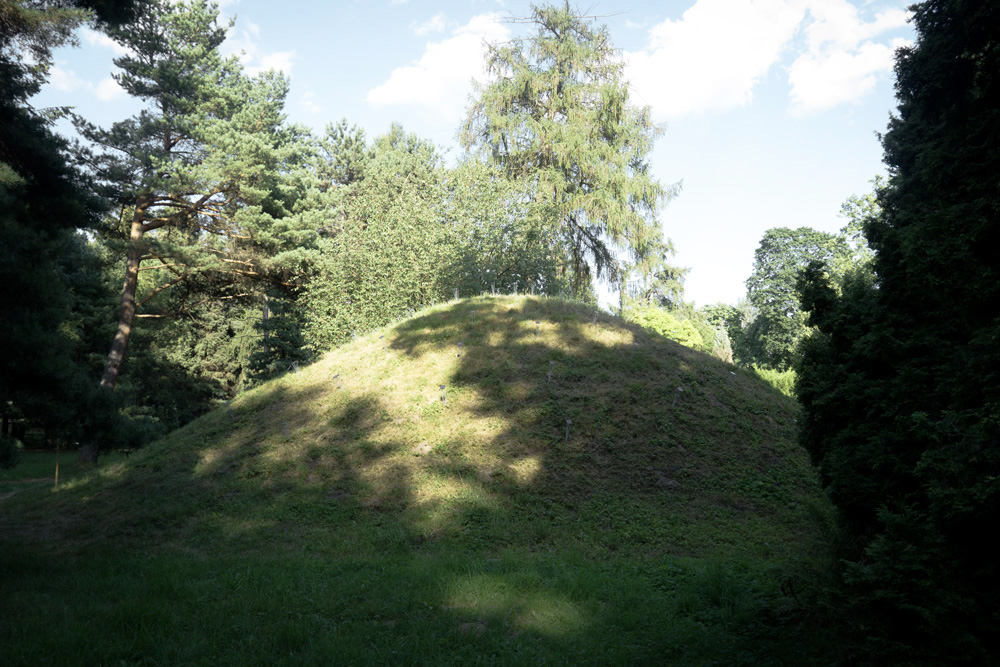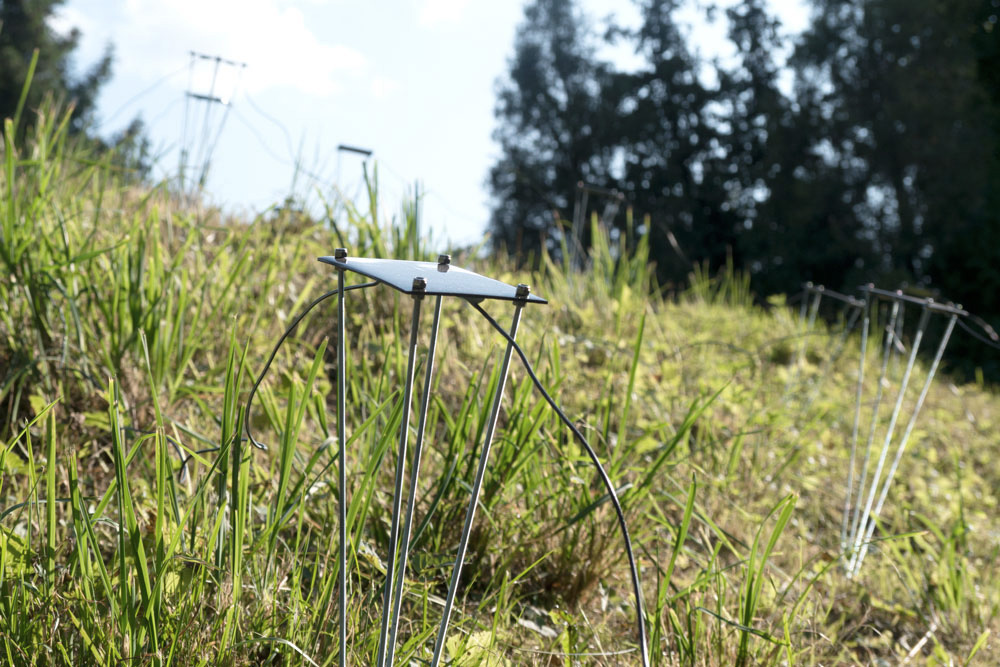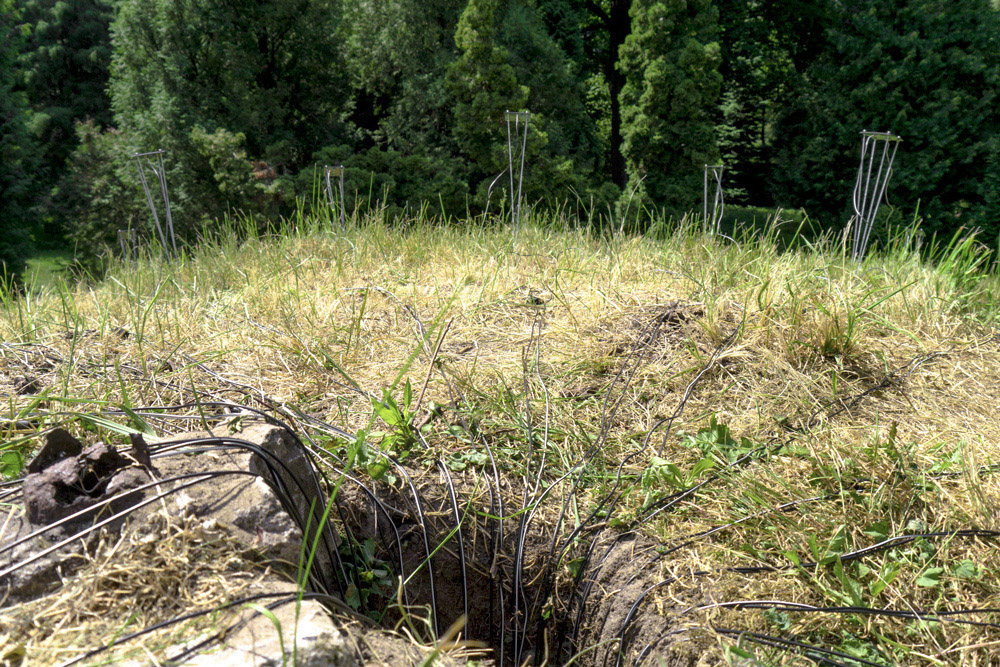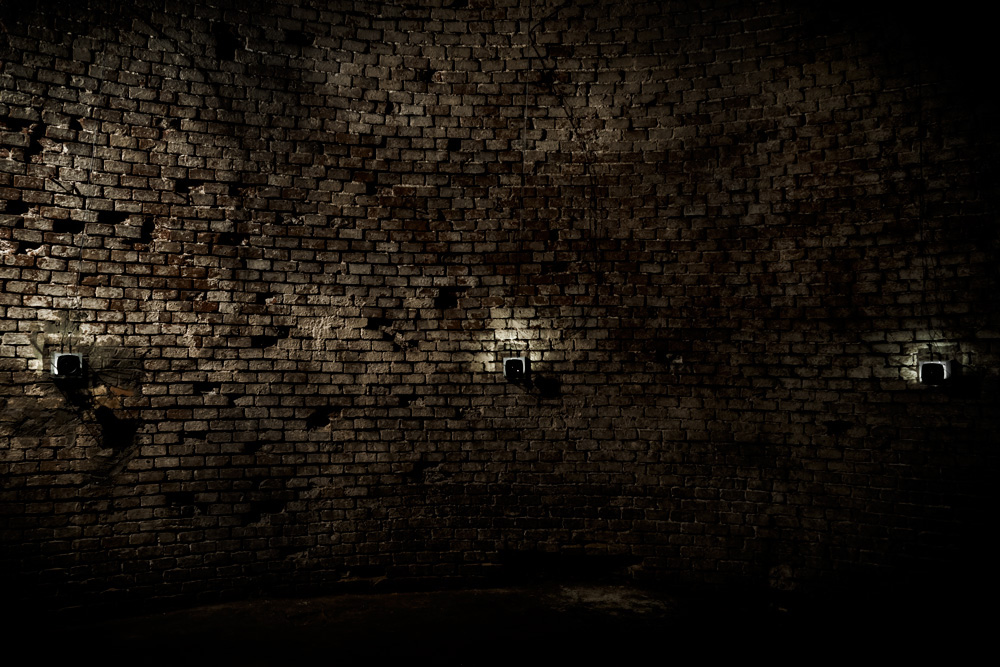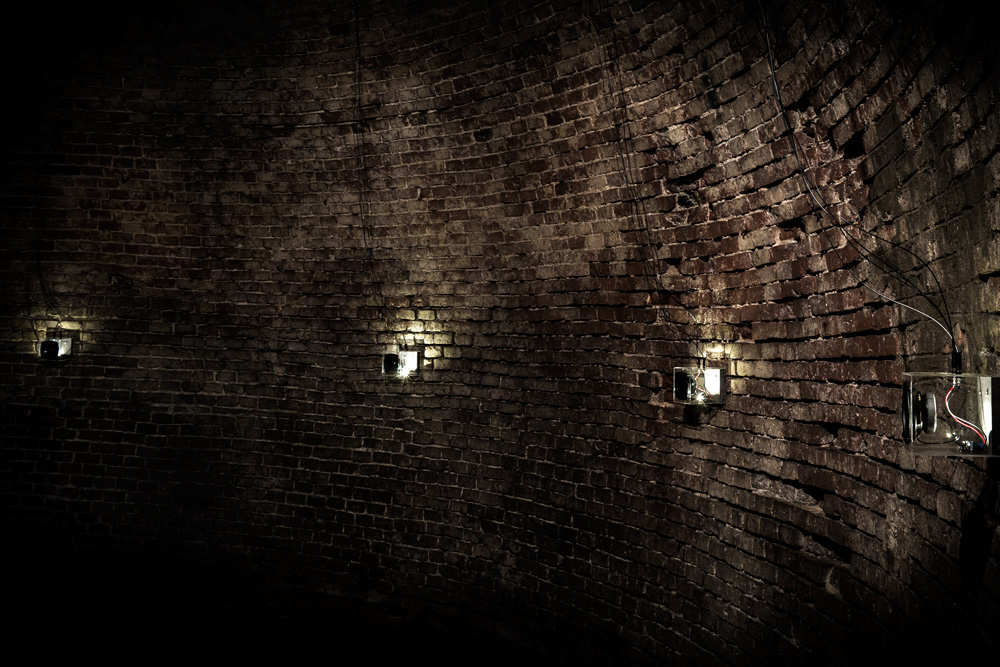 Photo documentation of IILLUMINATION. More info can be found on this page.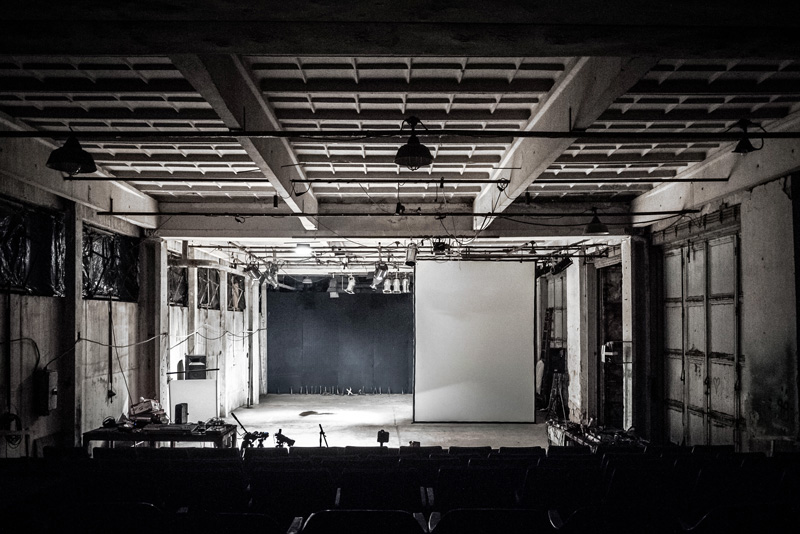 Performing with Don't Eat Group at Zsámbéki Színházi Bázis August 22.2014.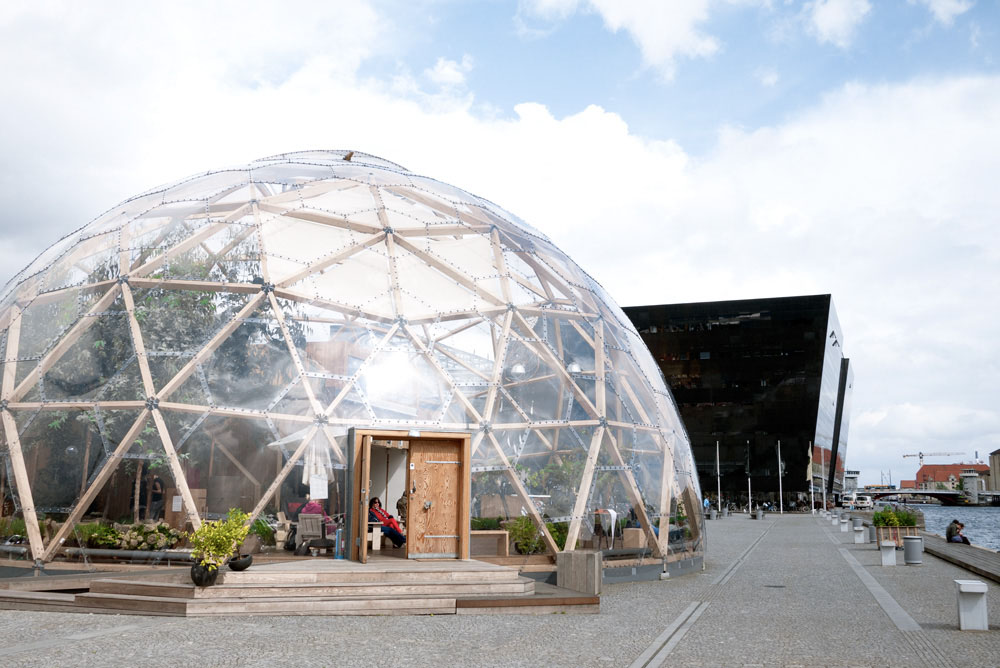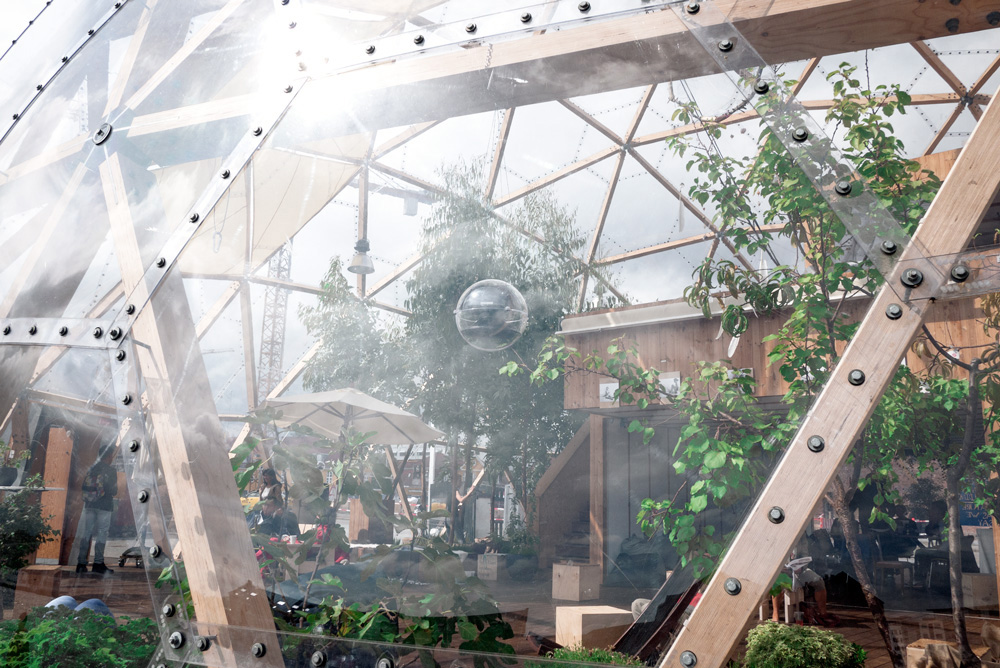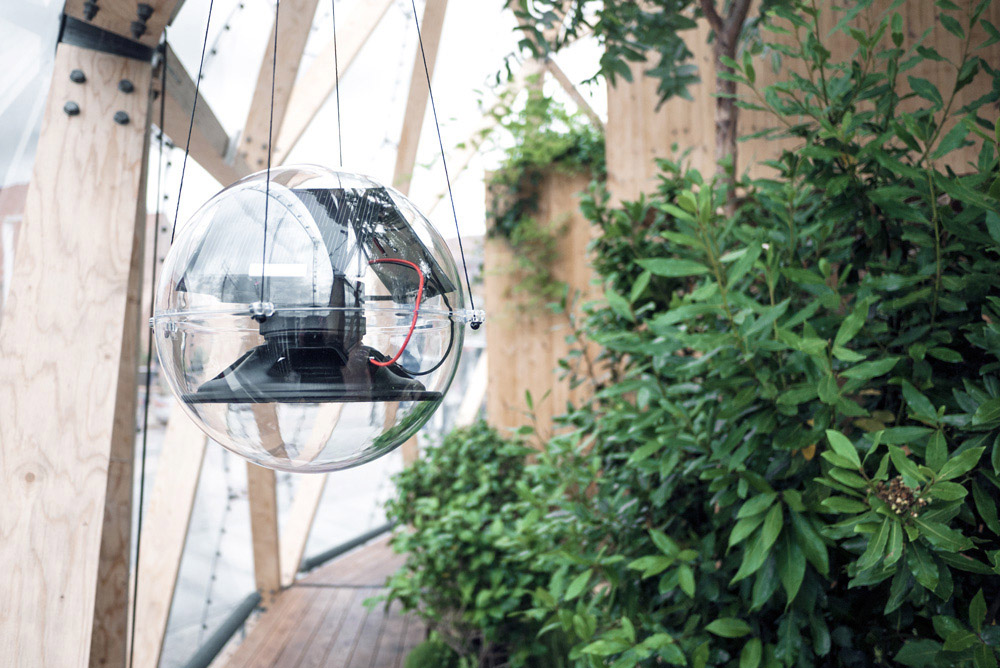 Photos from the exhibition of ENCAPSULATION August 16-18.2014 at Dome of Visions in Copenhagen, DK as part of the group show 'Together in Small Spaces'.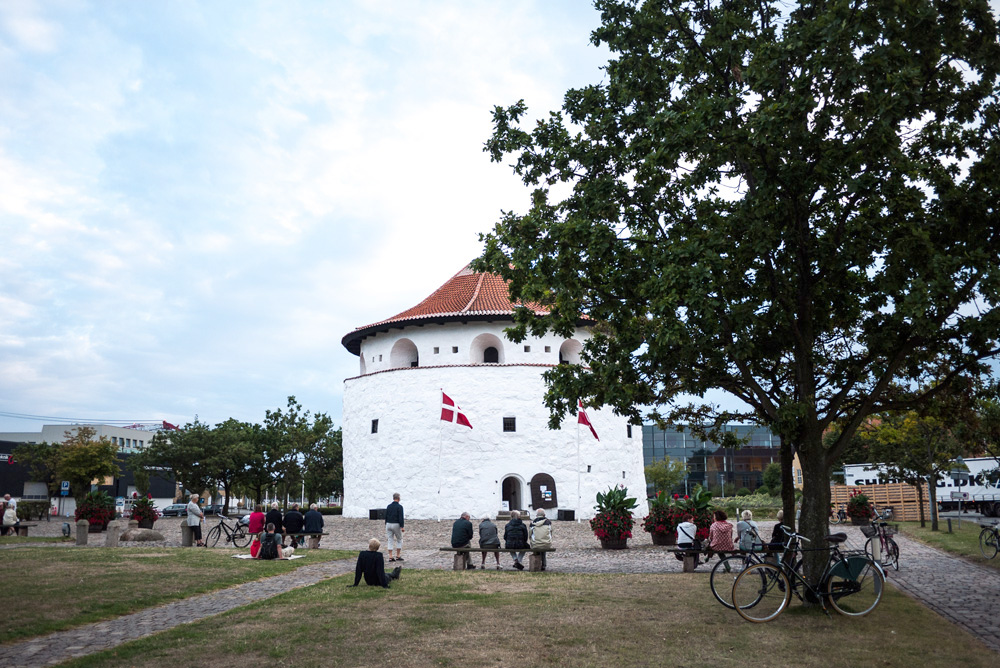 From the premiere of INTERNAL PROPELLANTS at Krudttårnet, Frederikshavn DK.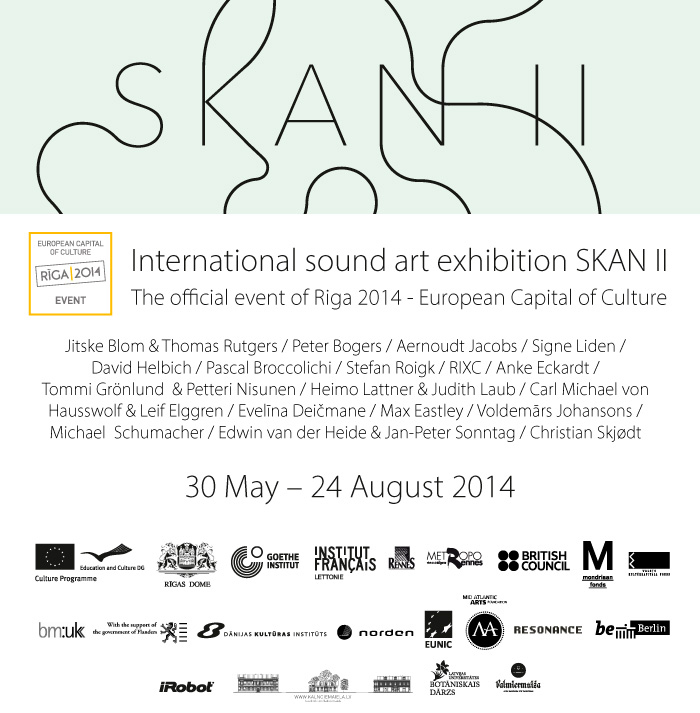 "In 2007, the association for adventurous music and related arts "Skaņu Mežs" organised the first SKAN sound art exhibition with the participation of 12 internationally renowned, as well as local artists, at the erstwhile chicory and pasta factory near Arkādijas Park. Back then, in the context of Latvia's contemporary cultural scene, SKAN was a unique event, because it was the first time that such a broad exhibition dedicated to the genre of sound art had been held in Riga. Moreover, this fact did not go unnoticed in the international arena, and a favourable review was duly published in the English avant-garde music magazine, THE WIRE. Seven years later, a follow-up exhibition SKAN II has been included in the official programme of events celebrating Riga 2014 – European Capital of Culture. On this occasion too, the exhibition has attracted outstanding artists from all over the world, for whom sound is at the very epicentre of their creative oeuvre. In the context of sound art, the space in which the works of art are exhibited is of paramount importance, and is defined by its architectonic, historical, social and acoustic attributes. The work of art unquestionably interacts with the space in which it is aired. With this in mind, the venues chosen for this exhibition are the University of Latvia's Botanical Garden in Riga, as well as the Kalnciems Quarter Gallery and Pardaugava's wooden manor houses. The goal of SKAN II is to allow this aesthetic experience to attract not only art lovers, but also chance bypassers. Works of sound art have the ability to accent a space and transform it into a special event venue. As the main venue for the exhibition, the Botanical Garden will serve as its central axis, in order to also draw attention to the adjoining historical building district of Pardaugava. It brings with it a layer of history and culture, which is worth highlighting, including places like the forgotten Philosophers' Alley, as well as the old manor houses and wooden buildings such as the Volfschmidt Manor House in the Botanical Garden. Skaņu Mežs is able to accent this urban environment through the material that is the foundation for its creative offering, i.e. sound. The exhibition will take place in three parts from 30 May to 24 August. It will feature works by a total of 18 artists who represent a broad spectrum of approaches to audio-visual art: Jitske Blom & Thomas Rutgers, Peter Bogers, Aernoudt Jacobs, Signe Lidén, David Helbich, Pascal Broccolichi, Stefan Roigk, RIXC, Anke Eckardt, Tommi Grönlund & Petteri Nisunen, Heimo Lattner & Judith Laub, Carl Michael von Hausswolf & Leif Elggren, Evelīna Deičmane, Max Eastley, Voldemārs Johansons, Michael Schumacher, Edwin van der Heide & Jan-Peter Sonntag, and Christian Skjødt."
More info can be found at the Skaņu Mežs website and the Riga 2014 website.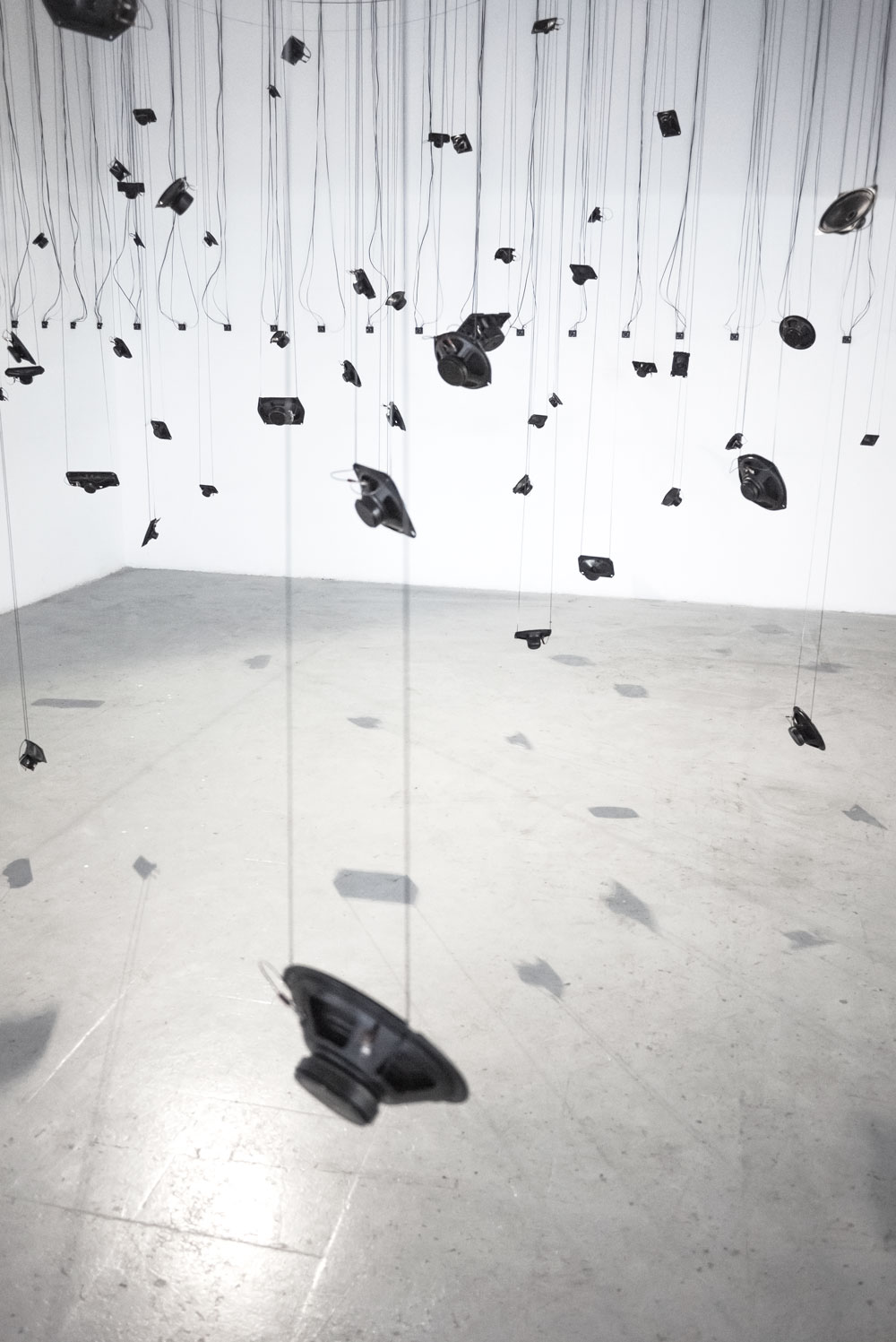 The exhibition of VIBRANT DISTURBANCE II will be extended until April 5.2014 and will also be open during the 'Jugada a 3 bandas'.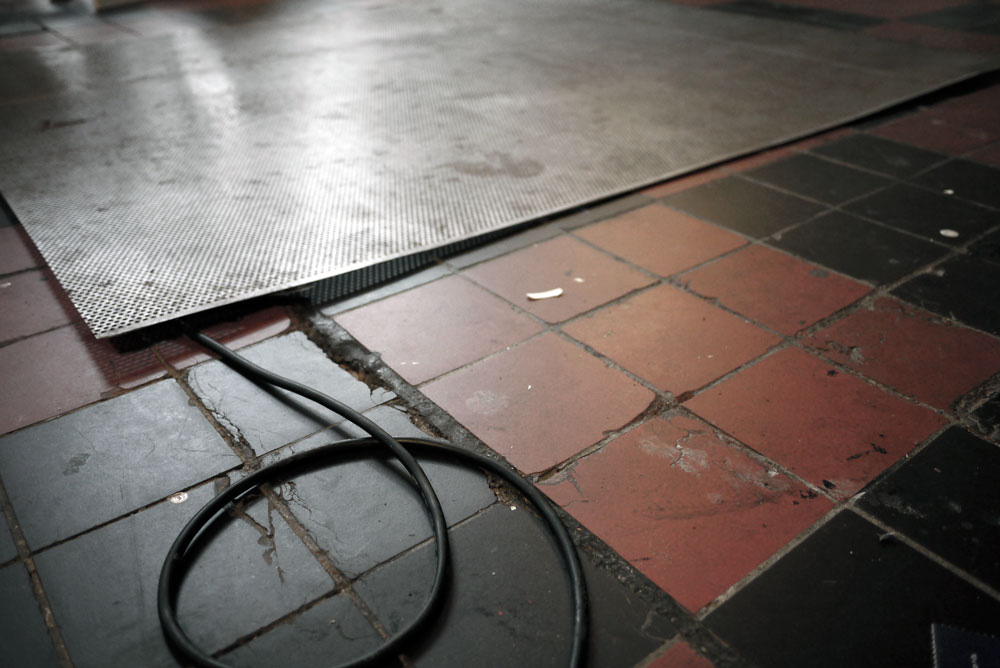 Touring the northern parts of Denmark for two weeks together art historian Astrid Gry Byrial doing a mobil sound art workshop called 'Ører på Stilke' (= ears on stalks).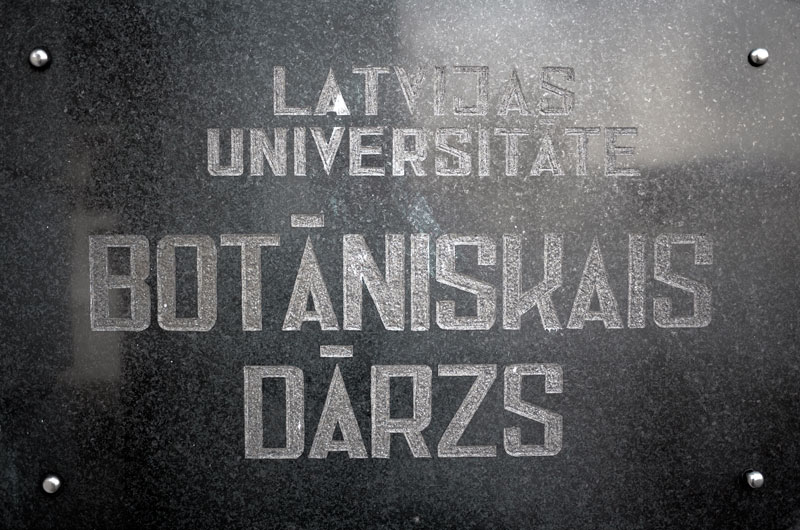 Researching for a site-specific sound installation in The University of Latvia's Botanical Garden in Riga. This new work will be a part of the 'SKAN II' sound art exhibition organized by Skaņu Mežs during the Summer of 2014.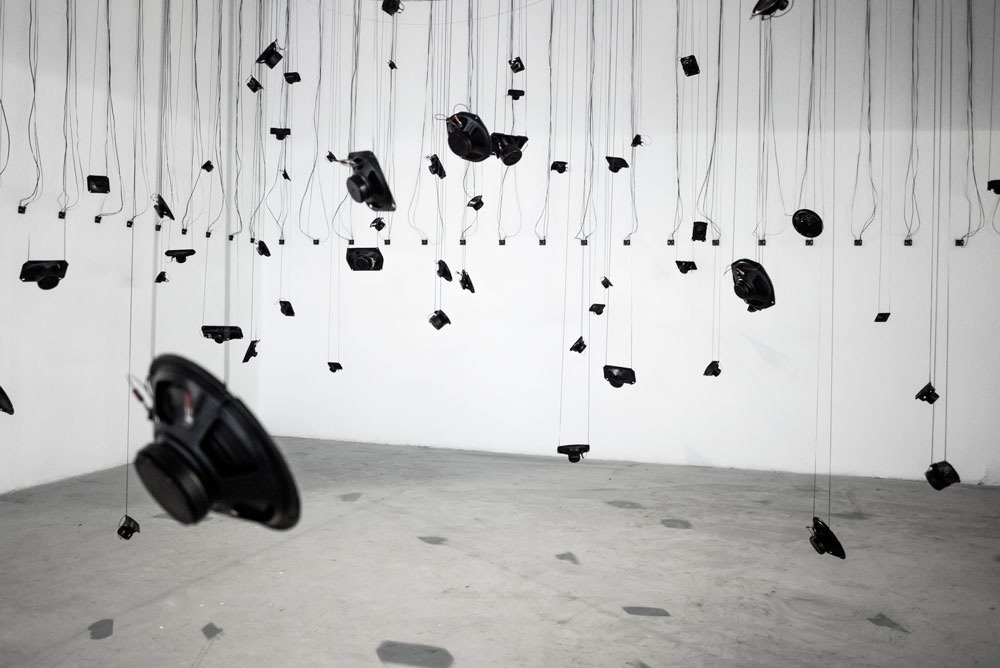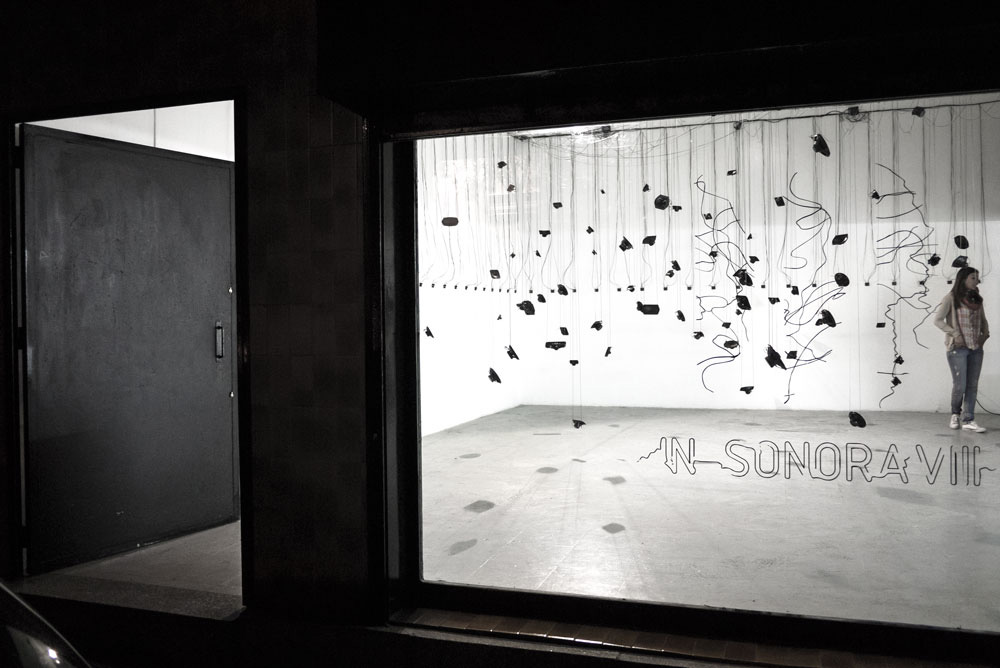 The 2nd installment of VIBRANT DISTURBANCE II, now showing in Madrid, Spain at 'IN-SONORA VIII - Muestra de arte sonoro e interactivo'. The exhibition is at 'Cruce Arte y Pensamiento Contemporáneo' localed on the gallery street Doctor Fourquet. The exhibition period is March 20-30.2014